Slovenia is a small but very cozy European country. It has excellent road connections with neighboring countries.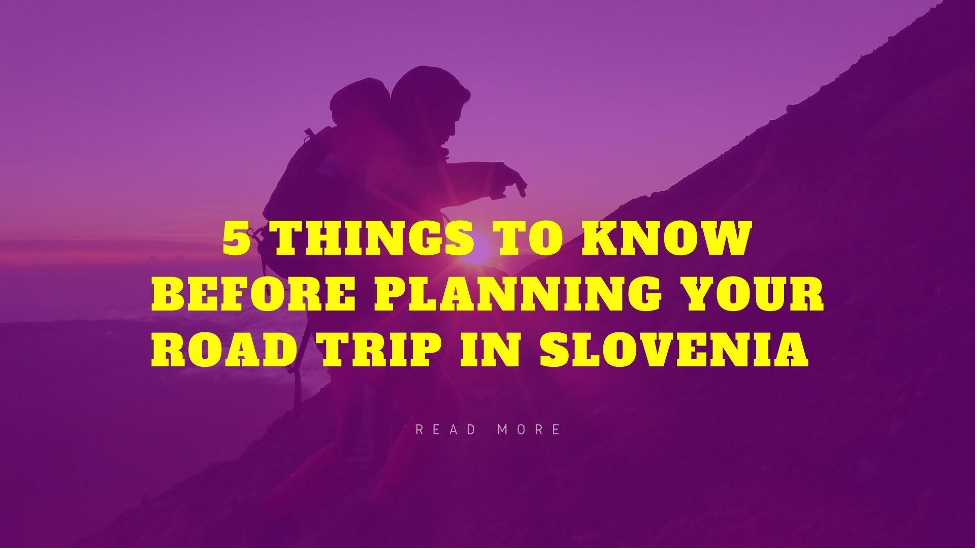 The compact size makes it very convenient to travel around by car. Slovenian roads have very comprehensive signs, and even if they are rather narrow and winding, you will be rewarded with picturesque views while driving.
If you plan a road trip to Slovenia, here are some tips on how to behave on the roads to make your travel trouble-free.
Where to Rent a Car?
You can rent a car from specialized agencies in cities and airports in Slovenia. Note you must be at least 21 years old and have a minimum driving experience of two years.
Some rental offices require a surcharge for drivers aged between 21 and 25. You need to provide the following documents when booking a car:
An ID document;
An international driving permit;
A bank card for a deposit.
Usually, companies include the necessary insurance policies in the cost of rental services and indicate the percentage of the deductible. It is almost unrealistic to find a policy with zero deductible. But you can use services like CarInsuRent.com to buy car hire excess waiver insurance.
Paid Roads
Slovenia has toll roads, and you need to buy a vignette to use these. You can buy one of three types of vignette:
For one week – €15;
For a month – €30;
For a year – €110.
The vignette must be attached to the windshield. Vignettes can be purchased both at customs and at all major gas stations. It is better not to risk entering the motorway without a vignette – the fine varies from 300 to 800 euros.
Road Rules
in settlements – 50 km/h
outside settlements – 90 km/h
on the road – 100 km/h
on the highway – 130 km/h
Transportation of children. All passengers under 12 years old must travel in a car seat or with special restraint systems. The fine is €200.
Seat belts. All passengers must travel with seat belts fastened. You will pay €120 for breaking this rule.
Phone use. You can only use your phone with a hand-free system.
Alcohol. The maximum level of alcohol allowed in the blood is 0.5%. The violation will result in a fine of €600.
Dipped headlights. These must be switched on 24 hours a day, all year round. The fine is €30.
Public transport always has an advantage on the road. It is forbidden to use a lane specially allocated for buses. Public transport departing from a stop must always be passed, and when it stops to pick up and drop off passengers, you must not overtake,
In case of a problem or breakdown on the road, you can contact AMZS, Automobile Association of Slovenia, dialing 1987. It provides 24-hour roadside assistance and vehicle towing.
Must-Have Equipment
Make sure to have the following items in the car:
Two emergency stop signs;
A reflective vest for every passenger;
First aid kit;
A set of spare bulbs and a fire extinguisher.
Winter tires. From November 15 to March 15, the car must be equipped with winter tires with a profile of at least 3 mm or summer tires and snow chains in the trunk.
The use of anti-radars and radar detectors is prohibited. The fine is €400.
Parking in Slovenia
This service is paid in most Slovenian cities. The cost of parking is over €1 per hour. Parking areas are marked with different colors. The blue zone is for short-term parking. It allows you to leave a car for free for up to one hour, depending on the area of the city. The white zone is intended for long-term parking. Such areas are equipped with parking meters.
Some cities have attractive parking systems. For example, Ljubljana guests are offered a "Park and Ride" program. Tourists can leave their car in the parking lot near the major ring roads leading to the center. A day of parking costs only €1.3, and this price also includes any public transport fee.
Be careful while parking in the country, as the fine for wrong parking starts from 40€. Alternatively, the wheels of your car can be blocked or your car will be towed.
Before you start off on a trip, take some time to make a route and a list of places you want to visit. Even if the country is very small, and all sights are within a few hours of drive, make sure not to miss out on any of them. You will find a lot of articles on the Internet with trip reviews of experienced travelers.