Are you looking for the best pink gaming chair and desk to take your office or gaming space to the next level? Here at Eureka Ergonomic, we are committed to providing our customers with the best products possible, and we pride ourselves on our innovative design and unrivalled customer service.
That is why we have carefully created our comprehensive product collection, ensuring no matter whether you're looking for the best pink desk or the best pink gaming chair, you can always find it in our store.
What are the benefits of a gaming desk and chair?
Before we look at what makes ours the best pink gaming chair and desk, we thought it was first important to understand the benefits of using one:
1) More space
Gaming is one of the world's most popular pastimes, but it requires a lot of space. From your monitor and keyboard to mouse and speakers, gaming desks ensure you have enough room.
2) Maximum comfort
Gaming desks and chairs are designed to ensure you can sit comfortably all day long. From lumbar support to unique ergonomics that help to reduce strain, gaming desks and chairs help to prevent long-term health issues.
3) They look fantastic
Of course, when it comes to the best pink desk and chair, it's not just about their functionality; these unique products also look fantastic and can help you to transform any room.
The best pink desk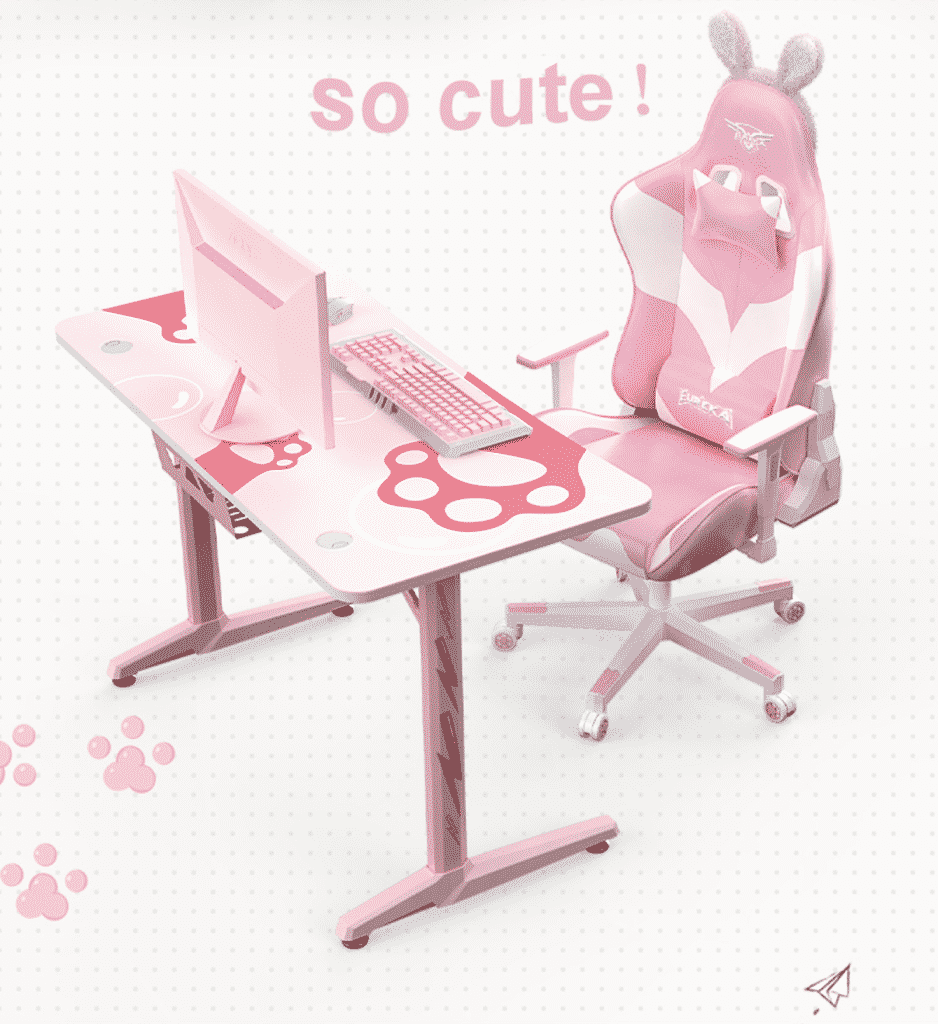 Here at Eureka Ergonomic, we believe in giving our customers the ultimate in gaming products, and we believe our L152 60" Pink L Shaped desk really is the best pink desk on the market. The stunning L shape design ensures that it can fit snuggly into the corner of any room, helping you to maximize the space of your interior.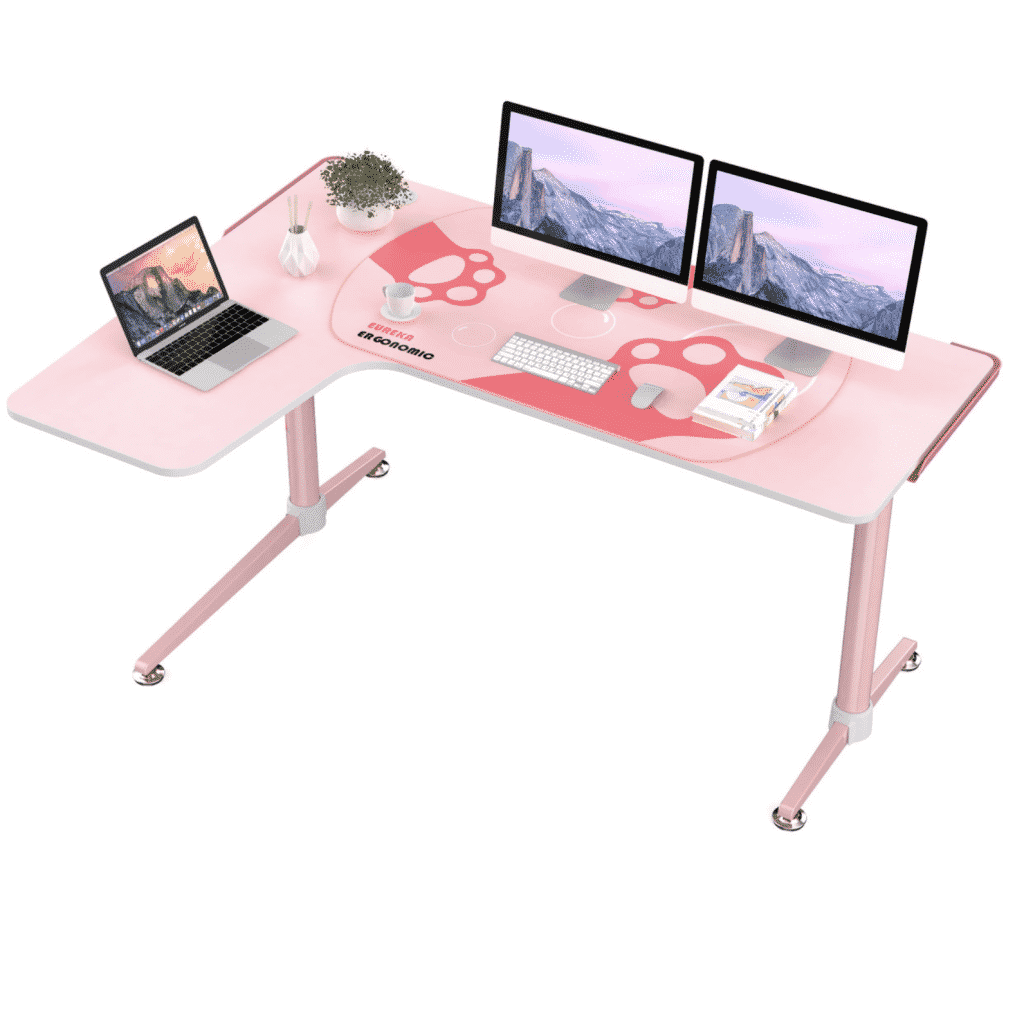 The uncomplicated design also ensures there is plenty of space underneath, allowing you to stretch out and remain comfortable after a long day of gaming. To keep things looking clean and tidy, our best pink desk comes with innovative cable management solutions that help you keep wires out of sight.
To ensure we really do have the best pink desk on the market, the L152 is made from EPA-compliant and non-toxic materials and has met our strict testing standards and third-party inspections.
The best pink gaming chair
Of course, no pink desk is complete without a matching chair, and our stunning GC-04 Pink solution is one of the best pink gaming chair on the market. This beautiful and vibrant product will look fantastic in any room and comes complete with removable rabbit ears for those gamers looking to create a unique aesthetic!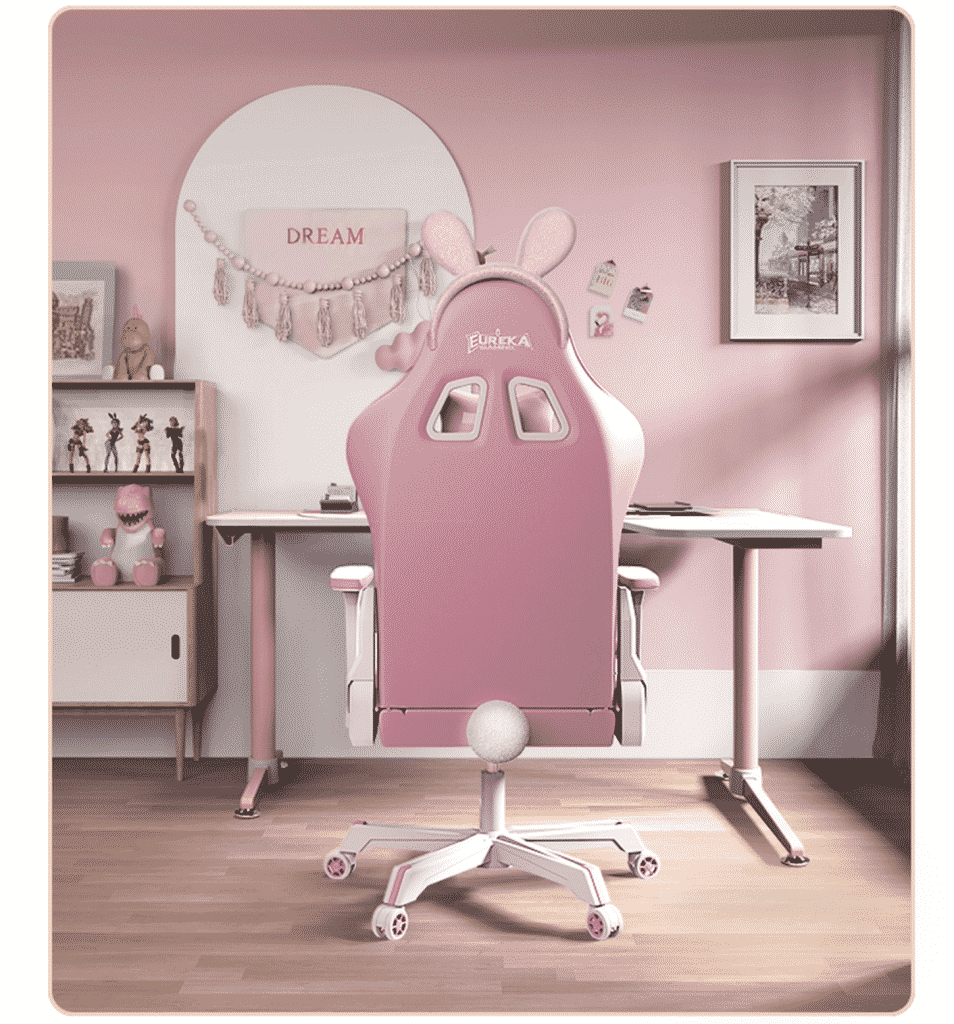 The best pink gaming chairs are not just about their visuals, though. That is why the GC-04 Pink has been ergonomically designed with comfort in mind, ensuring you can play all day long without feeling strain or discomfort.
Made from the best carbon steel, PU and Memory Foam, the GC-04 Pink is able to withstand up to 280 LBS. Coming in at 1,360mm tall and 700mm wide, it is also the best pink gaming chair, no matter the size of your room.
Looking to take your gaming to the next level?
If you are looking to transform your interior and take your gaming to the next level, Eureka Ergonomic is here to help you. We're more than just a furniture company, and our mission is to give you the best products that allow you to express your own unique style.
So no matter whether you are looking for the best pink desk, a beautiful gaming chair, or the ultimate gaming accessories, you can find them in our store!