Navigating the whirlpool of TikTok slang and trends can sometimes be a perplexing experience. Users frequently encounter various numerical sequences and abbreviations, and deciphering their meanings is not always straightforward. One such term that has been creating waves on TikTok and other social media platforms is "14643". While it might appear as a random assortment of numbers at first, it holds a significant meaning that resonates with many. In this article, we unpack the 14643 meaning and explore its presence and usage on TikTok.
Delving into the Mystery: What is the 14643 Meaning on TikTok?
The buzz around the number 14643 is indeed intriguing, with numerous TikTok users incorporating it into their video captions and tweets.
At its core, the number 14643 is more than just a string of digits; it's a cryptic way of saying, "I will always love you".
This might seem puzzling initially, but a closer inspection reveals a simple logic – each digit represents the number of letters in each word of the phrase.
Here's how it works:
'I' has 1 letter
'will' consists of 4 letters
'always' has 6 letters
'love' contains 4 letters
'you' is made of 3 letters
This numerical representation has become a subtle, yet heartfelt way of expressing affection and love on TikTok.
Users often intertwine it with other sentences in their video captions, creating messages like, "Despite the distance, 14643".
The Context: 14643 Meaning and Similar Numerical Expressions
Understanding the context where 14643 is used also helps in decoding similar numerical expressions.
For instance, the sequence 1437, akin to 14643, conveys the heartfelt message, "I love you forever".
These numerical expressions have become a unique language on the platform, helping users convey deep emotions in a somewhat coded, yet universally understood manner.
Why has 14643 Meaning Gained Popularity on TikTok?
The trend of using numerical codes as expressions of affection is not new. In the digital era, where communication is often limited to text and captions, such numerical expressions have found a fertile ground to grow and become popular.
The 14643 phenomenon on TikTok seems to have caught on because of its simplicity and the deeper connection it fosters among users. It allows individuals to share intimate messages in a public platform subtly, creating a sense of a secret language that only the initiated understand.
14643 Meaning: The Evolution of Slang and Abbreviations on TikTok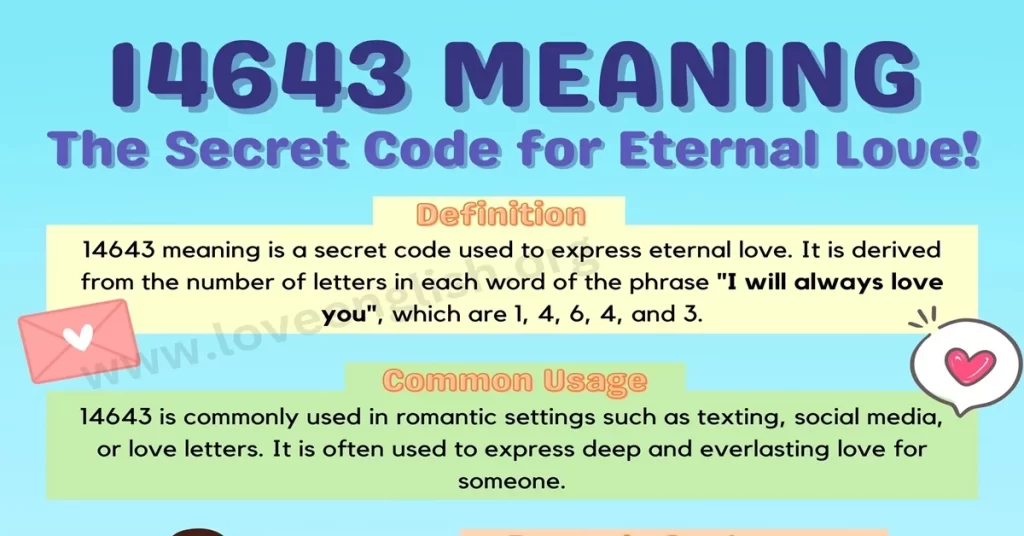 As with many social media platforms, TikTok has become a breeding ground for new slangs and abbreviations. These linguistic innovations are a testament to the creative and dynamic nature of the TikTok community.
The rise of terms like 14643 showcases the platform's ability to foster new means of communication that are both innovative and engaging.
It reflects the ever-evolving language landscape of the internet, where new phrases and expressions are constantly being born.
14643 Meaning: Tips for Keeping Up with TikTok Trends
To stay updated with the latest trends and slang on TikTok, it's crucial to engage with the community actively.
Participating in discussions, following popular creators, and keeping an eye on trending hashtags can help you stay in the loop.
Furthermore, platforms like TikTok often have forums and communities where users discuss the latest trends and terminologies, helping newcomers integrate seamlessly into the vibrant TikTok culture.
Conclusion: 14643 Meaning
In conclusion, the number 14643 is a testament to the innovative and evolving landscape of internet language, especially on platforms like TikTok.
As users continue to explore new ways of expressing themselves, we can expect to see more unique and fascinating trends emerging.
So, the next time you stumble upon a numerical sequence or a new abbreviation on TikTok, remember that it might be a secret message waiting to be decoded.
In the ever-changing world of TikTok, being aware of terms like 14643 not only enhances your experience but also brings you closer to the vibrant and dynamic community that TikTok hosts. Happy decoding!
Incorporating 14643 Meaning in Your TikTok Strategy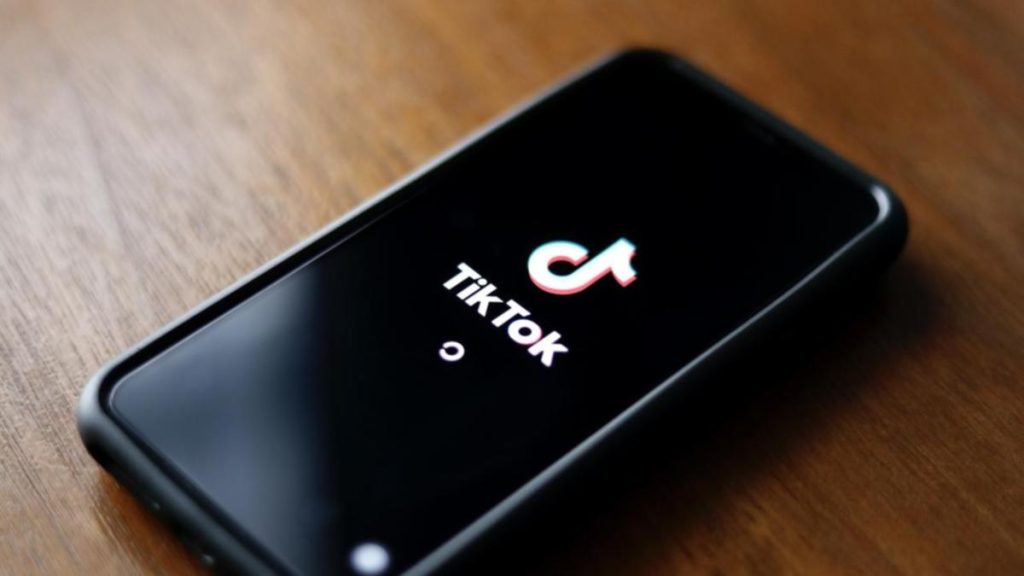 In the dynamic world of TikTok, understanding and integrating trending terms such as 14643 can potentially elevate your content strategy.
Using this popular numerical phrase creatively can not only resonate with your followers but also add a touch of personalization and mystery to your posts. Here are a few ways you might incorporate 14643 into your TikTok strategy:
14643 Meaning: Creating 14643 Themed Challenges
Challenges are a staple on TikTok. Why not create a challenge that revolves around the number 14643? It could be a creative storytelling challenge where users have to incorporate the phrase "I will always love you" subtly in their videos, encouraging a wave of heartfelt content on the platform.
Using 14643 in Captions and Hashtags
Incorporate 14643 into your captions and hashtags to connect with the audience who are aware of its meaning. It can be a secret nod to those in the know, fostering a sense of community and shared understanding.
14643 Meaning: Exploring Other Numerical Slangs
Apart from 14643, there are several other numerical slangs and abbreviations prevalent on TikTok. Understanding and exploring these can provide a richer and more immersive TikTok experience. Let's delve into a few:
143 – I Love You
Much like 14643, the number 143 is a numerical representation of the phrase "I Love You", with each number denoting the number of letters in each word. This term has been around for quite a while, finding its origin in pager codes from the 90s.
831 – I Love You (8 letters, 3 words, 1 meaning)
This is another affectionate numerical code where the numbers 831 represent the phrase "I love you", defined as 8 letters, 3 words, and 1 meaning. It is yet another creative and heartfelt way of expressing love and affection on social platforms.
14643 Meaning: The Rise of Numerical Slangs: A Linguistic Revolution
The use of numerical slangs is not confined to TikTok; it is seen as a broader linguistic revolution sweeping across various social media platforms. This trend reflects the ingenuity and creativity of internet users in crafting new languages and modes of communication.
It's a phenomenon that signifies the rapid evolution of digital language, adapting to the needs and preferences of the younger generation who are constantly seeking fresh and inventive ways to express themselves.
Psychological Aspects of 14643 and Similar Phenomena
It's fascinating to delve into the psychological aspects that might be driving the popularity of terms like 14643. Using such numerical codes can create a sense of belonging and exclusivity, where users feel part of a community that shares a secret language.
Moreover, these codes allow for the expression of sentiments that might sometimes be hard to express openly, providing a subtle yet potent way to convey deep emotions.
Impact of 14643 on Online Communication
The impact of the 14643 phenomenon on online communication is indeed profound. It marks a shift towards more nuanced and layered communication where messages can have deeper, hidden meanings. It is a testament to the versatility and adaptability of language, evolving continuously to mirror the trends and patterns of the digital age.
Conclusion: Embracing the Culture and 14643 Meaning
As we navigate the dynamic terrain of TikTok and other social media platforms, being cognizant of trends like 14643 can certainly enhance our online experiences.
These numerical slangs offer a glimpse into the vibrant and innovative culture of online communities, where language is constantly being reshaped and redefined.
So, whether you are a content creator looking to connect more deeply with your audience or a user keen to decipher the myriad of expressions floating around, embracing the 14643 culture can be both an enriching and fun journey. Remember, in the world of TikTok, sometimes numbers speak louder than words!