So, you have got the perfect products, the most fabulous website template, and yet the organic leads do not seem to pour in. Maybe you could achieve the zenith of your sales charts with a little bit of help from us! Yes, people, if you are searching for inexpensive SEO hacks that get the job done without blowing a ton of money on advertising, you have come to the right place.
We will walk you through 15 practically excellent and indispensable SEO tips and tricks for your online store. Read on to know more!
Engineer the perfect site structure: A shabby site or one that is difficult to maneuver will indeed affect your CTRs (Click Through Rates) adversely. Google will take down the rankings too! So, the first step towards SEO optimization for your e-empire would be to fix the foundation. The following tips would help you optimize the user experience.
Conduct an extensive research on relevant keywords: The primary reason behind the lack of organic traffic is the possible absence of high-quality, relevant keywords on-site. Get an insight into your target audience and make use of Google auto-complete, AdWords Keywords Planner, Google patterns, and organizational inputs.
Use keywords in anchor text instead of the cliché` "click here" to rank pages on keywords. Focus on incorporating long-tail keywords that are known to drive 20,000+ searches per month organically to your website.
Draft your story in a well written "About Us" page: Google loves good and unique content. Give it a shot with well-drafted "About Us" that tells your story as a brand and a team. It gives Google an insight into the relevant industry you are affiliated with and the products/services that you are selling.
Not to mention, it increases on-site content too! (Content is still king!)
If wielding the proverbial pen is not your forte, hire writers who can do the job for you. Are not a shortage of talented writers.
Curate exceptional meta-descriptions: First impressions are often the last. Possible leads are likely to give your website a miss if the text mentioned under your website link on SERPs (Search Engine Result Pages) does not match their requirements.
The meta description beneath your URL gives a peek into what the site has to offer, and if that is not catchy or relevant enough, you stand to lose precious traffic. You need to draft dynamic meta descriptions and meta tags if your site offers a host of regularly updated products and services.
Create next level product descriptions: Innovative, unique, and creative product descriptions that fit the bill are the need of the hour. The aftereffects of Google's Panda algorithm update have exacerbated the need for removing duplicated content.
Use the following structure to create fresh and original product descriptions:
H2 Header with product name along with secondary keywords
Introductory para (50-80 words)
Bulleted feature list
Product video (if available) Both Forbes and HubSpot swear by the power of adding video content,
Add relevant collection name and link
Create funnel-based content to accentuate each stage of the buying cycle: Instantaneous buying is not usually the norm. Creating customized content such as "The Uses and Benefits of using Product XX to solve Problem YY" helps gently nudge prospective buyers in the right direction.
Speedy/Accelerated web page loading: Site loading speed is critical for the success of your e-venture as few people are willing to hang around till the site loads. They might switch to a competitor's website.
There is a relation between page load time and the bounce rate. Slow page load times will indicate a not-so-great customer experience to Google, thereby affecting rankings on SERPs. Introduce efficient page load speeds by optimizing images, decreasing the size of different site parts, and introducing lazy loading.
Optimize your site for mobile viewing: The future of mobile viewing and shopping is here and neglecting it could prove to be disastrous for your e-commerce venture. According to research carried out by Outerboxdesign.com, on Cyber Monday ($9.2 billion in online revenue in 2019), 54% of visitors came from mobile devices, while around 33% of purchases were made on their mobile device.
So, optimizing your site for mobile viewing would be a good thing to do ASAP.
Switch to HTTPS: If you have not yet thought of buying an EV SSL certificate for your site, you could be compromising on consumer trust, website security as well as negatively affecting your SEO rankings! Buy cheap SSL certificates from ClickSSL and say hello to improved rankings!
Deindex discontinued or expired products: The coolest and best thing about marketing is that you can quickly turn a loss into a multi-dimensional win. If you ran out of a product or rebranded your website, you can consider using a 301-redirect to your newer product page or website.
This way it will not be long before you turn your 404 error pages into a traffic magnet and sales driving tool!
Suggest related products beneath each product: To better your site structure and exhibit relevant products, try incorporating a "Customers who bought this, also bought" section to bolster sales.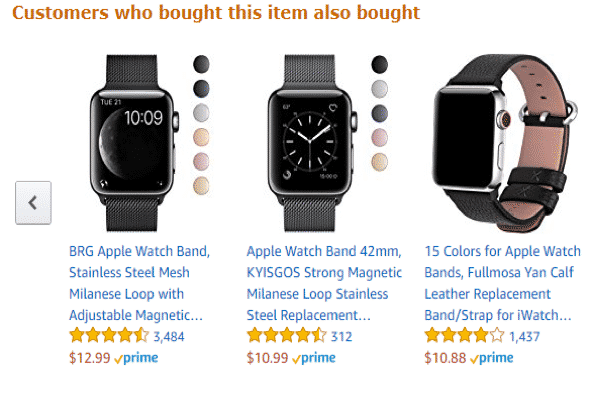 Source: Amazon.com
Make use of product names in meta titles: Suppose your daughter wants a new Apple watch for her birthday, and you decide to order one online. What would you type in the Google search bar? The product name undoubtedly.
Create clean, short, keyword dense URLs: Shorter, keyword-rich URLs tend to rank higher on SERPs. Make use of this tip, and your rankings will improve steadily.
Include targeted keywords and get rid of odd characters and underscores. Keep it brief and modest basically.
Compress image sizes: On mobile-optimized versions, ensure that image sizes are smaller than 70kB to keep the website easy and quick to load.
Use clickbait terms like "Buy Online": This simple play of words lets your user know how to access the product before clicking on the site. An immeasurable number of sites use this technique to accelerate site traffic organically.
To sum up, there are a plethora of SEO hacks and tips to keep your e-commerce site up to date, alive and kicking! We hope that you benefited from those mentioned above. We would love to hear your views and feedback in the comments box below.