Certificates have become an essential technology to keep things safe and secure across various enterprises. But, managing digital certificates is not very simple. There's a huge need for digital certificates to control and identify who accesses or operates on the company networks. Today enterprises are looking ahead to set up the wireless access points, which limits access to the external devices as well as allows certificate management tool to have access to the network.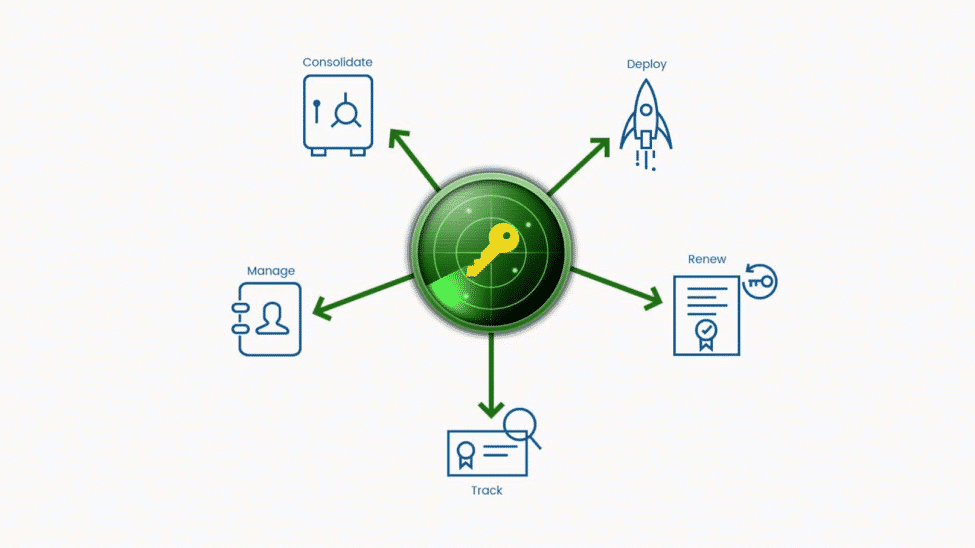 Thus, to keep proper track of certificate has become a bit burdensome and tough task, and has become important for the admins to have the single and centralized platform for handling the deployment, installation, evaluation, and complete management of SSL Certificates within the network irrespective of issuing the Certificate Authority. Let us check out the list of top 5 most recommended and best certificate management tool:
1. Azure Key Vault
First on the list is Azure Key Vault, Microsoft offers the top security feature which is used to protect your Passwords, certificate, and secrets. The great thing about this key vault is you may access it publicly and Private Network and Azure Key Vault allow users to use and store cryptographic keys in the Microsoft Azure environment. Key Vault supports several algorithms and key types and allows the use of the Hardware Security Modules for the top-end customer keys. Microsoft key vaults are managed and created through the Azure portal and, you can create the key vault and use this to store the secret.
2. DigiCert CertCentral
The second best certificate management tool is CertCentral and it facilitates great certificate lifecycle management just by consolidating different tasks for managing, installing, checking, remediating, as well as renewing certificates in scalable software types. CertCentral Enterprise is the powerful addition to the DigiCert TLS platform that provides award-winning client support, scalable and innovative infrastructure, and leading certificate products like Secure Site as well as time-saving discovery tools. CertCentral includes several tools that help to keep things easy.
3. Egnyte
Egnyte delivers a modern content platform, which is made for enterprises. Egnyte offers IT centralized protection and control over the files, and users can access their content rather fast, doesn't how and where the work happens. Egnyte can easily be deployed in many different ways. Besides complete cloud software, it provides local and hybrid deployments with the help of Egnyte Storage Sync. Thus, Egnyte Business will behave not just as the cloud offering but a true extension of your on-premises storage whereas maintaining the look & feel of a standard product.
4. AWS Certificate Manager
Next comes AWS Certificate Manager and it is yet another amazing service that allows you to easily manage, provision, as well as deploy SSL /TLS certificates with AWS services and secure your network communications & establish your website's identity. The AWS Certificate handles deployment, provisioning, as well as renewal of the digital certificates automatically. The certificates managed and deployed by the AWS Certificate Manager will be verified by Amazon's certificate authority called ATS (Amazon Trust Services).
5. Keyhub
Keyhub is one amazing cloud-based certificate management tool that discovers, organizes, as well as tracks various enterprise SSL and TLS certificates. Some of the features include private and public certificates management, automatic discovery, tracking of the expiration date, instant-alerts, vulnerability identification, as well as more. Keyhub can discover all the certificates in real-time. It will offer a complete view of certificates, which includes expiration dates, and will be notified and tracked of any incoming expirations. This software will identify any vulnerabilities or issues that will be a high risk to a network. In addition, this has the feature to check if certificates comply with the corporate policy of an enterprise.
Final Words
The encrypting process of your website right from generating the CSR to verifying you have rightly installed & configured SSL Certificate on the web server will be big trouble if you do not have the suitable resources.
Monitoring, inspecting, deploying, and handling SSL Certificates throughout the network is made effective and convenient through the instinctive software. The right certificate management software eliminates the need for manual certificate management as well as allows an enterprise to take control & streamline the SSL security over the whole organization.