Introduction
Creating a house is an exhausting process. From selecting the site to finalizing the engineer, it all requires an extensive search methodology. In recent days, the cost of hiring an engineer in the United States who would create your floor plan design has reached four or even five figures. Thankfully, there are several floor plan software that might help you save this cost.
Using floor plan software makes it easy to see how your home improvement project will look and what cost. In this detailed guide, we have reviewed the top 6-floor plan software by focusing on qualities like user-friendliness, realistic rendering, and the ability to turn real spaces into true-to-life designs with uploaded pictures. With floor plan software, you can visualize painting, landscaping, refurbishing cabinets, kitchen remodels, and bathroom updates before beginning any work. This way, you get an idea of costs immediately and ensure that your project is exactly as you envisioned it!
Here is a list of the top 6-floor plan software in 2023:
EdrawMax
EdrawMax is an all-in-one diagram tool for professionals or students who need to make floor plans quickly and easily. With 280+ types of diagrams, EdrawMax covers various fields, including building plans, network diagrams, software design, organizational charts, engineering drawings, electrical schematics, business process models, and much more. Moreover, you can use its integrated vector editing tools to add text and annotations to illustrations. Its smart painting algorithm lets you quickly draw and build high-quality images and diagrams.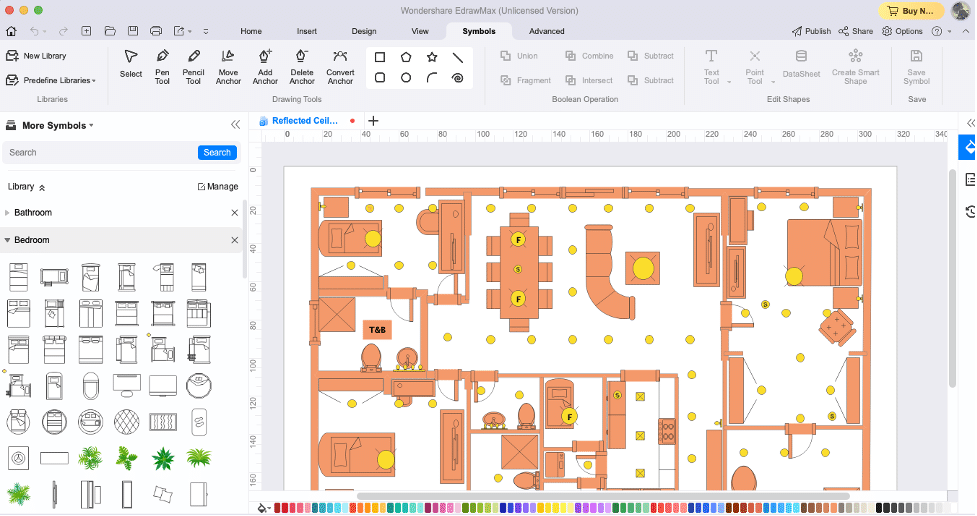 This 2D diagramming tool is completely free and recommended by 25 million registered users worldwide. In this floor plan software, you will find 25,000+ symbols, including floor plan and real-life symbols for sofa-set, beds, entertainment units, kitchen sets, and more. When placed correctly, these symbols would let you visualize how your dream home would look after completion.
Pros:
Not limited to only creating floor plans. EdrawMax lets you easily create over 280 types of diagrams.
Smart drawing wizards which help you create diagrams quickly
Built-in vector editing tools for adding text/symbols
Rich, intelligent library with a variety of built-in elements
Integrated presentation tools for showcasing your work to your peers
Streamline the complex diagramming process with intuitive features & a user-friendly interface.
With remote collaboration, you can invite your team members and work together from different locations without relying on any other third-party tool.
Cons:
Too many elements and features can be overwhelming for beginners.
Cost:
Free Version
Subscription Plan: $99/year
SketchUp
SketchUp is a popular floor plan software tool available and can be used to create 2D/3D models of your dream home. With SketchUp, designers can easily place walls, windows, doors, and other objects into the room and export high-quality images of the sketch-up model. The tool has a good drag-and-drop interface, which helps beginners create stunning designs in no time!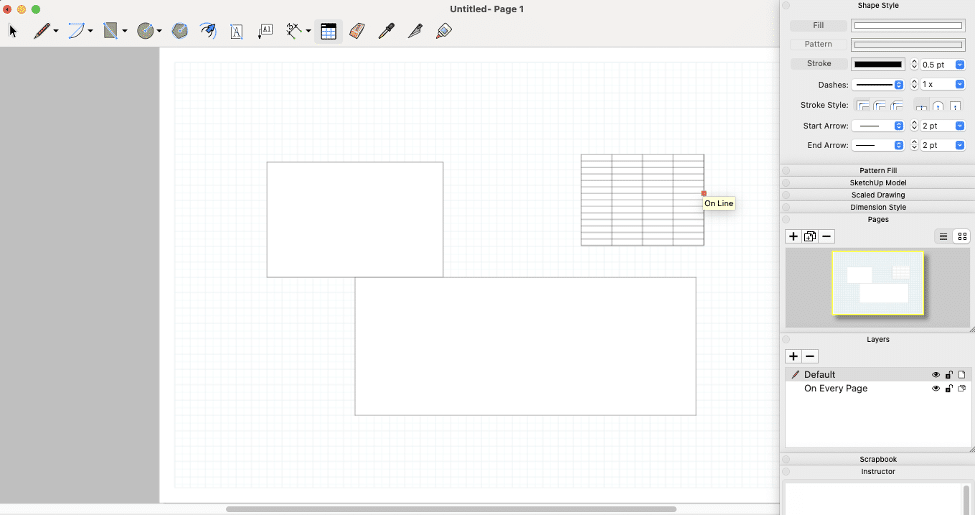 SketchUp is considered a flexible floor plan software that can be used for everything from simple floor plans to complex architectural models. It is especially useful for those who have little to no experience in architecture or design, as it's easy to learn and use. It also comes with a plethora of features, such as photo-realistic rendering, animation tools, and an extensive library of objects that you can use for your projects. Plus, you can share the documents you create with others so everyone can access the same exact file!
Pros:
It can be paired with rendering software like Enscape or Lumion
Offers a user-friendly layout
Cons:
Lacks export options
Offers no trial period to try the product
The desktop version is not available in the SketchUp Go plan.
It comes with expensive plans, which is not considered helpful for students or beginners who are just trying out floor plan software.
Price:
Go Plan: $119/year
Pro Plan: $299/year
Studio Plan: $599/year
SmartDraw
SmartDraw is considered a good choice for creating floor plans based on its simple and intuitive options. The premium templates and symbols make it great for DIY homeowners who want to design their own home layouts with ease. The software's vast library of drag-and-drop elements is rated well in terms of accuracy, plus you can improve the feel and texturing of your design by adding textures, colors, and shadows. SmartDraw also allows you to generate a bill of materials or AutoCAD DXF files that you can use directly on construction sites.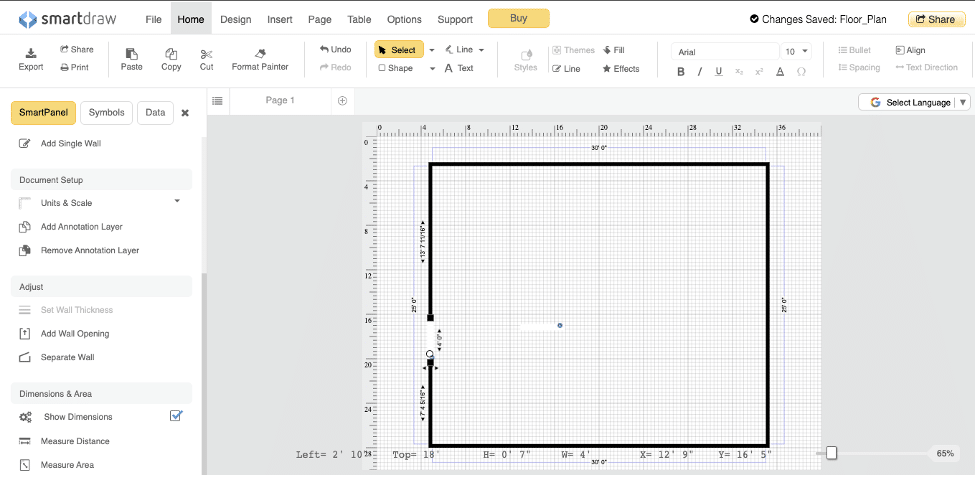 And when it comes to sharing your plans, SmartDraw allows users to print their designs in any format or save the file digitally. Plus, files can be exported as PDFs and shared online for easy collaboration with any member of the team. The professional version also offers extra cloud storage, web integration, pre-made themes, and more advanced features like live 3D models of your floor plan and automated dimensions.
Pros:
In addition to floor plans, SmartDraw lets the users create different diagrams, like flowcharts, network diagrams, and more.
Offers sharing and collaboration features.
Cons:
Users have reported that the tool is complicated and even lacks an intuitive interface for first-timers.
The cost of using SmartDraw falls over the upper end of the pocket.
Users have reported weak customer support.
Price:
Single User: $9.95/month, billed annually
Multiple User (minimum of 5 users): $5.95/month, billed annually
Virtual Architect Ultimate Home Design 11
Virtual Architect Ultimate Home Design helps homeowners turn their ideas and dreams into reality. This functional design tool is backed by professionally-designed templates, high-resolution 3D renderings, and realistic landscaping that can be customized with an extensive library of objects. So you can create small adjustments to the most basic room layouts or take on complex projects that feature multiple floors. The software also includes helpful calculation tools to help ensure your design plan is accurate and up to building codes.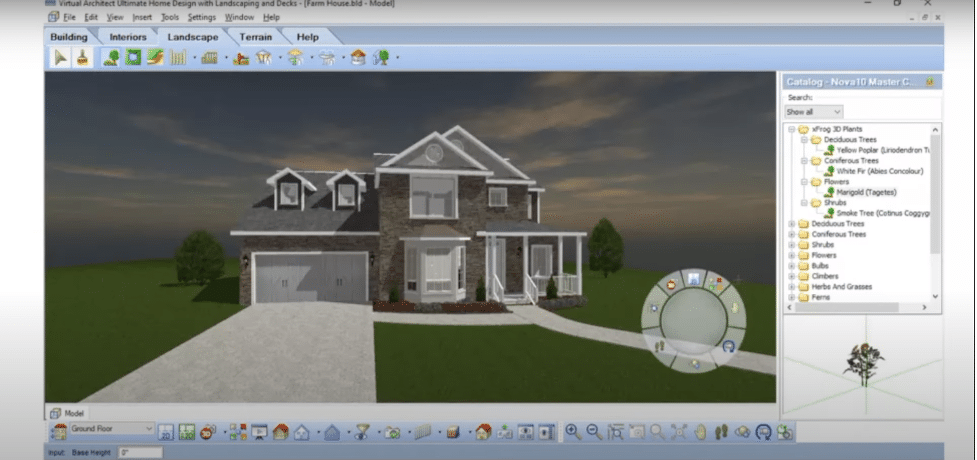 Additionally, you can add detail to the plans with furniture, materials, textures, and colors. While this level of detail isn't necessary on every Plan, it will come in handy when you present your project. Virtual Architect Ultimate Home Design also offers a web-based site that enables users to access their projects online and share them with others. It also allows users to have real-time video calls with experts for design support or questions they may have while working on the project. Ultimately, this powerful design software is perfect for those who expect good results from their floor plans.
Pros:
Virtual Architect comes with a wizard-driven user interface that provides faster results.
Ability to upload pictures to remodel any house plan.
It has extensive online resources.
Cons:
Users will have to pay a hefty cost to avail of premium features.
It requires technical knowledge to create a simple floor plan.
Customers will have to pay an extra amount if they are looking for technical support.
Not available for macOS and Linux systems; even Windows systems require high-end configurations, like NVIDIA GeForce GTX 1060 paired with a minimum of Intel Core i5-4590 and 4GB RAM
Cost: $99.99
TurboCAD
If you're looking for full-featured CAD software for home design, TurboCAD Professional is a good option. This professional-level software comes with all the floor plan design tools you need to create detailed drawings, 3D renderings, wireframe views, and more. You can even import existing plans or images to help get you started in the design process. With TurboCAD Professional, you can create real-time walkthroughs of your designs so you can get an up-close and personal view of your work before ever starting construction.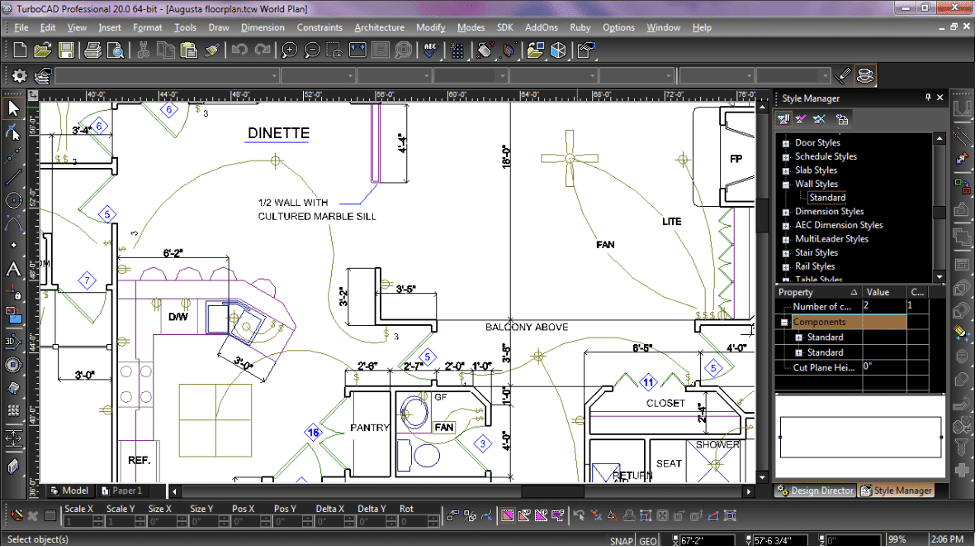 TurboCAD Professional makes designing and creating your dream home simple and straightforward. The comprehensive toolkit enables you to draw layout plans with precision and accuracy, add color and materials to walls, adjust lighting conditions for realistic models, insert floors, doors, and windows quickly, generate accurate 3D views with ease, and much more. What's more, is that the software comes with a full set of tutorials that help users get familiar with the program quickly. And because it is lightning fast, you can make changes on the fly without having to wait for long rendering times or slow re-rendering when making alterations.
Pros:
It offers multiple subscription packages; depending on your need and financial goals, you can choose from different packages.
Most of the subscription packages offer a history tree, allowing the User to return to any procedural step of their designs and modify them without losing the subsequent work.
Cons:
No important online resources, like blogs, case studies, templates, or other such information currently available on the official website.
Requires technical understanding of floor plans, dimensions/measurements, and layouts even before you start customizing the floor plans.
The support guide for Windows systems was last updated in 2017.
Price:
TurboCAD 2022 Deluxe LTE Subscription: $199.99
TurboCAD 2022 Deluxe: $249.99
TurboCAD 2022 Professional Subscription: $399.99
TurboCAD 2022 Platinum Annual Subscription: $499.99
TurboCAD 2022 Platinum (one-time license): $1,499.99
Homestyler
Homestyler is an all-in-one suite of tools for creating, designing, and visualizing your floor plans and home layouts. This floor plan software is ideal if you need a comprehensive system that covers the full design process from start to finish. The intuitive drag-and-drop interface allows you to add elements like furniture, appliances, and accessories. The program even includes helpful tutorials and videos to assist you along the way. With Homestyler, you can get creative with your plans by taking advantage of their library of 3D furniture assets or utilizing their augmented reality feature that lets you preview how virtual designs will look in your existing space.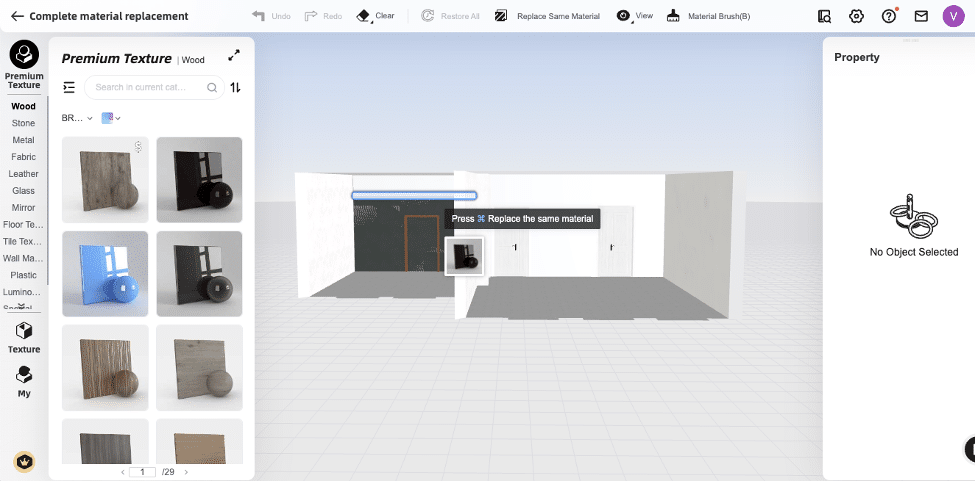 With Homestyler, you can also generate attractive visuals of your plans with impressive photo-realistic rendering. The platform also lets you share designs across multiple platforms or even with other users who can help provide feedback and suggestions to perfect your design. With this comprehensive suite of tools at your fingertips, you will have all the essentials to create floor plans conveniently in one easy-to-use package.
Pros:
Free to use for all the registered users
Online resources help beginners to get started with designing floor plans.
Cons:
Falls heavier on the system.
Under the free plan, users cannot view the projects in 4K resolution
Does not offer uploading of 2D textures and 3D models in the free plan
It also has a limited customer support
Cost:
Free Plan: Offers 1000 rendering
Individual: $4.9/month
Master: $9.9/month
Conclusion
As we helped you understand in this extensive guide to select the top 6-floor plan software for making your dream house, you must have realized that multiple options are available for everyone's needs. On the one hand, you will have free floor plan software, but they might not offer templates or symbols that come in handy when designing complex floor plans. On the other hand, you will have technically advanced floor plan software; each one has a learning curve and is not pocket-friendly.
If you are looking for a mid-way solution that helps create floor plans and other diagrams, we highly recommend checking EdrawMax. The 2D diagramming tool has a rich set of templates, symbols, online resources, and customization options that helps users create highly functional and intuitive designs. EdrawMax also offers a free 7-day trial option, allowing you to access all the user-generated templates and shapes and get on with remote collaborations.