With athleisure continuing to dominate men's fashion trends, it's no surprise that sneakers are more popular than ever. While there are countless sneaker options on the market, only a handful can be considered truly in demand. In this post, we'll show you 6 of the most popular and in-demand sneakers for men right now. Whether you are searching for a trendy new pair to add to your collection or you're just trying to stay up to date with the latest styles, this list is sure to have something for you. Even we have an all-exclusive Namshi discount code making your purchase easy and affordable. Let us begin.
Popular Sneakers for Men
Here are the 6 hottest men's sneakers right now.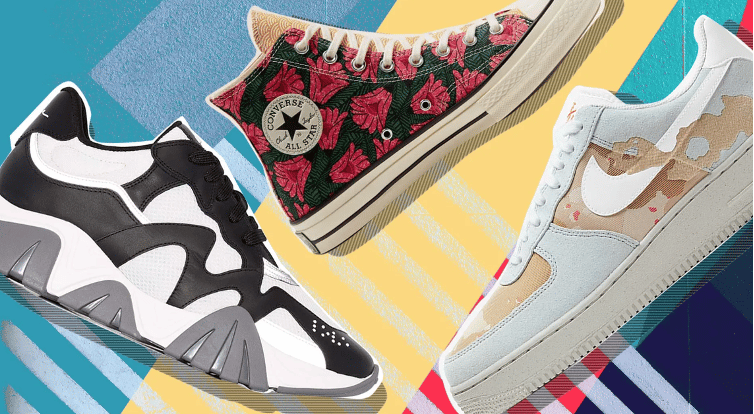 1. Adidas Yeezy Boost 350 V2 "Zyon"
The Adidas Yeezy Boost 350 V2 "Zyon" is one of the latest releases from Kanye West's highly coveted sneaker line. This shoe features a sleek design with a muted colour palette, making it a great choice for those who want a trendy sneaker that isn't too loud or over-the-top.
2. Nike Air Jordan 1 Retro High OG "Bred Toe"
Another highly coveted sneaker is the Nike Air Jordan 1 Retro High OG "Bred Toe". This sneaker was released as part of Jordan Brand's "Red Toe Collection" & features a red, white, & black colorway. The "Bred Toe" combines elements of the classic "Bred" colorway with the "Black Toe" colorway, resulting in a sneaker that is unique and stylish. Due to its limited release, the "Bred Toe" has become one of the most sought-after Air Jordans on the secondary market.
3. Adidas Yeezy Boost 700 "Wave Runner"
First previewed by Kanye West, the Adidas Yeezy Boost 700 "Wave Runner was finally released to the public in November of that same year. The "Wave Runner" boasts a grey and black suede upper with a blue midsole and gum outsole. This sneaker was extremely popular upon its release and continues to be one of the most sought-after Yeezy models on the market today.
4. Nike x Off-White Zoom fly SP
Designed by Virgil Abloh as part of his "The Ten" collection with Nike, the Nike x Off-White Zoom fly SP is one of the most popular sneakers on the market right now. This sneaker comes with a white Flyknit upper with neon green accents and Off-White branding throughout. Due to its limited release, this sneaker has become extremely popular on the secondary market.
5. Converse Chuck Taylor All Star Low Top
A classic choice that remains popular year after year, the Converse Chuck Taylor All Star Low Top sneaker is a versatile option that can be dressed up or down depending on the occasion. This shoe has a simple design with a canvas upper and rubber sole.
6. New Balance 574 Sport Decon
If you're looking for a clean, modern take on a classic sneaker, then you'll want to check out the New Balance 574 Sport Decon. This shoe has a deconstructed leather upper with perforated details and an EVA foam midsole for added comfort.
Choosing the Best Sneakers for Men: Tips to Know
Consider Your Activity Level
The first tip to keep in mind when choosing sneakers is to consider your activity level. If you lead an athletic life, then you will want to find a sneaker that offers support and cushioning. In contrast, if you are not as active, you may be able to get away with a less expensive and less supported sneaker.
Determine Your Foot Type
Another aspect you need to remember when choosing sneakers is your foot type. There are 3 main types of feet: neutral, high arched, and low arched. Depending on the foot type, you will need different types of support from your sneaker. E.g., if you have high arched feet, you will need more support in the arch area in order to avoid pain while walking or running.
Consider the Material of the Sneaker
When selecting sneakers another thing to keep in mind is the material that they are made out of. Different materials offer different levels of breathability, support, and durability. For example, leather sneakers tend to be more durable than mesh Sneakers but they also may not be as breathable. Mesh sneakers may not last as long as leather ones but they offer better ventilation which can be important if you are going to be doing a lot of sweating in them.
Consider Your Budget
Last but not least, it's important to consider your budget when choosing men's sneakers. Sneakers can range in price from less than $100 to upwards of $1000, so deciding on a realistic budget is important before you start your search. Once you have a general idea of how much you're willing to spend, you can start narrowing down your choices and focus on finding a pair of shoes that fit both your style and your budget. For now, you can apply the Namshi coupon code, get maximum savings, and cut your expenses.
By considering your style, planned use for the shoes, and budget, you can narrow down your choices & find the perfect pair of sneakers for you.
Last Say
The sneakers on this list are some of the most popular and in-demand options for men right now. Whether you are in for a brand new pair of running shoes or something to wear to your upcoming formal event, we've got you covered. And don't forget to use code for Namshi for extra discounts at checkout.