Apple recently introduced its new Mail Privacy Protection for the Apple Mail app during the 2021 edition of the Worldwide Developers Conference, the world of email marketing exploded (WWDC 2021).
Apple revealed new tools to let consumers control and monitor how applications use their data during the event, including the ability to block email tracking in the Mail app. To put it another way, Apple Mail will keep senders in the dark about who opens their emails. Here's what you need to know right from the desk of an email marketing specialist:
So, What's All The Hullabaloo About
The announcement has had email senders talking about the potential consequences of these new features on monitoring and tracking communications. This feature will be available anywhere between September and November of 2021, and iOS 15, iPadOS 15, and macOS Monterey devices are likely to be impacted.
"In the Mail app, Mail Privacy Protection prevents senders from utilising invisible pixels to acquire information about the user," Apple writes in its official release. 
The new feature keeps senders from knowing when they open an email and hides their IP address so it can't be connected to other online behaviour or used to track their location. This new functionality will affect all emails viewed through the Mail app on Apple devices, regardless of whatever email client is used.
But what about emails viewed using the Gmail app on an iPhone? You don't have to be concerned about them because the new Mail Privacy Protection features are only available in the Mail app.
How Is It Going To Work
When you initially start the Apple Mail app, you'll get a popup asking if you want to "Protect Mail activity" or "Don't protect Mail activity."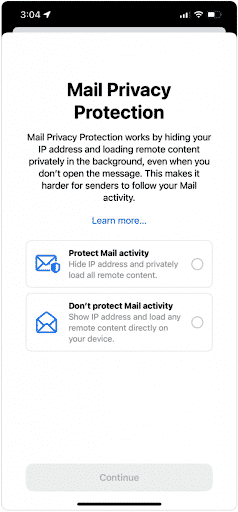 This will not be enabled by default. People will have to make a conscious decision if they want to turn this feature on in their Apple Mail app. However, based on Apple's App Tracking Transparency tool's 4% opt-in rate for ad tracking and the wording around the Mail Privacy Protection choices, comparable opt-in percentages for email tracking are extremely plausible. There will be no or a very small percentage of individuals who will say, "Don't protect me", which also seems very unlikely. Who doesn't want to be protected nowadays? 
Here's what happens if someone chooses the "Protect Mail Activity" option:
Before delivering emails to readers, Apple will send them through a proxy server to pre-load message content, including tracking pixels. Even if the recipients do not open the emails.
This applies to any email opened via the Apple Mail app on any device, regardless of whether the email service is Gmail or a business account. Other email programmes for Apple devices, such as the Gmail app on an iPhone, should be unaffected.
As a result, you may not be able to determine who opened your emails, when they were opened, or where they were opened using Apple Mail.
What Do Email Marketers Need To Know About Apple's Mail Privacy Protection
In other words, senders won't be able to measure email open rates, and material based on location won't be shown correctly when an email is viewed in Apple Mail. Even if the receiver rejects an email sent to Apple Mail users who have selected Mail Privacy Protection, it will be displayed as opened.
Automatic openings will influence how companies track and analyse email performance, as well as campaigns that rely on opens as a filter or trigger.
Over the years, open rates have been the usual go-to statistic for many email marketers, but in recent years, some senders have begun to look beyond openings to assess the effectiveness of their email campaigns. While open rates aren't a perfect measure of whether or not a user has read your email, they have a significant influence on many parts of the email strategy.
The picture about Apple's Mail Privacy Protection isn't all clear but being unable to track data like location and open rates will come with setbacks:
Email campaign tracking:
Because Apple Mail users' open rates will be unreliable, senders will have to rely on alternative metrics like click-through rates and conversions to determine the effectiveness of an email campaign.
Email testing
Without correct open rates, subject line tests – or any other type of test that relies on open rates as the winning indication – would almost certainly fail.
Cleaning email lists
Apple Mail users will not be able to segment their email lists depending on open rates. Senders will most likely be unable to utilise sunset policies or other email health techniques that rely on opens to keep their lists clean.
Campaigns segmented or automated depending on open metrics
Some nurturing flows, onboarding emails, and re-engagement efforts leverage the fact that a user opened an email to determine which email they'll get next. These initiatives are expected to be impacted, even though everything is still a bit unclear.
Dynamic email content that changes based on where the user is when they open the email
Some senders utilise dynamic email content that changes depending on where the user is when they open the email. This sort of communication makes use of location tracking, which will no longer be possible.
However, keep in mind that these changes will only affect Apple Mail users. Only 11.5% of people open and read their emails using the Mail app. 
What Can You Do To Prepare Yourself
It's time to stop measuring the success of your email campaign only based on open rates. Other metrics to consider include delivery rates, click-through rates, and click-to-open rates which may be used to evaluate your efforts. As an email marketing specialist, I feel that you should also start experimenting with your email list to see what works and what doesn't. What kind of material does your target audience want to see? What motivates your contacts to click?
Finally, keep a closer eye on the health of your email list. Keep an eye on your reputation, use tools like email validations to guarantee list quality, and get assistance when necessary.
Summing Up
In a nutshell, don't be alarmed. Apple's Mail Privacy Protection is a considerable blow for marketers and customers who want a personalised experience from brands they know and trust. We expect that it will encourage the email industry to keep innovating so that companies can provide the greatest possible experience for their subscribers and consumers. After all, it's all about the individuals who get our emails at the end of the day.