As the old adage says, "The kitchen is the heart of the home." That is why you should do what you can to make it an enjoyable place to be. After all, you will be spending a lot of time in there cooking and entertaining guests.
Now, one way to add a touch of fancy and luxury to your kitchen is to invest in clear design furniture, such as Lucite bar stools. They are not only stylish but also very practical. In this article, we will give you some clear acrylic bar stool ideas that you can use to transform such a space.
7 Fun Ideas to Use Clear Acrylic Bar Stools in Your Kitchen
Due to their versatility, you can use clear design stools in many ways. Here are those that you can try.
1. Use Them as Part of a Breakfast Nook
You can add a small area in your kitchen where you can enjoy your morning coffee or tea. And, acrylic bar stools are the perfect addition to this space and give it a modern and sophisticated look.
To start off, you will need to find a table that is the right size for your breakfast nook. Once you have that, you can then look for a modern counter stool that will match it. Make sure to measure the height of the table and compare it to the height of the stools before making your purchase.
You can also use this space as a place to enjoy your evening meals. Just add some candles and soft lighting, and you will have created the perfect romantic ambiance.
2. Create an Island Bar
If you have a kitchen island, then you can use acrylic bar stools to create an island bar. This is a great way to add extra seating to your kitchen while also making it more stylish.
To do this, simply find some counter height stools that fit under your island. You can then use them as additional prep space when you are cooking or as a place to enjoy your meals.
Another great thing about using these stools in this way is that they will make your kitchen look bigger and more spacious.
3. Make Them the Focal Point of Your Kitchen
You can also use Lucite bar stools as the focal point of your kitchen. This is a great way to make a statement and show off your unique style.
Simply choose a stool that has a unique design or color. You can then use it as the centerpiece of your kitchen by placing it in the middle of the room. You can also add some accent pieces around the stool, such as a vase or picture frame, to really make it stand out.
When choosing a stool though, make sure that it still complements the existing design of your kitchen. While you are trying to make it a centerpiece, you don't want it to look out of place.
4. Create a Formal Look
If you are looking for a more formal look, then clear design furniture is also a great option. Simply choose counter stools with backs and classic designs.
You can also add some other elements to the space. For example, you could use white leather stools and add some greenery around them. This will create a luxurious and sophisticated look that is perfect for entertaining guests.
Alternatively, you could go for black leather stools if you want to create a more dramatic look.
5. Give Your Kitchen a New Pop of Color
You could use these stools as an opportunity to introduce new colors into your kitchen. They allow you to experiment with different color schemes and create a truly unique space.
Remember though that, when adding color, less is more. So, don't go overboard and choose too many different colors. Otherwise, it will look cluttered and busy.
Instead, focus on two or three hues at most and use them throughout the space. For example, you could use kitchen counter stools as your base and then add some green plants around them. Or, you could use a stool with a dark shade and add some other light-colored accent pieces.
You can also use different hues to create different moods in your kitchen. For example, if you want a more relaxing atmosphere, then you could use stools with pastel shades. Alternatively, if you want a more energetic space, then you might choose those with brighter hues.
6. Use Them as Extra Seating
If you have a large kitchen, then you can use clear acrylic bar stools to add extra seating. This is especially useful if you often have guests over or if you entertain frequently.
You can also use this opportunity to create a more diverse seating area. For example, you could use one stool as a regular chair and another as a footrest. Or, you could use two stools of different heights to create a more interesting look.
7. Add Some Storage
Yes, there are also clear acrylic bar stools that come with storage. You could find some pieces with shelves or drawers built into them that you can utilize to store things, like cookbooks or towels. There are even stools that have wheels on them. You can easily move them around the kitchen and access whatever you need without having to bend down. These pieces of furniture are a great way to keep things organized and tidy in your kitchen.
Whichever clear acrylic bar stool ideas you would like to try, this piece of furniture is the perfect way to add style and luxury to your kitchen. So, don't wait any longer, start shopping today!
Where to Buy Clear Design Kitchen Counter Stools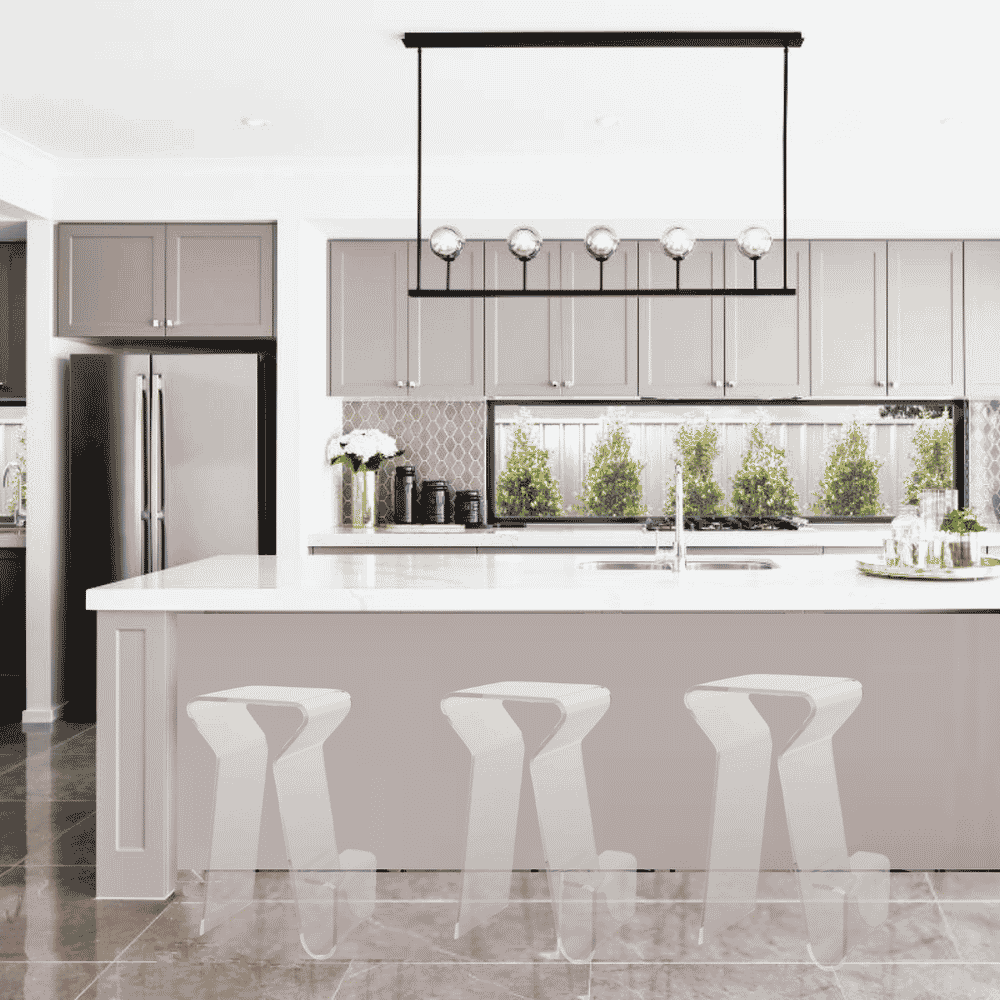 The best way to buy a fancy acrylic stool or any other kind of clear design furniture is online. With just a simple keyword search and a few clicks of the mouse, you'll have plenty of clear design furniture websites to choose from that offer great prices and fast shipping.
However, when shopping for Lucite stools, it's important to remember a few things. First, take measurements of the area where the stool will go so you know what size you need to order. Second, think about the style of stool you want and whether or not you want it to have a back or be stackable. And finally, don't forget to factor in the price.
Of course, you should also read reviews of the website or store you're planning on buying from before making your purchase. This way, you can be sure that you're getting what you expect and that the company is reputable.
Final Thoughts
Because of the transparent design, there would be endless clear acrylic bar stool ideas that you can try. This piece of furniture would help uplift the look of your kitchen since it can act as a base for other colors. It also allows you to play with different color schemes without making your kitchen look cluttered. Plus, you could use them to add extra seating or storage space in your kitchen.
When shopping for clear design furniture, though, you should still take some careful considerations to ensure you are getting the right pieces for your space. With a little bit of planning, you can easily find the perfect clear acrylic bar stools for your kitchen.
For more fun tips on interior design, feel free to check out our other blog posts. Thanks for reading!