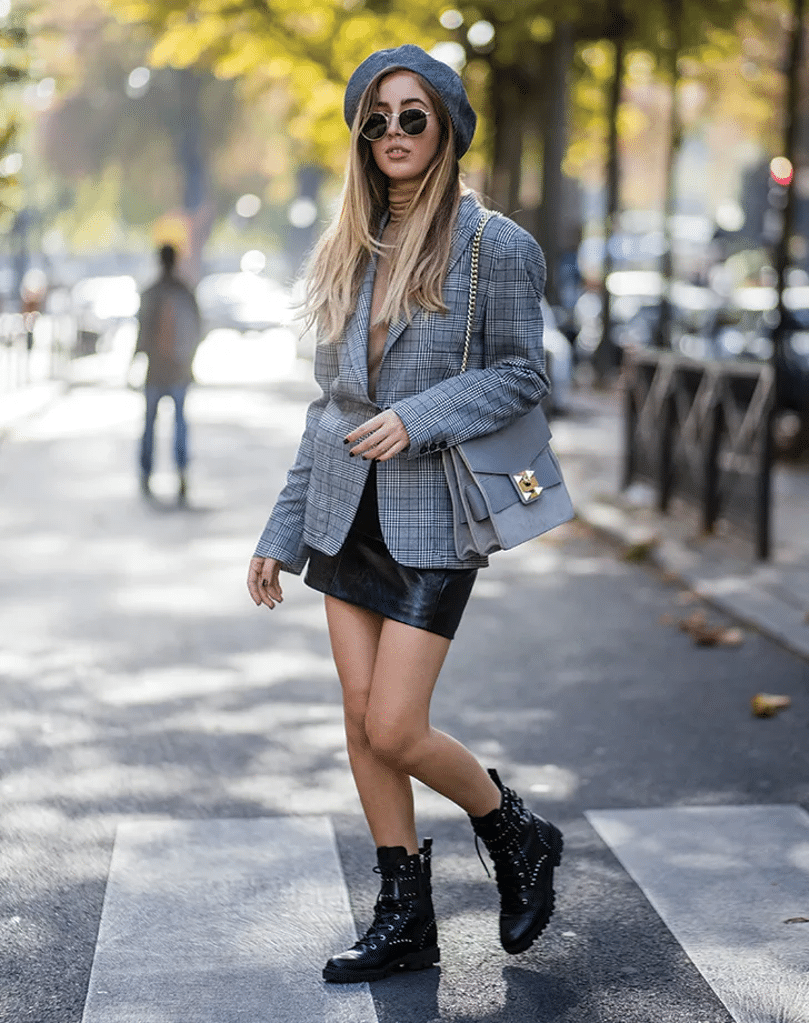 Good day, fellow fashion foot soldier! So, you've decided to enlist in the combat boot brigade? Excellent choice!
Whether you're marching into the Monday blues, or stepping out for a Sunday brunch – your combat boots are ready for duty. But how do you ensure that they work with every outfit, and not just with camouflage pants? Read on, brave style warrior.
1. Floral Dress Fusion:
Because what says "I'm delicate, but I'll also kick you if you spill your drink on me" more than this?
**Outfit: Floaty floral dress paired with your sturdy combat boots. Throw on a denim jacket if it's chilly.
Makeup: Dewy finish with a pop of pink on the lips and rosy cheeks. It's about contrasts, darling!
Event: Picnics, casual brunches, or festivals. Basically, anywhere you want to stomp around and look pretty.
2. Office Chic Meets Street:
Get ready to leave a footprint (quite literally) in your next board meeting.
Outfit: High-waisted tailored trousers, tucked-in blouse, and combat boots to finish the ensemble. Maybe add a blazer if you're feeling extra bossy.
Makeup: Neutral eyeshadows, winged liner, and a bold red lip. Serve those looks while you serve some data analysis.
Event: Office days, networking events, or whenever you're on a mission to shatter glass ceilings.
3. Grungy Galore:
For when you're feeling nostalgic for the '90s. Flannel shirts, anyone?
Outfit: Ripped skinny jeans, a band tee, plaid shirt tied around your waist, and those battle-ready boots.
Makeup: Dark kohl-rimmed eyes and a nude or dark lip. Think Kurt Cobain meets fashion week.
Event: Rock concerts, dive bars, or a casual Friday if your boss is cool like that.
4. The Skirt Strategy:
Yes, combat boots and skirts can coexist peacefully.
Outfit: Mini black skirt, graphic or plain tee, layered with a leather jacket, and of course, those boots.
Makeup: Shimmery bronze or gold eyelids and a glossy lip. Legs for days, and glam for nights.
Event: Date nights, clubbing, or just swaying around town making heads turn.
5. Winter Warfare:
Cold? Snow? No problem for the combat boot recruit!
Outfit: Chunky knit sweater, leggings or skinny jeans, oversized scarf, and those trusty boots.
Makeup: Frosty highlighter, a hint of blush, and berry-tinted lips. Winter wonderland, here you come!
Event: Christmas markets, coffee runs, or snowball fights.
6. Rave Music Party:
Who said boots are only for Punk Rock events?
Rave Outfit: Denim shorts, a breezy tank top, and your combats. Don't forget those cool sunglasses.
Makeup: A touch of bronzer, mascara, and a coral lip. Sun-kissed and boot-kissed.
Event: Beach parties (sand be damned), barbecues, or summer festivals.
7. Gym to Gin:
Why not?
Outfit: Athleisure leggings, a crop top, maybe a baseball cap worn backwards for added sass, and those boots.
Makeup: Bare-faced with just a touch of lip balm. You're working that natural glow.
Event: Post-workout brunch, a quick grocery run, or literally going from gym to gin (or juice, we don't judge).
Conclusion:
Combat boots are not just a trend; they're a testament to versatility, endurance, and sheer fashion prowess. Whether you're feeling sweet, sassy, or somewhere in between, they've got your back. Or rather, your feet.
Remember, fellow fashionista, the world is your runway and those combat boots? They're your secret weapon. Go forth and conquer! And maybe grab a latte while you're at it. You've earned it, soldier!