Imagine you are looking for something, a specific product, or a service; what is the first place you are going to look for it? Most people are going to pick up their smartphone or sit at their computer and browse the internet for their interests. For most consumers, if they can't find something online, it's as if it does not exist.
Every product, service, company, or business needs to have an online presence, best through their own website, to be visible. And there is no better or easier way to create a website than WordPress. You don't need to hire a professional developer studio to design and create your business website; instead, you can make beautiful and functional websites yourself. There are a lot of online tutorials on how to create a website from scratch using WordPress. This article will be a short guide on how to do just that.
Let's see some of the steps on our creative journey.
Registering a domain name
Before even touching the website creation process, we first need to lay down the foundations. How are people going to find your site, and more importantly, what is it going to be called?
Your domain name is the answer, so you should pay special attention to what it's going to be. Now, finding a good domain name might take some time, but it's much better to have a good, creative name that will make your business stand out.
There is a slight problem with this though, what if your desired name is taken? It's not the end of the world; still, there are many domain name broker services that are willing to enter the negotiation process and try to buy the desired domain from its current owner.
Also, pay attention to the top-level domain extensions. These are the .com, .org, .net, and many other ones that come at the end of your domain name. For example, YourDomainName.com might be taken, but YourDomainName.net might not be.
This is why it's important to use a domain registar and a domain broker if needed.
Buying hosting
Now that we have a name for our website let's make some space online for it. For that, we will need to select and buy hosting.
In short, hosting represents the hardware and online data storage needed to make your site function properly. Depending on the size of your business, you will select the appropriate option, but for most businesses, the shared hosting option is the preferred option, as it offers a nice balance between performance and costs to operate.
Now, most hosting providers also deal with domains, so it might be a good idea to check their prices as well. This will keep your business more organized and in case of a problem, you will only have to contact one company. Most of the hosting providers have quite an easy, pick and choose method of selection and buying hosting. Be sure to check if they have additional support and security packages; these might also come in handy in case of an emergency.
The creation of the website
Now, the foundations are set, and we are ready to create our WordPress website.
However, this might take some time, and in general, it is very important to make your presence known even before finishing your website. This is why coming soon pages are so important, as they can be used to create hype for your launch, expand your email list and cover the work-in-progress site.
The best way to do this is with the Coming Soon & Maintenance Mode plugin for WordPress.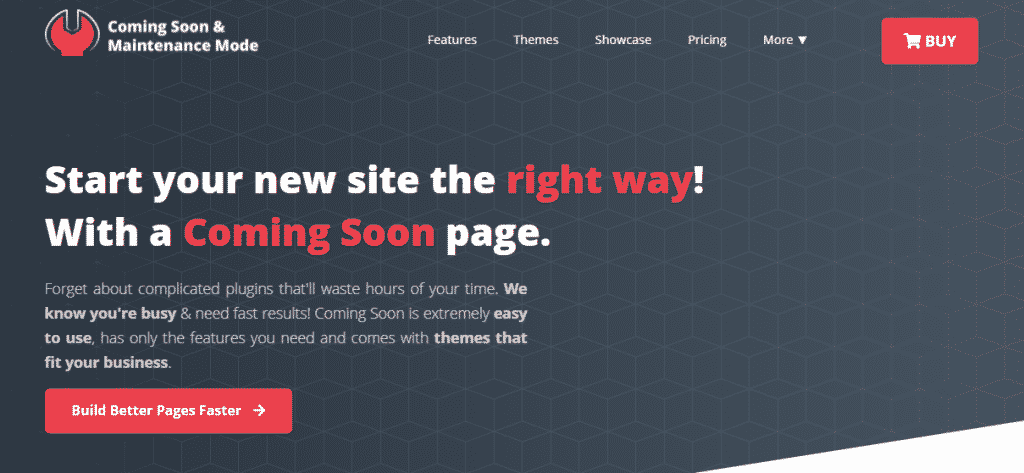 This plugin offers a fast and easy way to make that online presence. It offers more than 2 million free images that you can use when designing your coming soon page. Besides that, it also offers over 170 remarkable themes to speed up the process and SEO setup, which is of huge importance, especially for new sites. All this together makes it the best plugin for creating coming soon pages, which can be used to lay down the red carpet before your website is complete.
We touched upon security a little when we talked about hosting, but here, we will discuss it in much more detail. It is very important to have a secure and reliable website, as not only does this make it appear more professional, but it also helps with fixing any problems that might arise in the future. One of the best ways to ensure the stability and security of your sites is with the WP Reset plugin.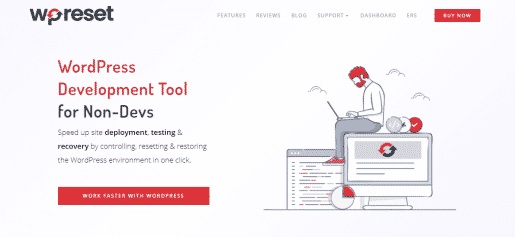 As its name suggests, WP Reset's main use is to help you test, debug, recover and reset sites that have been affected by an error, malware, a bad plugin update, or something similar which might have caused your website to stop operating normally. The main tool WP Reset uses when it comes to recovering your site is the all-powerful Emergency Recovery Script. If you encounter the white screen of death, a plugin makes your site unstable, or if there are malicious files in your WP installation, ERS will help you take care of it with dozens of different tools. Coupled together with WP Reset's snapshot option, which is a sort of a backup of your site, there is no problem you won't be able to solve using these two tools.
So, you have done the groundwork, ensured a spot for your site, and made it more secure and reliable, and you have started doing the creative work. Great, that is easily the most fun part of the website creating process. But, just because it is mainly the creative part doesn't mean we can forget about functionality. One of the most functional things that will ensure customer satisfaction and make the navigation process easier and more enjoyable is sticky elements. For the creation of such elements, it's best to use WP Sticky, as it offers great flexibility and ease of use when it comes to creating such elements.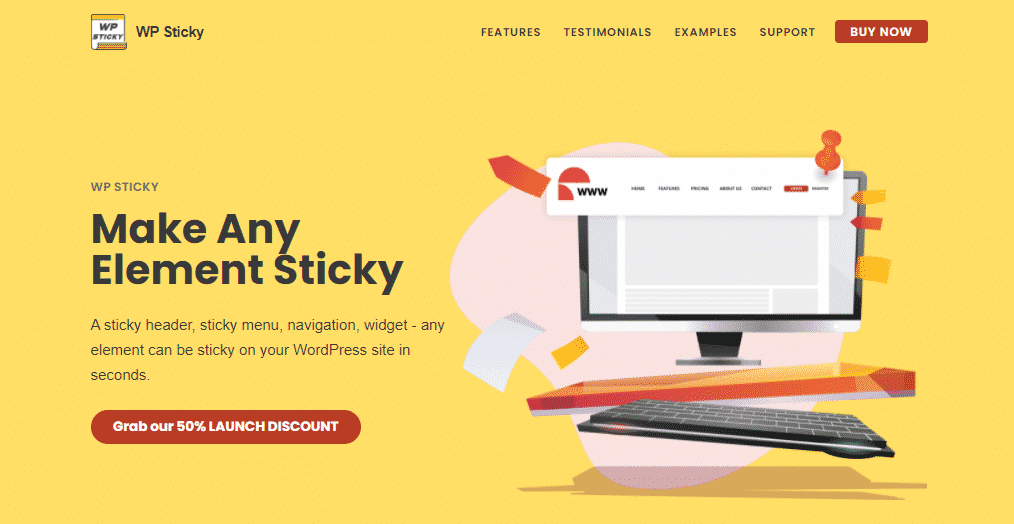 Using its intuitive options, such as the visual picker, you will be able to create sticky menus, headers, or other sticky elements in no time at all. Most businesses opt to create a sticky header as it makes navigating the website a tad bit quicker, and that will be very important for the end-user, even if they themselves won't really know that.
Now, since we will be creating a website for a product or a range of products, it's important to build trust and social proof, as well as make it easier for our potential customers to find our store location if that option is more convenient for them. For creating functional and easy-to-use maps, we will use the Google Maps Widget PRO plugin. With its no-nonsense design and simplistic approach, integrating a Google Map has never been so easy. The plugin provides great customization options to make your map match the overall look and feel of your WordPress site. The mobile responsive maps can also be used in many places, not just your About page. You can use them in your posts, pages, sidebar, menus, etc.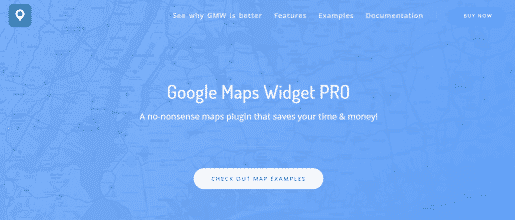 After you have finished up setting up all of the "functional" parts of your website, it's time to create the content that will be displayed on the pages. What if you don't have that much time available and would like to delegate this task to someone else. Great, that is the reason content creators exist. They will create said content for you. It is very important to credit your content creators, and one of the best ways to do just that is with the Simple Author Box Pro plugin.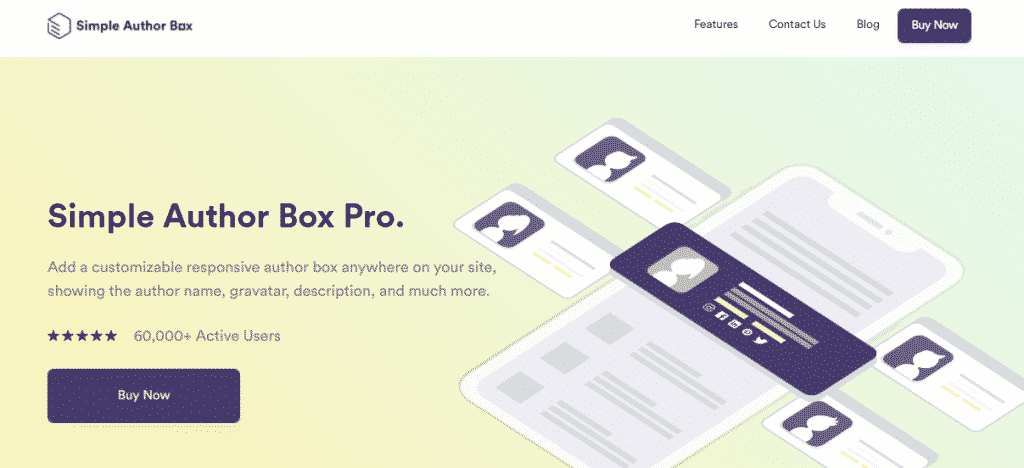 This plugin provides an easy and convenient way to credit authors, guest authors and even credit multiple people with a customizable and responsive author box. There are many appearance customization options that will allow you to choose the specific look of your author boxes to make them thematically connected to the rest of your site.
Conclusion
The process of creating your business WordPress site isn't as tedious and hard as it might have first seemed. There are many online tools that will help you create and customize the best possible website that will suit your needs and desires. It's also important to use good plugins for WordPress as they can make all the difference between a functional site with many happy and loyal customers and a barely working site. Invest in your website so it can make your business stand out amidst the ever-growing competition and conquer your slice of the market with a great-looking and reliable site.