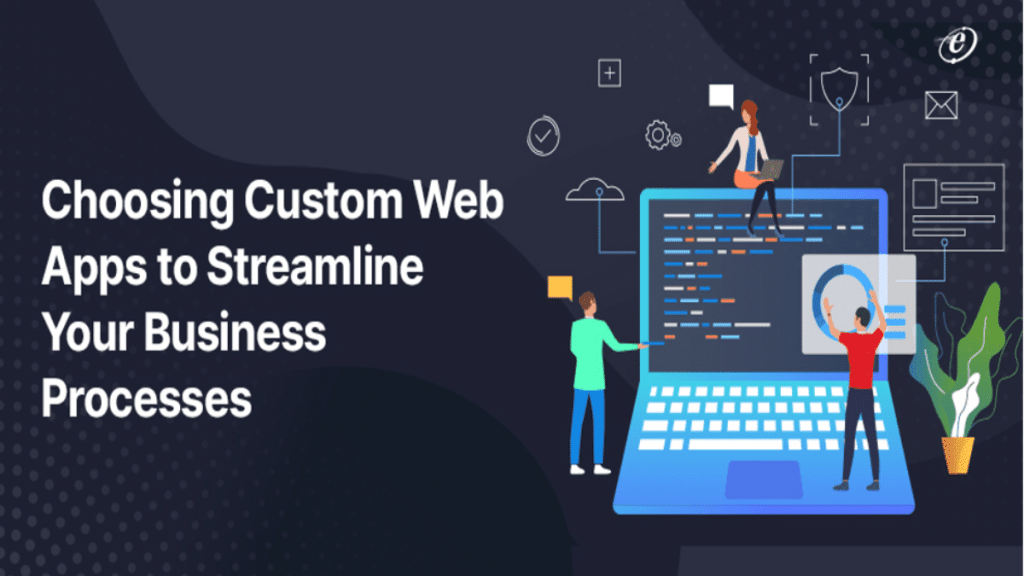 By- eLuminous Technologies
Sometimes, it is natural to feel that nothing is going your way on the business front. There is a reduction in your team's output, and the profit margins are going down considerably. In such a scenario, Custom web application development company can be a great one-stop solution.
How? Get this – custom web apps can potentially streamline your business operations. With the right features, you can automate manual tasks, improve workflows, and manage data more effectively.
Gartner states that 91% of businesses have some form of digital initiative. So, if you want to join ranks with some of the top names, choosing custom web application development is crucial. Read this blog to understand how this service can profit your business.
What are Custom Web Application Development Services?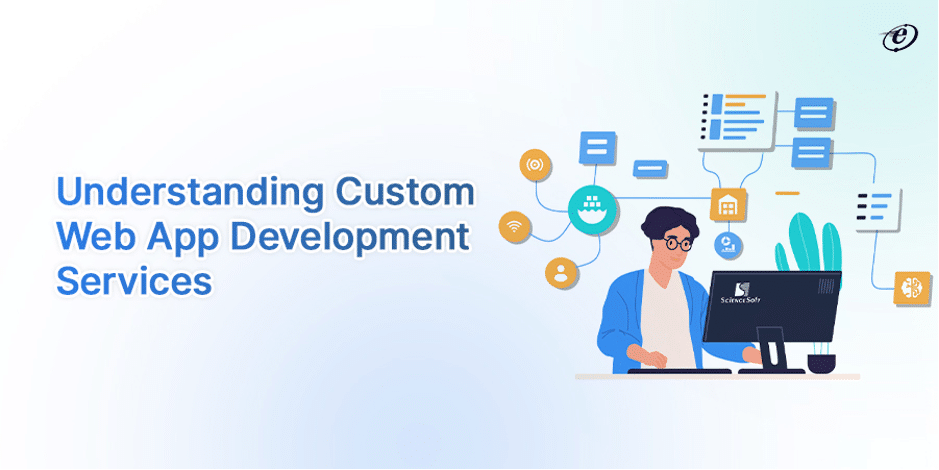 The IT sector has an array of technologies that help modern businesses. Today, digital transformation is becoming vital for companies for the following reasons:
Enhance their overall output
Stay relevant in the industry
Improve business processes
Engage the target audience
Custom web apps are tailor-made software that users can access on their devices. You only require a stable and fast internet connection and a compatible device.
Now, custom web development is how developers use the required tools to create such apps. Here is a list of the common tech elements that you need to consider during custom web application development:
Front-end tools
Back-end tools
API Technologies
Database
Operating system
All in all, the best custom web application development services focus on selecting the right tech stack.
Typical Business Processes for Streamlining
To understand the positive impact of custom web apps, you should first know what processes they streamline. This section explains the main categories of business processes.
| | |
| --- | --- |
| Process Category | Explanation |
| Operational | These are the activities that help generate a company's revenue directly. Some examples include product storing, shipping, processing payments, etc. |
| Auxiliary | These are background processes that enable the smooth functioning of an organization |
| Management | Process that include planning, monitoring of activities, and tracking of company activities fall into this category |
Custom web application development services utilize a digital solution to optimize these processes.
Simple Explanation of Custom Web Application Development Services
If you don't want to get too much into the technicalities, this section will prove useful.
Here's how custom web development helps streamline your business processes:
You approach a reliable IT vendor
↓
The team discusses your business nature and requirements
↓
You brainstorm potential solutions
↓
The Project Manager suggests concept of a custom web app
↓
You receive multiple suggestions on the app's features
↓
The developers build a customized app that improves your company's operations
↓
You can measure the results through metrics and see the difference
Usually, the best custom web application development companies help produce noticeable results.
Custom Web Application Development: The Benefits
Consider creating a custom web application. What will be the advantage? Such an app will offer several benefits besides streamlining your business processes. Scan this section to know more.
Improvement in Overall Efficiency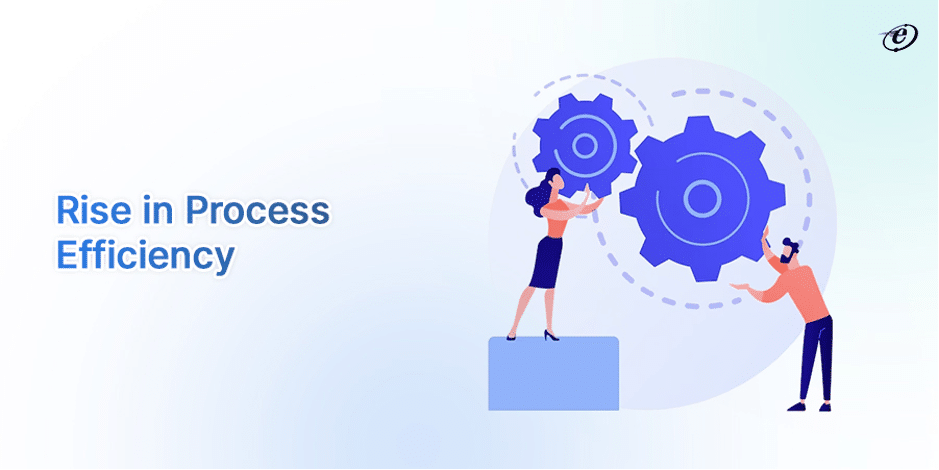 Custom web application development services use automation tools in the end product. As a result, your web app can boost productivity by automating the following activities:
Manual form filling
Leave request approvals
Payment tracking
Consignment updates
Real-time shipping notifications
The reduction in manual tasks enables your employees to focus on critical activities. As a result, there is an increase in your company's operational efficiency.
High Flexibility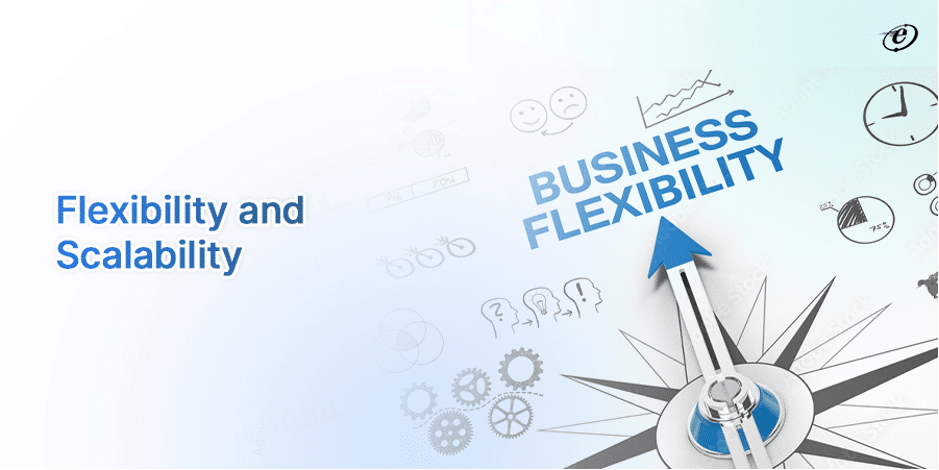 Custom web application development is a tailor-made process. The developers can modify your web app according to the changing requirements of your business.
This flexibility allows you to scale your business without any impact on the business processes. As a result, you can boost profits and implement various expansion strategies by using suitable custom web apps.
Increased Operational Speed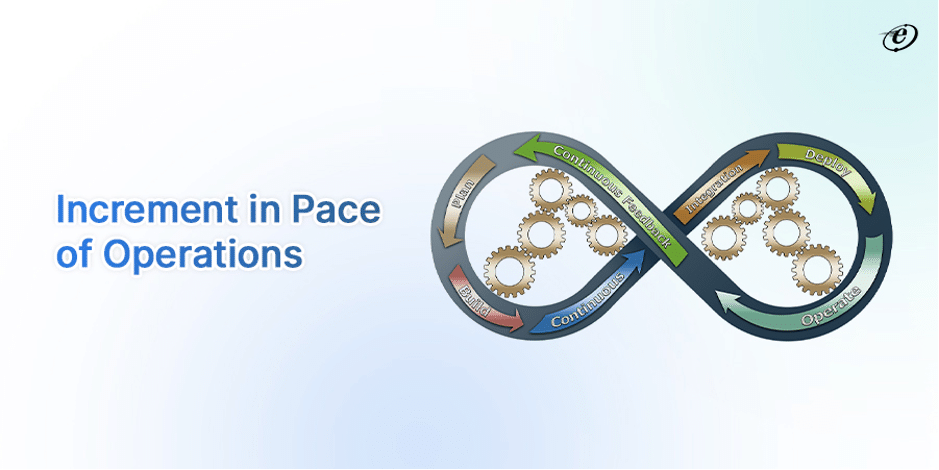 Integrating third-party apps with your customized software enables quick completion of different activities.
Whether onboarding new members or tracking task completion, custom web apps can support all these activities.
Here is a list of some useful tools and technologies that you can integrate during custom web development:
DocuSign
Zapier
Asana
Wrike
Doodle
The use of such technologies improves the operational speed in your organization.
Self-dependent Digitization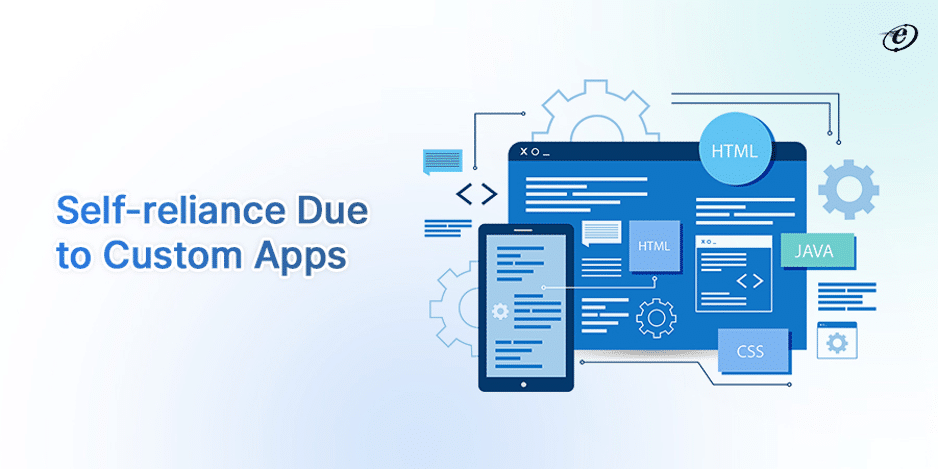 Companies choose custom web application development services as a form of long-term investment. By building custom web apps, you don't need to buy independent licensed software.
Whether an employee portal or organizational app, tailor-made software offers more self-reliance. Also, you save money in the long run by eliminating subscription renewal charges.
Increased Employee Satisfaction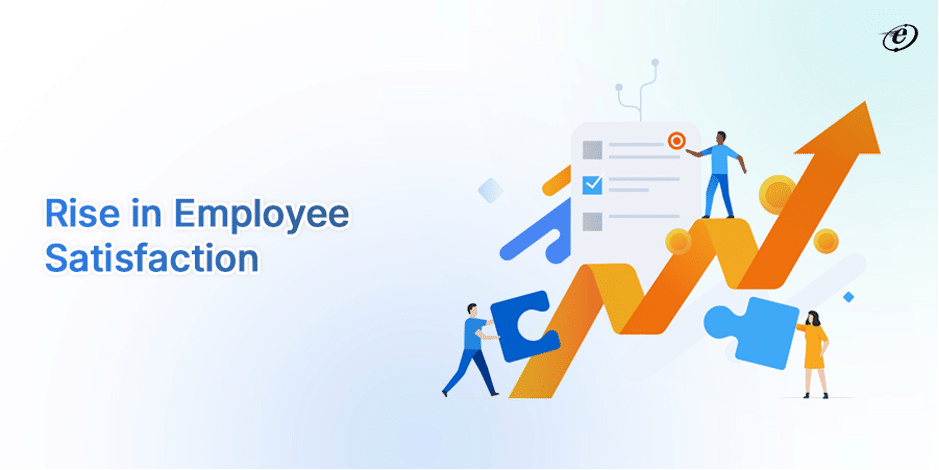 Custom web development has a positive impact on employee perception. By offering a distinct organizational app, you add convenience to your workforce.
So, along with streamlining business processes, you can notice the following advantages:
Rise in employee engagement
Boost in productivity output
Decrease in miscommunication
Easy access to available documents
Prompt addressal to general requests
Moreover, custom web apps improve employee satisfaction, saving time and enhancing business processes.
Custom Web Application Development Services: The Process
By now, you must be fully aware of how custom web apps can transform your business processes. It's time to understand the general approach to building such software.
Read below to learn the stepwise methodology for developing such apps.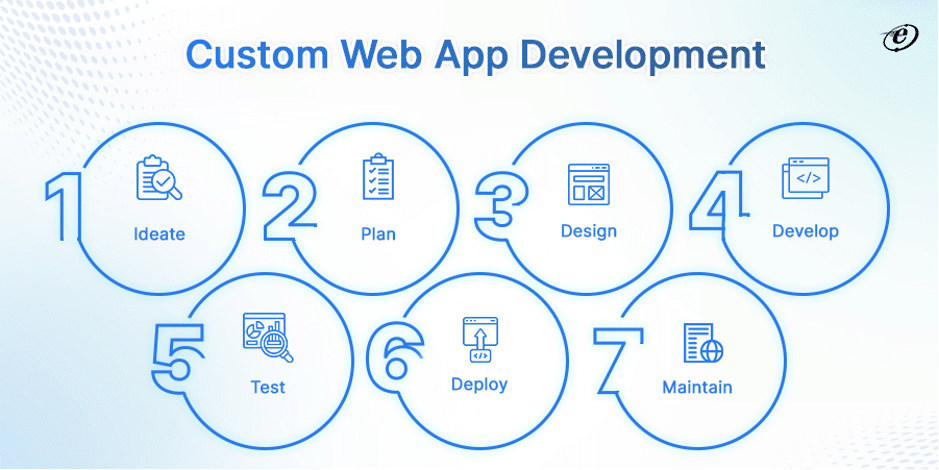 1. Ideation and Planning
First, it is crucial to bring ideas into reality. The developer team understands your business nature and process challenges.
Next, they suggest solutions that custom web apps can solve. The planning stage involves the creation of the web app's structure and deciding on a minimum viable product.
2. Custom App Design
The development team has UI/UX designers who follow style guides and create the app's interactive elements.
Moreover, special attention is paid to aesthetics, ergonomics, and the overall look of the custom web apps.
3. Application Programming
This is a crucial stage in which developers use frameworks and deploy application programming interfaces. They use suitable front and back-end tools to install features and secure your web app.
Notably, the choice of tech stack becomes crucial to complete this process swiftly.
4. Quality Testing
A Quality Assurance Engineer is responsible for performing testing in the custom web development process. This activity ensures the removal of bugs and verifies whether the custom web apps meet industry standards.
In some cases, companies launch a prototype and gather feedback from end users. This way, it is possible to rectify common issues before launching the final customized software in the organization.
5. Final Launch and Maintenance
Your custom web application is ready to launch in the organization. The development team offers post-launch maintenance assistance at your request.
You can track metrics and check how implementing custom web application development services enhances your business processes. For this purpose, assigning a professional who can gauge the impact of custom web apps can be useful.
Application Types in Custom Web Development
There are several custom web apps that you can develop for your organization. Take a look at the popular ones in this section.
| | | |
| --- | --- | --- |
| Sr. No. | Web App Type | Explanation |
| 1 | Static | These apps display the content directly |
| 2 | Dynamic | Such apps respond to user-side requests and have several interactive features |
| 3 | Single page | As the name suggests, there is a single page that engages users and allows free communication |
| 4 | Multipage | If your organization requires several pages for streamlining business operations, this is a good option |
| 5 | Progressive | These are cross-platform custom web apps that provide a native experience to users |
The choice of the custom web app type depends on your business process complexities and requirements.
In a Nutshell
Custom web application development services have a positive impact on your business processes. Using a suitable app improves your team's efficiency by eliminating manual and repetitive tasks.
Stakeholders can access custom web apps from their smartphones. Moreover, these apps have all the functionalities that align with your business requirements. You can discuss the operations to streamline with a web development team.
The custom web development process includes using a suitable tech stack to build a long-term solution. So, connect with a suitable IT vendor and avail yourself of reliable custom web application development.
Frequently Asked Questions
1. What does streamlining business processes imply?
Streamlining business processes means removing unnecessary steps and avoiding non-critical repetitive tasks. Custom web application development services involve the creation of an app that can automate processes and boost the overall productivity of your operations.
2. What are some prominent ways to streamline business processes?
Simplified documentation, seamless collaboration, process mapping, and automation are well-known suggestions to streamline business processes. Custom web apps leverage technology to perform such activities and improve your company's efficiency.


3. What are the basic requisites for building custom web apps?
Knowledge of prominent programming languages like JavaScript, Python, and PHP is vital to starting custom web application development. Along with this information, you should know designing, quality testing, and content creation for developing robust custom web apps.
4. Where to find developers for the custom web application development process?
You can hire full-time employees or associates to develop custom web apps. On the other hand, hiring freelancers can also be a viable option. It is a good choice to approach an experienced software development company for the best results.