With the surge of social media platforms, new slang terms have integrated into our daily lexicon, often leaving users puzzled. One such term is "delulu," which has taken TikTok and other platforms by storm. In this article, we unravel the delulu meaning and origins of this trendy phrase. Here is an enlightening journey through its nuances and usage in the digital space.
Social media platforms, especially TikTok, are vibrant hubs where millions actively engage in sharing, creating, and participating in numerous challenges and viral trends.
Amongst this vibrant interaction, new words and phrases crop up, setting the stage for a continuously evolving digital language. "Delulu" is one such term that has become significantly popular, intertwining with the platform's culture. Here's a detailed insight into its significance and usage.
Understanding the Delulu Meaning Phenomenon
The term "delulu" serves as a colloquial abbreviation for "delusional." It's extensively used to portray someone holding onto seemingly irrational beliefs or fantasies, which are evidently disconnected from reality.
The term carves out a space where fantasy and fervor collide, often creating humorous or exaggerated narratives.
Delulu Meaning in the Digital Vocabulary

As per Urban Dictionary, a "delulu" can be described as an obsessive fan who nurtures an unrealistic affinity with their favored celebrity or idol.
These fans invest a disproportionate amount of time and energy idolizing these figures, sometimes blurring the lines between fiction and reality.
Delulu's K-pop Connection
Interestingly, the term holds substantial weight in the K-pop fandom. It is frequently utilized in a playful context to denote fans who harbor overly optimistic or impractical perspectives regarding a celebrity's personal life or professional trajectory.
This term often surfaces in light-hearted banter among fans, especially when they indulge in creating or sharing content that highlights their affection for these celebrities.
For instance, the K-pop fandom might witness a flurry of "delulu" comments on a post where a fan unveils a picture of BTS' Jimin, captioning it as a "boyfriend reveal". In such scenarios, other users might chime in, branding them as "delulu" for fostering such unrealistic narratives.
The Genesis of Delulu Meaning
To trace the roots of this term, we venture back to 2014. It is widely believed that the term gained momentum in the K-pop circles, specifically on a popular forum called 'OneHallyu'.
It was here that the term found its initial usage, spotlighting fans who were engrossed in weaving romantic narratives involving their favorite idols, sometimes responding to baseless relationship rumors with a casual toss of the term "delulu".
The Role of 'Delulu' in Modern Online Discourse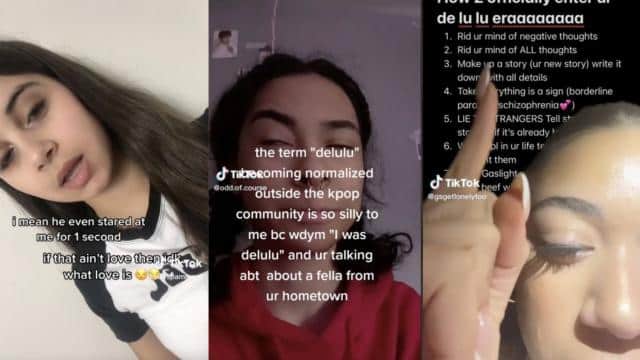 As we navigate further into the depths of the online world, we recognize that 'delulu' serves as a mirror reflecting the whimsical and sometimes irrational aspects of fandom culture.
It captures the essence of the blurred lines between the reel and the real, often leading to humorous exchanges and discussions.
Moreover, it's indicative of the expansive digital lexicon, which continually evolves, accommodating new terms and expressions to narrate the ongoing saga of internet culture.
In conclusion, the term "delulu" embodies more than just a trending slang; it is a testament to the dynamic and ever-evolving nature of digital language.
A term that began its journey in the vibrant alleys of K-pop forums has now found a universal platform, resonating with users globally, and adding a zest of humor and fantasy to online interactions.
As we continue to explore the multifaceted world of social media, it is intriguing to witness how terms like "delulu" enrich our digital vocabulary, offering a glimpse into the fascinating dynamics of fandom culture in the virtual realm.
The Cultural Impact of "Delulu"
Expanding further into the ramifications of this vibrant term, it's clear that "delulu" is more than just a passing fad.
It has become a vital part of the online discourse, a testament to the ever-changing dynamics of digital communication. Let's delve deeper into the influence and widespread adoption of this term.
Delulu Meaning: Bridging Fandoms and Realities
A significant part of the appeal surrounding the term "delulu" lies in its ability to bridge the gap between celebrities and their ardent fans.
The term encapsulates the whimsical aspirations and fantasies that fans often harbour, providing a platform for light-hearted exchanges and camaraderie among online communities.
Delulu Meaning in Fan Fiction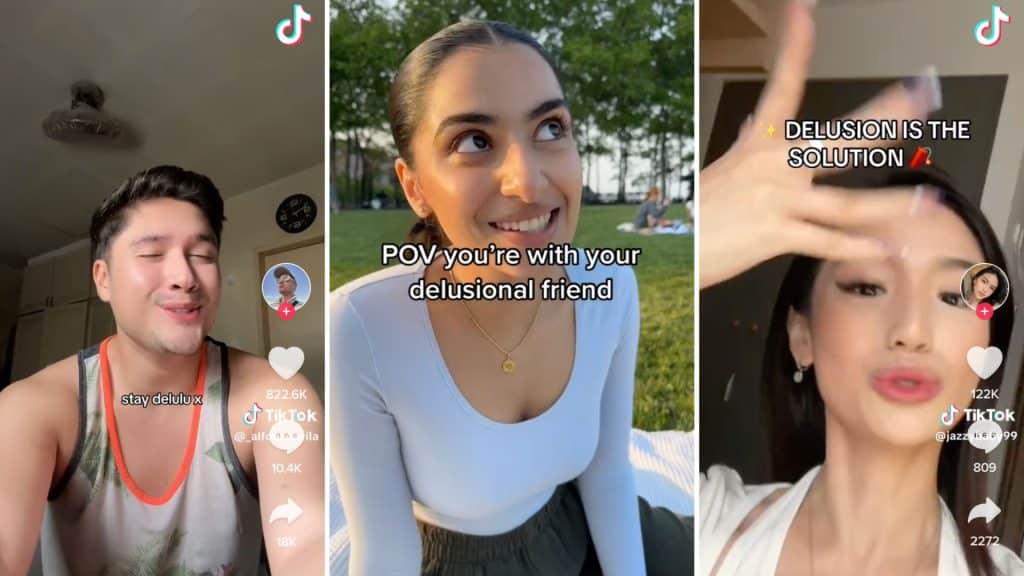 In a world where fan fiction thrives, the term "delulu" has found a comfortable home. Enthusiasts often craft intricate narratives, weaving their favorite celebrities into imaginative scenarios.
In these spaces, "delulu" serves as a playful nod to the exaggerated realities crafted within the confines of fan fiction, fostering creativity and sometimes even camaraderie among like-minded individuals.
The Global Reach of the "Delulu" Phenomenon
As time passes, the global reach of the term "delulu" continues to expand, marking its territory beyond TikTok and permeating other social media platforms.
This section explores its widespread impact and how it has become a staple term in online communities worldwide.
Delulu in Twitter Conversations
Twitter serves as a fertile ground where the "delulu" term frequently appears. Users often employ it to flag overenthusiastic fans or to jest about their own fanciful daydreams involving celebrities.
In this space, "delulu" has emerged as a universal language of banter, uniting fans across different fandoms and encouraging a culture of light-hearted teasing and discussion.
Delulu Meaning in Instagram Circles
Instagram, another giant in the social media realm, has also welcomed the term "delulu" with open arms.
Whether in the comment sections of celebrity posts or within fan clubs, the term circulates with gusto, often accompanied by a string of emojis denoting amusement or playful accusation.
It adds a layer of excitement and novelty to the interactions, serving as a token phrase to indicate one's playful indulgence in fandom fantasies.
Embracing "Delulu": A Sign of Changing Times
As we stand at the intersection of fandom culture and evolving digital language, embracing terms like "delulu" indicates a shift in how we perceive and engage with celebrity culture.
Let's explore the facets of this change and how "delulu" has become a marker of modern fandom dynamics.
Treading the Thin Line: Delulu and Reality
At its core, the "delulu" phenomenon signifies a blurred boundary between reality and the virtual world, often treading a thin line between affectionate jest and obsession.
It's vital to navigate this space with sensitivity, acknowledging the humor while steering clear of harmful delusions. The term "delulu" therefore serves as both an affectionate jest and a reminder to maintain a healthy boundary between fantasy and reality.
Delulu Meaning: The Positive Aspects of Delulu Culture
While it may sometimes denote irrationality, the "delulu" culture has its positives. It fosters creativity, enabling fans to craft narratives that resonate with their fantasies.
Moreover, it encourages interaction and discussion, fueling vibrant communities where individuals can share, laugh, and bond over their shared affection for celebrities.
In this light, "delulu" serves as a catalyst for community-building and creative expression in the digital age.
In conclusion, the widespread adoption of the term "delulu" mirrors the evolving dynamics of online culture. From its roots in the K-pop world to its global ascent across various social media platforms, "delulu" has etched its place in the modern lexicon.
As we forge ahead in the digital era, it will be exciting to observe how this term further evolves and shapes the contours of online discourse, offering a playful glimpse into the intricacies of fandom culture in a virtual world filled with possibilities.