Kratom, a tropical tree native to Southeast Asia, has gained significant attention in recent years for its potential therapeutic effects. While researchers and enthusiasts alike continue to delve into the intricacies of this ancient plant, newcomers often find themselves at the crossroads of curiosity and confusion.
With multiple strains and vein colors to choose from, the world of Kratom can appear overwhelmingly vast. If you're a Kratom novice, fear not. We're here to guide you through the spectrum of Kratom strains, unveiling the mysteries of vein colors and strain names. So, before you venture off to buy Kratom online, read on to know what to look out for!
Understanding the Basics: What is Kratom?
Kratom, scientifically known as Mitragyna speciosa, is a member of the coffee family. For centuries, indigenous populations in countries like Thailand, Indonesia, and Malaysia have utilized Kratom for its potential medicinal properties. The leaves, when harvested, can be consumed in various forms, with each strain offering unique effects.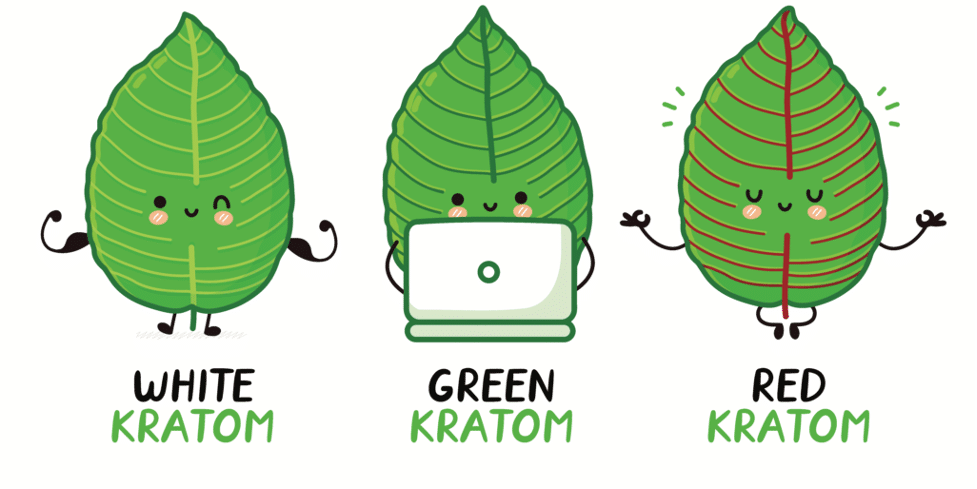 Kratom's Colorful Veins: More Than Just Aesthetics
One of the first things you might notice when exploring Kratom is the mention of different vein colors. These colors – typically red, green, and white – aren't just for show. They indicate the leaf's maturity and provide a hint into its potential effects.
Red Vein Kratom: Often sourced from mature leaves, red vein Kratom is known for its calming effects. It might be ideal for those seeking relaxation or pain relief.
White Vein Kratom: This variety is harvested from younger trees and has a reputation for being more stimulating. Many users turn to white vein Kratom as a potential energy booster or mood enhancer.
Green Vein Kratom: Sitting between red and white, green vein Kratom is harvested from moderately mature leaves. It is often considered a balanced strain, offering a mix of stimulation and relaxation.
Diving Deeper: Popular Kratom Strains and Their Benefits
With a basic understanding of vein colors, let's explore some popular Kratom strains:
Maeng Da Thai: Originating from Thailand, Maeng Da is a potent strain available in all three vein colors. It's often sought for its potential energy-boosting and pain-relieving properties.
Bali Hailing from the beautiful island it's named after, Bali Kratom, especially the red vein variety, is prized for its potential calming effects and ability to promote relaxation.
Green Malay: As the name suggests, this strain comes from Malaysia. Recognized for its long-lasting effects, Green Malay is cherished for potential mood enhancement and energy.
Borneo: Available in red, green, and white vein varieties, Borneo Kratom is known for its potential soothing effects and ability to alleviate discomfort.
Best Ways to Consume Kratom
Now that you're familiar with the strains, let's discuss consumption methods:
Kratom Powder: One of the most common forms, Kratom powder is versatile. You can brew it as a tea, mix it with juices or smoothies, or even incorporate it into food recipes.
Kratom Capsules: For those who dislike Kratom's distinct taste, capsules offer a tasteless and convenient alternative. They contain pre-measured amounts, ensuring consistent dosages.
Kratom Extracts: These are concentrated forms of Kratom, offering a more potent experience. Extracts can be mixed with other beverages or consumed directly.
Chewing Fresh Leaves: In traditional settings, especially in Southeast Asia, many prefer to chew fresh Kratom leaves. This method provides a direct, unaltered experience of the plant.
Conclusion
Venturing into the world of Kratom can be both exciting and daunting. However, with a bit of knowledge and guidance, you can navigate this spectrum with ease. As with any botanical, it's essential to start with small amounts to understand how your body reacts. Over time, you'll find the strain and consumption method that resonates best with your needs. Welcome to the captivating journey through the world of Kratom!