For anyone who missed Enzo Zelocchi's incredible feature documentary 'A War Hero' when it released back in 2012, now is the perfect time to get up to date with 'A War Hero 3.0'. Why? Because news just landed that TJ Mancini's production company Crossroads Entertainment will soon be dropping an extended version of the moving film with added footage that wasn't featured in the original version 11 years ago.
These days, audiences are captivated by the retelling of heroic stories of war, and never more so than when the film-makers share a personal connection to their subject. In the case of 'A War hero 3.0', an extra layer of intensity is added because the central character is producer TJ's kin, Charlie Mancini.
Enzo Zelocchi and TJ Mancini have collaborated numerous times in the past, so it makes sense that Zelocchi would step up to direct this delicate documentary feature. Another one of TJ's regular collaborators, Vin Diesel, also contributed to the moving project as executive producer.
A War Hero 3.0 Is a Tale That Needed to Be Told
The documentary provides an immersive experience of the Korean War, a conflict that took place between North Korea and South Korea from 1950 to 1953. One of the soldiers who fought against communist aggression in a foreign land for the sake of democracy and global stability was Charlie Mancini.
So much about this conflict is striking, and we can only imagine what those who fought in it experienced and endured. The Korean war saw not only on-the-ground combat but also unprecedented aerial battles, all overshadowed by the overarching threat of nuclear weapons. Honoring those who served and also the incredible moral lessons that come with such acute personal journeys is a noble contribution towards humanity's wisdom moving forwards.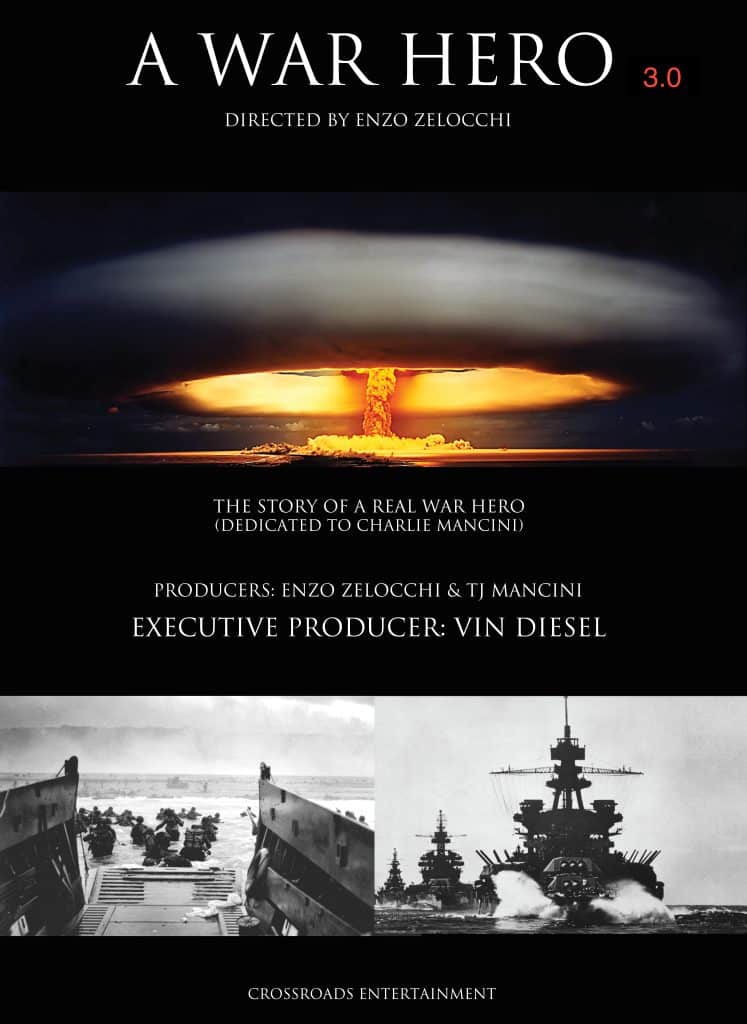 Enzo Zelocchi Takes Director's Chair for Feature Documentary 'A War Hero 3.0'
So, what would draw an action and drama maestro such as Enzo Zelocchi to a project like 'A War Hero'? It helps to understand a little of this multi-award-winning cinematic creative's own story. Because the retelling of the Korean War requires an understanding of what it is to empathetically draw many cultures together.
As a true child of the international era, Zelocchi is of mixed Italian, Russian, British, Spanish, and French heritage, and was raised between France, Italy, and the USA. He's also an individual who has worn many hats, ranging from time spent pursuing a degree in Accounting in Rome, modelling in Milan, performing live theatre, and ultimately becoming a Hollywood movie star and celebrated director.
The Creative Mind of TJ Mancini and Realizing A War Hero 3.0
Alongside his role as producer of 'A War Hero 3.0', TJ Mancini's vast legacy includes the development of over fifty screenplays, movie and TV treatments, theatrical productions, and novel adaptations. His most acclaimed projects include 'Shadow of Doubt' starring Melanie Griffith and numerous movies with action mega-star Vin Diesel. In fact, Mancini was a producer for Vin Diesel's self-directed feature film 'Strays' way back in 1996, as well as his cult classic 'Riddick', among others. Of course, Mancini has also collaborated with Zelocchi on a number of fictional movies including  Angels Apocalypse and upcoming release The First Secret. It seems like fate that these three talented visionaries would work on a project together, and A War Hero is certainly a feature of which they should all be proud. Be sure to watch this space for news of the new longer version of the documentary as well as upcoming features from Zelocchi and Mancini—a collaboration worth keeping tabs on!
A War Hero 3.0