Calling all dark souls and fellow creatures of the night…let's do a crash course in Goth Fashion! Born in the late 1970s and early 1980s, goth fashion emerged as a rebellious and enchanting movement that drew inspiration from gothic literature, haunting melodies, and exquisite art. It's a realm where darkness and elegance intertwine, where black reigns supreme, and where self-expression embraces the beautifully macabre. It isn't just a trend of the past; in fact, goth fashion is making a comeback!
Perhaps that's because goth fashion isn't merely about the clothes—it's a way of life. The goth subculture is all about embracing our unique selves and expressing our innermost desires. It's about finding beauty in the shadows and celebrating our individual darkness. And that, my friend, manifests in the way we dress. From the iconic black clothing and lace details to the velvet textures and silver jewelry, goth fashion is our way of embodying the goth subculture's enchanting aesthetics and embracing our inner dark souls. Let's take a closer look at how goth subculture influences clothing and accessories, and then we'll talk about what should be in your goth closet!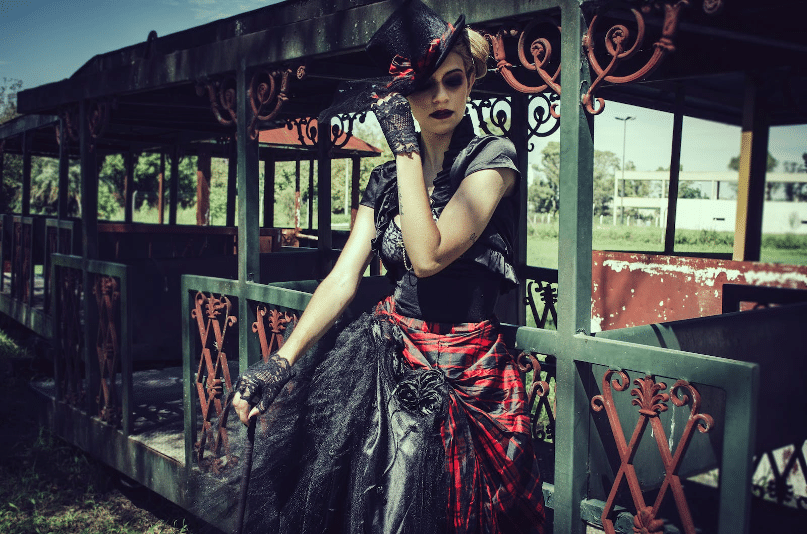 How does goth subculture influence fashion?
Goth literature, with its dark and atmospheric narratives, influences the themes and storytelling within goth fashion. The haunting tales of gothic fiction, exploring topics such as death, romance, and the supernatural, inspire the mystical and enigmatic elements present in goth fashion. The characters and imagery from gothic literature often find their way into the visual language of goth fashion, influencing the choice of symbols, motifs, and designs.
Goth music, with its melancholic melodies and introspective lyrics, sets the emotional tone and ambiance for goth fashion. The music creates a mood of introspection, darkness, and introspective contemplation, which translates into the aesthetics of goth fashion. The rhythm, soundscapes, and lyrics of goth music inspire the choice of fabrics, colors, and overall style, as well as the incorporation of subcultural symbols and iconography.
Goth art, with its visually striking and evocative representations, influences the visual elements and artistic sensibilities of goth fashion. The surreal, macabre, and fantastical imagery found in goth art inspire the creativity and visual expression within goth fashion. Artists explore themes of mortality, darkness, and the human psyche, which resonate with the aesthetics and philosophies of goth fashion.
What exactly is part of goth fashion?
While individual preferences may vary, here is a list of 10 commonly embraced clothes and accessories in goth fashion:
1. Black Clothing: Black is the go-to color in goth fashion. It encompasses a range of garments like black dresses, skirts, trousers, and shirts, providing the foundation for a dark and stylish wardrobe.
2. Corsets: Corsets are a staple in goth fashion, adding a touch of Victorian-inspired allure. They can be worn as outerwear or incorporated as lingerie, creating an elegant and provocative silhouette.
3. Lace and Velvet: Fabrics like lace and velvet bring a sense of opulence and texture to goth fashion. Lace is often used for details like trims, sleeves, or overlays, while velvet adds a luxurious and darkly romantic element.
4. Fishnet Stockings and Tights: Fishnet stockings and tights are frequently worn by goths to add texture and a touch of edginess to their outfits. They can be layered under skirts or ripped jeans for a dramatic effect.
5. Boots: Gothic fashion often features boots, ranging from chunky platforms to combat-style designs. Ankle boots, knee-high boots, or even thigh-high boots in various materials like leather or suede complement goth aesthetics.
6. Jewelry: Gothic-inspired jewelry is a must-have in the goth fashion arsenal. Picture the iconic skull ring. Skulls aren't the only jewelry design- silver or pewter accessories, such as chokers, earrings, necklaces, and bracelets, often feature occult symbols, crosses, or intricate gothic designs.
7. Trench Coats: Trench coats, particularly in black or deep shades, are a popular outerwear choice in goth fashion. They add an air of mystery and elegance to the overall look while providing practicality in colder weather.
8. Dark Makeup: Goth fashion enthusiasts often embrace dark and dramatic makeup. Think black eyeliner, smoky eyeshadows, deep and bold lip colors, and pale or porcelain-like complexion, creating a striking and gothic aesthetic.
9. Leather and Vinyl: Goths often incorporate leather or vinyl elements into their outfits. Leather jackets, pants, or accessories like chokers and cuffs, are common choices to add a touch of edginess to the look.
10. Victorian-inspired Accessories: Elements inspired by Victorian fashion, such as cameo brooches, top hats, fingerless gloves, and parasols, can be incorporated to enhance the gothic aesthetic and pay homage to the subculture's historical influences.
Remember, goth fashion is highly individualistic, and personal style plays a significant role in its interpretation. These items serve as a general guide to spruce up your goth wardrobe, but feel free to experiment and mix them according to your own preferences and creativity!