The landscape of healthcare is rapidly evolving, and with it comes innovative approaches to how medical professionals practice. In recent years, a new trend has emerged in the form of medical co-working spaces, providing shared work environments tailored to the needs of independent practitioners. Gone are the days of isolated medical offices; instead, a spirit of collaboration and community is taking center stage.
This blog post explores the benefits and possibilities that medical co-working presents for healthcare providers seeking cost-effective, flexible, and synergistic spaces to establish or expand their practices. We will also discuss how to find a suitable medical office for rent within a co-working environment, allowing you to enjoy the advantages of a shared workspace while maintaining the privacy and functionality needed for your independent practice.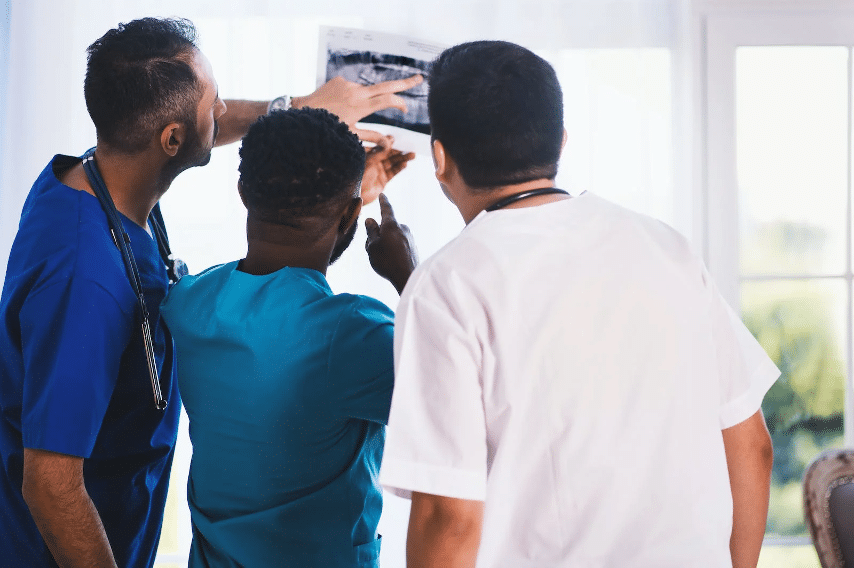 The Benefits of Medical Co-Working Spaces
Independent practitioners would find value in a medical space designed as a co-working environment for the following top five reasons:
1. Cost-Effectiveness:
Co-working environments offer a cost-effective solution for independent practitioners. By sharing facilities, administrative staff, and resources with other professionals, practitioners can significantly reduce overhead expenses compared to renting a standalone medical office.
2. Collaboration and Networking Opportunities:
Co-working environments provide valuable collaboration and networking opportunities. Working alongside other healthcare professionals from various specialties fosters knowledge exchange, referrals, and potential interdisciplinary collaborations, enhancing professional growth and expanding patient care options.
3. Flexibility and Scalability:
Co-working spaces offer flexible lease agreements, allowing practitioners to adjust their workspace according to their needs. Whether it's short-term rentals, part-time usage, or the ability to scale up or down as the practice grows, co-working environments provide the flexibility independent practitioners require.
4. Streamlined Operations:
Co-working spaces often provide shared administrative services, such as receptionists, appointment scheduling systems, billing support, and common areas like waiting rooms. These shared resources streamline day-to-day operations, allowing practitioners to focus more on patient care and reduce administrative burdens.
5. Professional Community and Support:
Co-working environments foster a sense of community among independent practitioners by providing access to professional organizations and associations. These spaces often host networking events, workshops, and seminars that facilitate connections with like-minded professionals. For instance, practitioners can benefit from affiliations with organizations such as the American Medical Association, the American Academy of Family Physicians, or specialty-specific societies, which offer valuable resources, mentorship programs, and opportunities for collaboration and support within the co-working community. This sense of belonging to a professional network enhances overall well-being and encourages continuous learning and growth.
How to Create the Right Medical Co-Working Space
Are you looking for a medical office for rent within a co-working environment? Here's a simplified five-step guide to help you find and set up your ideal space:
1. Research and Choose:
Begin by researching co-working spaces specifically designed for medical professionals. Look for options that offer medical offices for rent within their facilities. Consider factors such as location, amenities, size, and services provided to ensure it meets your requirements.
2. Evaluate and Select:
Evaluate the available medical office options within the co-working space. Determine the type of office you need, such as a private office or a shared space, based on your practice's requirements. Choose an office that aligns with the size, layout, and privacy considerations you desire.
3. Review Lease Agreement:
Carefully review the lease agreement provided by the co-working space management for the medical office you wish to rent. Pay attention to terms, rental duration, pricing, and any additional services or amenities included. Ensure the lease agreement suits your needs and adheres to your budget.
4. Customize and Set Up:
Once you've finalized the lease agreement, work with the co-working space management to customize and set up your medical office. Arrange furniture, equipment, and decorations according to your preferences and the needs of your practice. Create a professional and comfortable environment for both you and your patients.
5. Collaborate and Utilize Resources:
Take advantage of the collaborative opportunities and shared resources available in the co-working environment. Engage with other medical professionals, participate in networking events, and leverage shared services such as administrative support, appointment scheduling systems, and access to medical equipment. Maximize the benefits of the co-working space to enhance your practice.
By embracing medical co-working spaces, independent practitioners can benefit from the combined advantages of cost-effectiveness, flexibility, collaboration, and streamlined operations. These shared environments serve as catalysts for professional growth, creating opportunities to network, learn, and innovate.