Virtual private servers are a form of virtualization that allows users to install and run their operating system on a computer without affecting other systems. This allows users to use multiple different operating systems on a single physical system thereby saving time and effort. The world is moving fast and constantly changing, so it's important to keep up. Because of this, the speed at which a website or a web app loads is becoming more and more important. There are many options when it comes to hosting your site, but one thing that is crucial for your success is the speed of your VPS.
There are mainly two versions of VPSs as Linux VPS and Windows VPS. (There are much more, but these are the main two) While Linux VPSs are very commonly found in the market, Windows VPSs are somewhat expensive but easier to use for non-technical users. No matter what operating system you use, the speed of the VPS is a critical feature to consider when buying a Windows VPS or Linux VPS.
Importance of Speed and Factors affecting VPS speed
The factors that affect the speed of a virtual private server are many. However, three key factors have a significant impact on the speed of your VPS.
CPU:
The CPU is responsible for processing instructions and data in the computer. It also handles requests from other components in the system like memory, network interface cards, and disk drives.
RAM:
RAM is used to store data temporarily before it is written to disk or processed by other components in the system. It can be used by multiple applications simultaneously and has to be constantly refreshed by disk drives or other components.
Hard Disk Drive:
The hard disk drive stores data permanently on magnetic platters and is read from or written to at high speeds. Check if your VPS has SSD storage devices which is a faster option than general HDD storage
In addition to those factors, you should also consider the following.
Location:
Some locations are more convenient than others. It's important to choose one that is close to your target audience or clients.
-Software configuration: The software configuration determines what kind of operating system your VPS has installed on it. You can choose between Linux or Windows operating systems. In terms of operating systems, both the OS solutions are equally performant and capable.
4 of the Best Windows VPS Providers
When choosing a good VPS provider there are numerous things to do look for. Saving you the hassle, here are four of the best Windows VPS providers that will provide a fast VPS with a plethora of other features such as multiple data centers to choose from, reliable 99% uptime levels, and higher bandwidth levels.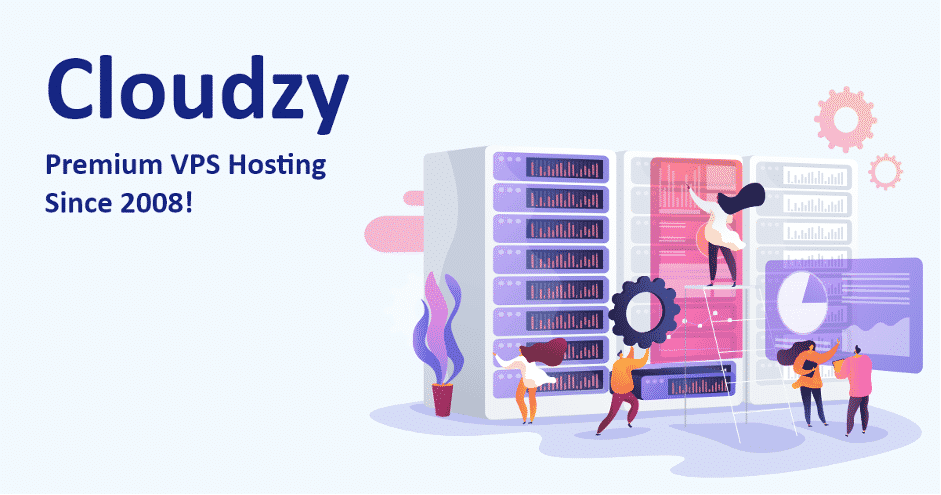 Cloudzy
Cloudzy is a web hosting company that specializes in offering the latest top-tier infrastructure accurately optimized for Windows VPS. All their plans include high-spec SSD storage and dedicated 1 Gbps bandwidth for an ultra-fast hosting experience. In addition, you can have full root access to the VPS and do whatever you want with it.
Also, Cloudzy offers you a plethora of locations to choose your VPS from making it extremely easy to choose the location closest to you.
We can recommend that Cloudy is the best option to go for if you need a Windows VPS.
Shape Host
Shape Host is a trusted VPS hosting provider based in New Jersey. Their Windows OS-powered VPS solutions provide a scalable, easy-to-manage, and efficient platform for small to medium businesses, reaching their goals faster.
Even though the number of data center locations is limited to that of Cloudzy, Shape Host still provides a very fast Windows VPS hosting solution.
ALA VPS
ALA VPS is a good solution for getting your windows VPS. On top of all the features that the company offers, they also offer a free plan for a small VPS. With that, you can easily evaluate and test their services before getting a paid premium package.
Even though you get good prices with the VPS, the speed of the server and the location choices are a bit mediocre than that of ShapeHost and Cloudzy.
DOTZO
DOTZO can provide a top windows VPS for an affordable price. However, the management features of a VPS are quite questionable. Other than that, all the other features are amazing. They guarantee the speed of the VPS as well as reliability.
DOTZO's support staff is also very supportive and available 24/7 making your life a whole lot easier.
There are many more Windows VPS providers, however, the above-mentioned four providers are the best in our opinion and experience with VPS solutions.
Conclusion about Windows VPS
VPSs are a great option for people who don't want to mess with the technicalities of managing their servers. They're also great for agencies, who can manage many servers without worrying about hardware costs and maintenance.
For those who need a server but don't have the time or expertise to set one up, VPS hosting is an ideal solution. It's easy to use and can be managed by anyone with basic computer skills.
We should not think of Windows VPS as a replacement for Linux VPS. For those who don't have the technical skills to manage a Linux VPS, Windows VPS is a great option.
Windows VPS is also easier to manage than Linux because it comes with built-in management tools and doesn't require additional software installation. It's also cheaper than Linux because it uses fewer resources and has fewer options for customization. However, as the OS is proprietary and not open-source, it can be a bit expensive. That being said, it's worth the investment if you're looking for something easy to manage and won't put a strain on your budget.
The conclusion is that Windows VPS is perfect for small businesses and startups who want to start their website but don't want to worry about managing servers themselves.
According to windows VPS hosting reviews available throughout the internet, it is clear that Cloudzy is the best choice you can go for if you are planning to purchase a Windows VPS.