Your Instagram story background thrives on visually pleasing aesthetics. One way to make it visually pleasing is by adding color to the background of your post; that way, you're one step away from making your slides stand out and another step away from attracting even more views on your story.
There are a few ways to change your Instagram story background, and this change is classified to the color or shade of the background. This is because the app initially provides you with a two-shade gradient or a single color.
Changing the background yourself will provide you with even more color options, and all you have to do is choose the image you want to post on your Instagram story.
First, you have to use two fingers to reduce the image size; after that, you'll notice the default color selected by Instagram standing out even more at the border of your phone screen, and your image will be right in the middle.
The following steps are pretty simple, and if you follow the steps carefully, you will be able to change the default color selected by the app to a color of your choosing. There are a couple of ways to change the color, and one way might be a bit complicated and the other a little bit easier.
You could also change the background of your Instagram story entirely; all you have to do is, choose a picture you would want and then screenshot it. It will appear in the sticker icon at the top of your screen, and you can crop the screenshot before you make use of it.
Then pick an image from your camera roll, this has to be an image you will like as the background picture, go back to the sticker icon and find the photo you took a screenshot of earlier and then click on it, and you'll have a picture and a background as well.
What is an Instagram Story?
To change your Instagram story background, you first need to understand what an Instagram story is and how to use it to get the views you need.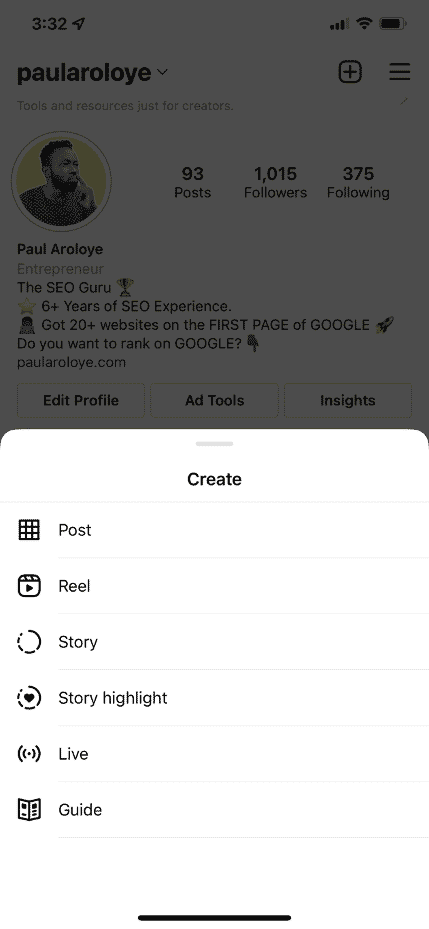 An Instagram story is a vertical photo or video that you can post; unlike Instagram reels and posts on your Instagram feed, these stories will only last 24 hours.
Your Instagram story could be 15 seconds long, and when you're posting a picture, you will be able to edit it. On the top corner of your Instagram home page, you can tap on the new post icon, choose the story option and add your video or picture.
Once you choose the story feature, you'll notice that there are a lot of icons like the text icon or the scribbling icon beside it, which will aid with any editing you might carry out. Once your chosen picture is on the screen, you will be able to add any changes you desire.
2 Ways of Changing your Instagram Story Background
Changing the background of your Instagram story post allows you to choose whatever look you want; it doesn't even have to be the color alone. For example, you could have a picture over another picture, which is another artsy way of creating story posts.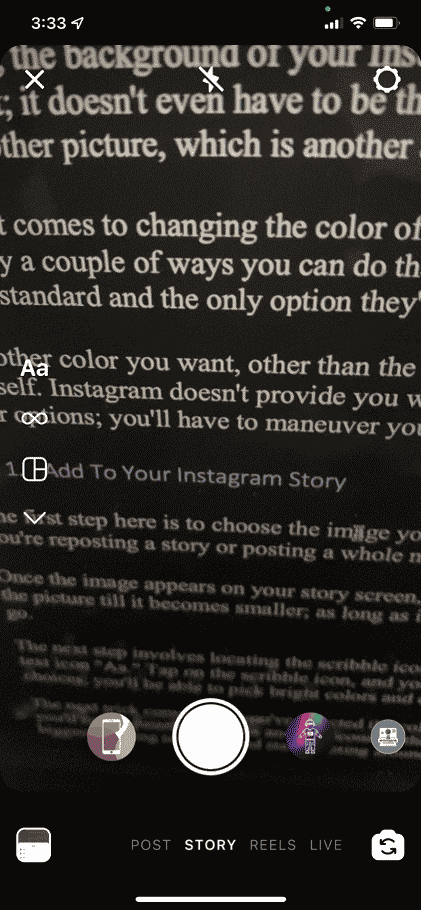 When it comes to changing the color of your Instagram background, you will find that there are only a couple of ways you can do that. This is because the default color set by the app is pretty standard and the only option they'll provide in terms of color.
Any other color you want, other than the one provided, will be up to you to create for yourself. Instagram doesn't provide you with much room to choose quickly from the different color options; you'll have to maneuver your way around it with these easy steps;
1. Add To Your Instagram Story
The first step here is to choose the image you want to post on your story, whether that means you're reposting a story or posting a whole new one from your camera roll.
Once the image appears on your story screen, you will then have to use two fingers to pinch the picture till it becomes smaller; as long as it doesn't fill up the entire screen, you're good to go.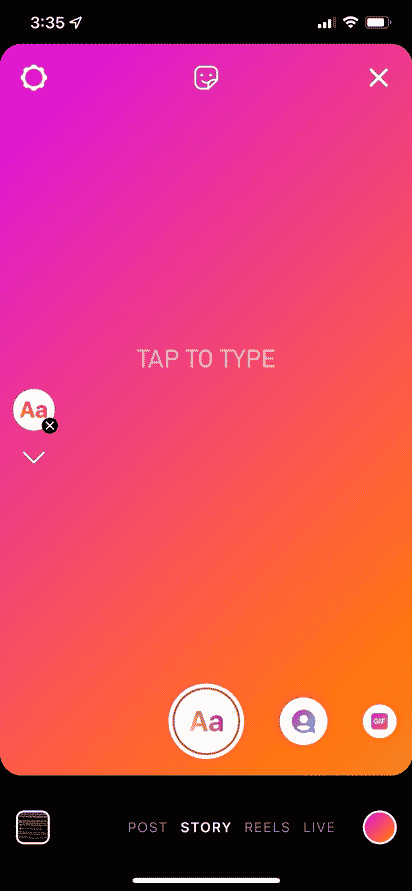 The next step involves locating the scribble icon at the top of your screen, right before the text icon "Aa." Tap on the scribble icon, and you'll be provided with an array of color choices; you'll be able to pick bright colors and even colors with lower opacity.
The next trick comes after you've selected the color of your choice. Once you pick a color, you'll notice paintbrush icons and pen icons on the top of the screen, and you can choose the biggest painting tool icon and start painting around the borders of the picture you've selected.
If this option proves to be too tricky, you could go another route that might be a lot easier; once you pick the color, all you have to do is tap and hold your phone screen till the entire screen has changed to the color of your choice.
This means that the color will also cover the picture, and you'll have to choose the eraser icon, increase the size of the erase by using the scale that will pop up on the left side of your screen, start erasing right in the middle where the picture was. Do this till you've perfectly colored around the edges and the image is sitting pretty right in the middle.
2. Copy The Picture
The next step might only be inclusive to smartphones with this feature; an iPhone, for example, could allow you to use this method. You'll start at the very beginning by choosing the picture you want from your camera roll.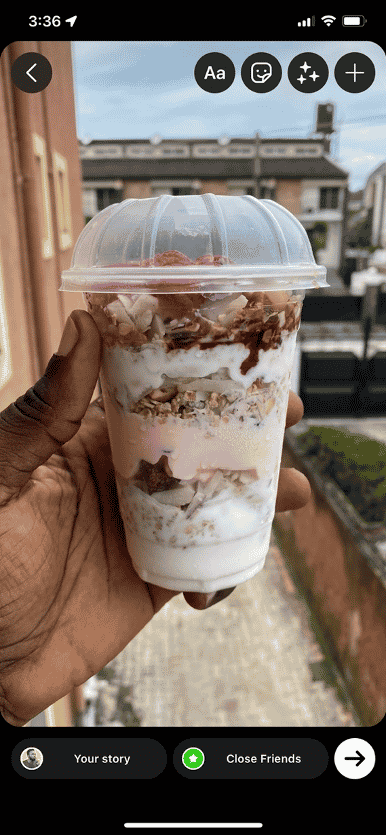 Pinch the picture till it becomes a reasonable size in the middle of the default color already picked by the app, tap on the scribble icon and choose a color.
The next thing you'll need to do is tap and hold on to the screen till the color you've chosen has covered the entire screen, including the picture.
This time, you won't have to erase the color of the picture. Instead, you'll go to your photos on your phone, select an image and then choose the first icon underneath it by the left, which looks like a square-arrow icon; once you tap on that, select 'copy photo.'
Head over the back to your Instagram app, where you left of, and a pop-up will appear at the left corner of your screen, and it gives you the option to paste your copied picture as a sticker.
This means that once you paste the picture, it will appear over the colored screen you created. Tap done on the top right-hand corner, and then you can resize the image or photo.
You could even change the color of your background again without covering the pasted picture, this method is relatively more straightforward than the first, and it saves you time from erasing and repainting.
4 Benefits of Changing Instagram Background
You Get a background that is visually pleasing and attractive. If you decide to use the two gradients or shades of color provided by Instagram, you might notice that it isn't exactly your taste; with the background change, you get to choose a background color that is more like you.
Changing the background also makes your post more commendable to the people who will view it; you stand to gain more attention and engagement from your post when the aesthetic is done correctly.
Once the background is perfectly sorted, you could also add other features like music, emojis, hashtags, gifs, and so much more; this carries a lot of weight when it comes to the kind of interest you want people to have in your story post.
The change in the background could also help your post stand out; this means that you'll be pleased with the way your post turns out, which means it will impress others as well.
Want to learn more about more creative ways to change Instagram story background, check out this tech blog, Nairatips.
How Instagram Story Grew My Instagram Account
One of the main reasons why the background of your Instagram story is essential is the views you're going to get, and this doesn't mean you'll get a lot of views only because you changed the color of your background but looking at the bigger picture shows that the background boosts how interesting your page looks.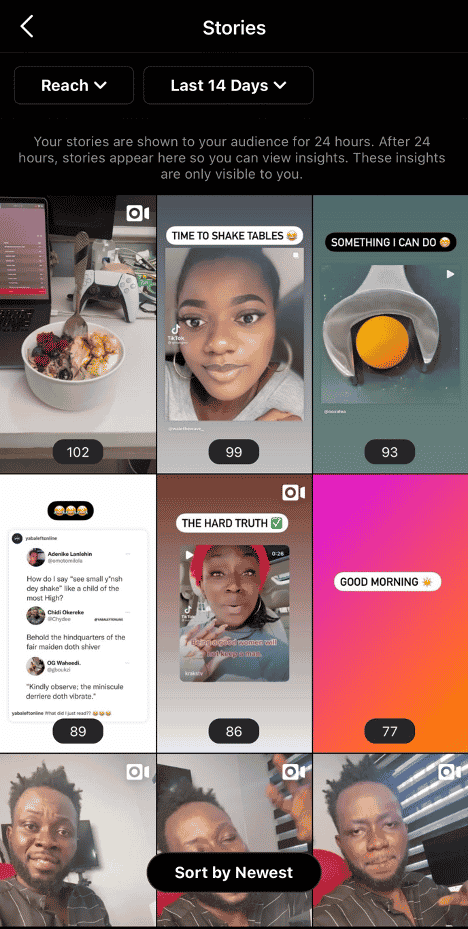 Consistency is critical, so having a great Instagram story background regularly increases the chances of people anticipating every new story post you put out.
Attractive content matters in today's digital world, so your Instagram story post has to be excellent for you to get in more views on a day-to-day basis.
How To Check Your Instagram Story Insights
When you have a page that thrives on the viewership you gain, you can keep up to date with the number of people viewing your story, and you could also see if it is improving or decreasing.
Once you post an Instagram story, you can check the Instagram insights or analytics after 24 hours, and it will only be visible to you.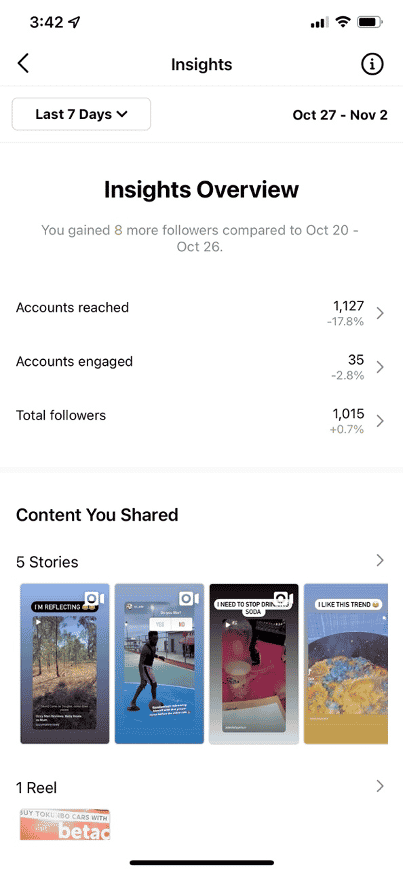 To check the insights, you'll have to go to your Instagram profile page, tap on the menu icon on the right and then tap the insights icon on the screen that will pop up.
Once you tap on the insights menu, you'll be able to choose the insights for your story, and then you'll be able to view things like the number of people who viewed your story; this is called impressions.
You'll also be able to check the reach; this has to do with the number of people your story reached. But, again, this puts more pressure on the background of your Instagram story because it will be reaching a lot of people, and you want them to view exciting content.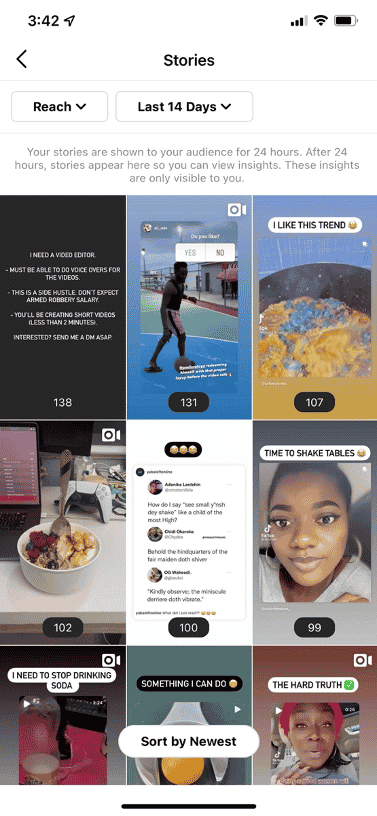 You also get to see the number of times someone 'Taps forward' to see more or other of your Instagram story. Another essential feature is getting to know the number of times anyone swiped away from your Instagram story to the next Instagram account's story.
The swipe away feature is almost a form of feedback. If someone is skipping your Instagram story, it is probably because your content doesn't interest them or catch their attention well enough. This means your content will have to be improved to get more views.
How To Get More Engagement And Views With Your Instagram Story Background
The thing about Instagram story backgrounds is that they aid in one way or another to attract the views and engagement you're looking for. But, unfortunately, this doesn't necessarily mean it's a quick fix to getting what you want.
One way to get more views is by creating story ads, and these ads can help you reach thousands of people that could potentially become your followers, therefore increasing your views.
The Instagram background helps a lot with the engagement you get. Your followers or viewers will respond more to engaging content, and you could make use of color, artistic backgrounds, emojis, gifs, and so much more.
Conclusion
The main point of changing your Instagram story background is to make it even more attractive for you to reach even more people. One thing you have to note about Instagram is that it is a social media app that thrives on images that are great to look at.
To keep up with that, you'll have to keep your eyes glued to the little details of your Instagram posts and your Instagram stories as well.
Unfortunately, Instagram doesn't provide people with an easy way to change the background of their story post, but by using the tools they have provided, you can still find a loophole, and you get to edit your post any way you like.
The steps discussed above will help you achieve the change you need, and you could also look for new ways to create the Instagram story post you want.
All you need are the editing tools and the right attitude; before you know it, you'll be creating an Instagram story that is worth looking at just by changing the background.

Paularoloye is an SEO Expert and occasionally he dabbles posts on his Instagram story and wonders when he's going to hit 1M followers.