An optimal solar generator for RV will provide you with a reliable source of electricity. It will help you power your appliances on the road for an extended period. Therefore, it's essential to carefully choose the right portable solar power generator for a smoother RV adventure.
RVs are getting popular these days in the US. Many people choose to live in them as a permanent solution or when they go on trips. In this case, living in an RV is like a fun adventure, but it can also be tricky. One big challenge they face is ensuring they have an excellent way to get power for their gadgets and stay warm when it's cold.
Diverse needs of Solar Generators Depending on Types of RV Travelers
Let's talk about two specific types of RV travelers in the US and discuss their various needs for solar power;
The Full-Time Adventurer
These are the people who live in their RVs full-time, just like it's their permanent home. The full-timers need a solar generator for RV that can handle all their daily power needs, such as charging gadgets and running appliances. They need a solar generator that can provide a consistent and reliable source of power day in and day out. They rely on it for everything, whether they are cooking, heating, or cooling their RV.
Moreover, full-time adventures often have more appliances and gadgets to power. So, they need a solar generator with a higher capacity to meet their electricity demands. Their solar generator should be capable of storing excess energy for use during cloudy days or at night. Plus, it should be built to withstand various weather conditions.
The Weekend Getaway Enthusiast
Many people in the US use their RVs for short trips, such as weekend getaways or vacations. They also need a solar generator for RV. But it doesn't have to be as powerful as the full-timers. They usually need power for basic amenities like lighting, charging devices, and running a small refrigerator. So, it is crucial to choose the right solar generator that fits their RV lifestyle.
Since they're on shorter trips, they prefer a solar generator that's easy to move around and set up quickly at different campsites.
In this article, you will get a complete guide about how to choose the best solar generators for RV travel based on your needs. We will discuss the different features of solar generators that might help you in selecting the best option for your RV adventures.
How Much Solar Power Does an RV Traveler Need?
The amount of solar power an RV Traveler in the US needs depends on how many devices they want to use, how much power they consume, and how long they use them. To make it easier to understand, we've made a list of typical appliances and how much energy they operate in a day during an RV Adventure.
On an average basis, here's an overview of the typical power requirements for common RV appliances and devices in the US:
Refrigerator: RV refrigerators can vary in power consumption. Standard RV refrigerators use about 100-800 watts when actively cooling, but this can vary based on the model and size.
Air conditioner: RV air conditioners are one of the most power-hungry devices. They can draw anywhere from 300 to 1,700 watts or more when running, depending on their capacity and efficiency. So, it is crucial to have a solar power generator for the RV air conditioners.
Lights: LED lights are energy-efficient and typically use about 10 watts per bulb. Incandescent lights can consume significantly more power, around 60 watts per bulb.
Water pump: RV water pumps are relatively low-power devices, using approximately 60 watts when actively pumping water.
TV and entertainment systems: Power consumption can vary. 40-inch LED TVs typically use about 50 watts, while audio equipment and gaming consoles may use additional power.
Cooking appliances: The power requirements for cooking appliances can vary widely. A microwave typically uses 600-1,200 watts, hot plates can use 1,200 watts or more, and toasters can consume 850-1,250 watts.
Heating devices: Electric heaters can be power-intensive, ranging from 250 to 1,800 watts or more, depending on their type and size.
Charging devices: Charging phones, laptops, tablets, and other small gadgets typically consume 5-100 watts, depending on the device and charger.
The Formula for Power Calculations
Here is the formula you can use to calculate the power for each appliance:
Power in watts (P) can always be found on your electrical devices' identification.
Capacity (kWh) = Power (kW) x Time (hours)
Here:
Capacity (kWh) shows us how much total energy an appliance consumes over time.
To find capacity, you need two things:
Power (kW): This is the power of the appliance in kilowatts (kW). If you know the power in watts, you can turn it into kilowatts by dividing by 1000.

Time (hours): This is how long the appliance runs, measured in hours (h). To figure out the capacity in kilowatt-hours (kWh), you multiply the power (in kilowatts) by the time (in hours).
How to Choose Your Suitable Solar Generator for RV Travel
When choosing the right solar generator for RV in the US, there are a few essential things to think about. First, think about the size of your RV and how much sun you get where you travel. Also, figure out how much electricity your appliances need. After calculating daily power requirements, it's better to estimate on the high side so you're sure the solar generator can handle all your needs in worst-case scenarios as well.
Moreover, it is also crucial to have an estimate of your local weather and the time of year when choosing a solar generator. You can use a solar calculator to see how much solar power you can get in different seasons. Usually, there's a lot more solar power in the summer when you collect extra and less in the winter. Your solar generator for RV should be able to handle these situations.
1. Battery Capacity
Battery capacity also plays a crucial role when getting a solar generator. Because it estimates the amount of power stored in it. Moreover, it also works as a portable solar generator that runs on the energy stored in it. Usually, the battery capacity will vary based on the following circumstances: how much Power your RV requires and how often you charge its battery.
If you need a lot of power, especially if you run things like air conditioning, then you should aim for a solar generator with a battery that can hold at least 2000 watt-hours.
It's also wise to choose a generator with a battery that's at least 50% bigger than what you need every day. This way, you'll have extra power in case some of your solar panels go wrong or if there isn't much sunlight. Just remember, the bigger the battery, the more money it'll cost you. Jackery's Solar Panels come with optimal battery capacity that lasts long and serves for multiple days.
Along with this, calculate the power requirements of your RV appliances and devices. Consider both the wattage and the duration of usage.
Full-time adventurers with more appliances may require a higher-capacity solar generator for RV, while weekend getaway enthusiasts can opt for a smaller one.
2. Solar Panel Conversion Capacity
Solar panels are what recharge most solar generators. However, you need to make sure the solar panels you use are suitable for your generator. They should not only work together but also provide enough power to fully charge the generator's batteries.
The Jackery's Solar Panelsare an excellent choice for this for a few reasons.
First, these solar panels can be adjusted to different angles to get the best power from the sun. So you can move them around for the most conversion efficiency.
Also, these solar panels are waterproof, which means they can handle terrible weather. They're also foldable and small, which makes them perfect for camping and other outdoor trips.
Lastly, the Jackery's Solar Panel comes with a 24-month warranty, and they last a long time, so you know you're getting something reliable.
3. Portability and Weight
When you're choosing a solar generator for your RV in the US, it must be portable and light in weight. RV travel means you'll be on the go, and you want a generator that can go with you. A portable solar generator is perfect because it's flexible, and you can count on it to give you power no matter where you park your RV. The best solar generator for this job should be light and easy to carry. If it comes with wheels, that's even better because it makes moving it around a breeze. By keeping these facts in consideration, Jackery's Solar Panels are portable and lesser in weight and can be adjusted anytime, anywhere.
Critical Points for Selection of Best Solar Generator for RV
Here's a summary of the key factors to consider when selecting a suitable solar generator for RV, along with recommendations for different types of RV travelers:
Calculate the power requirements of your RV appliances and devices. Consider both the wattage and the duration of usage.
Full-time adventurers with more appliances may require a higher-capacity solar generator, while weekend getaway enthusiasts can opt for a smaller one.
Check if the solar panels provided with the generator are suitable for your needs. They should efficiently recharge the battery.
Adjustable and waterproof solar panels like the Jackery Solar Panels are practical for RV use.
Choose a portable solar generator that's lightweight and easy to carry. Portability is crucial for RV travelers who are frequently on the move.
Consider options with wheels for added convenience.
Once all the factors are determined, we can say that they will help us out in making suitable suggestions regarding what solar generators fulfill our requirements.
Best Solar Generator for RV For the Full-Time Adventurer
Based on the above considerations of battery capacity, portability, and solar panel capacities, here is a recommendation for the best solar generator for RV travelers:
The most suitable option is the Jackery Solar Generator 2000 Plus. It has the following features:
Battery Capacity: Basically 2 kWh with up to 24 kWh extended power
High Power Output: 3000W (6000W Surge)
Quick Solar Charging in 2 Hours with six Jackery SolarSaga 200W Solar Panels
Use Weekly for 10+ Years
3 Ways to Recharge
This solar powered generator for RV offers a high capacity and robust power output. This makes it a suitable option for full-time RV living. Its quick charging and durability make it a reliable choice for continuous usage.

Best Solar Generator for RV For the Weekend Enthusiasts
On the other hand, For the Weekend Getaway Enthusiasts, the best solar Generator for RV camping is Jackery Solar Generator 300 Plus. As it is:
Lightweight: Weighing only 8.27 lbs
Safety Features: 52 protective mechanisms, 12 BMS algorithms, and physical protection
Long-lasting Lifespan: Utilizes durable LFP (LiFePO4) batteries designed to last up to 10 years
Smart App Control: Allows for easy battery management via Wi-Fi or Bluetooth.
This solar generator for RV is ideal for shorter RV trips and offers a lightweight and compact design. It provides enough power for basic amenities and comes with enhanced safety features and long-lasting battery technology.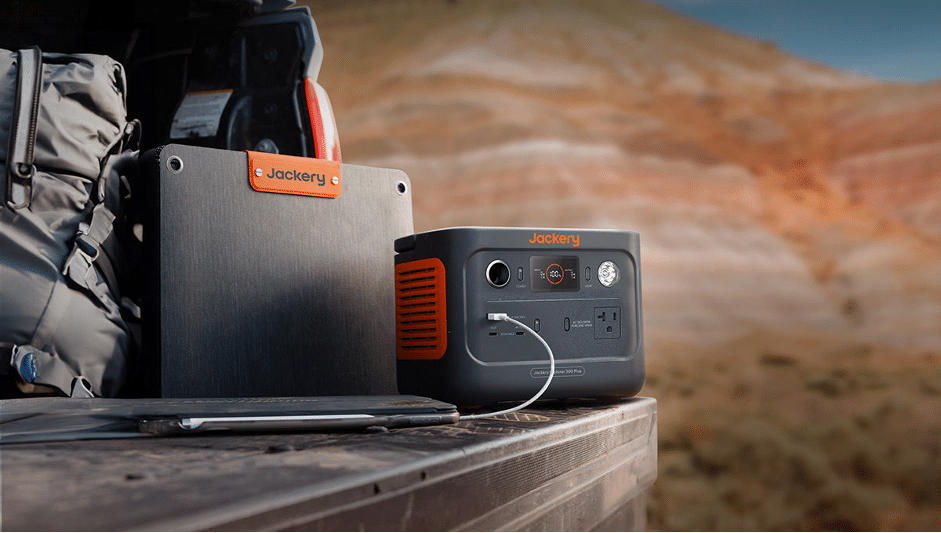 Conclusion
Jackery's solar generators and power stations are good options for keeping your gadgets charged when you're out enjoying the great outdoors. If you're considering getting high-quality solar panels for your vans, RVs, or campers, you should check out Jackery's Solar Generators. These portable solar generators can be connected to a power station to charge your devices with a steady and continuous electricity supply.
If you are a Full-Time Adventurer, you should go for Jackery Solar Generator 2000 Plus. For the Weekend Getaway Enthusiast, try Jackery Solar Generator 300 Plus. These two are the best ways to go for every kind of trip.
And here's a tip: Sign up for the Jackery newsletter, and you'll get access to exclusive deals and special offers. It's a great way to learn more about their excellent products.
Reference
[1] RV Refrigerators Watts. Available at:
https://lifeonroute.com/size-rv-generator-refrigerator-freezer/ (Accessed on 15th Sept. 2023)
[2] RV AC Watts. Available at:
https://www.jackery.com/blogs/knowledge/how-many-watts-does-an-rv-ac-use (Accessed on 15th Sept. 2023)
[3] LED lights Watts. Available at:
https://news.energysage.com/how-many-watts-does-a-light-bulb-use/ (Accessed on 15th Sept. 2023)
[4] RV Water Pumps Watts. Available at:
https://outsidesupply.com/how-many-panels-do-i-need-to-run-my-lights-and-water-pump/ (Accessed on 15th Sept. 2023)
[5] LED TV Watts. Available at:
https://www.jackery.com/blogs/knowledge/how-many-watts-does-a-tv-use (Accessed on 15th Sept. 2023)
[6] RV Appliances Watts. Available at:
https://generatorist.com/rv-camping-appliances-power-consumption (Accessed on 15th Sept. 2023)
[7] Charging Devices Watts. Available at:
https://www.jackery.com/blogs/knowledge/how-many-watts-is-a-phone-charger (Accessed on 15th Sept. 2023)
[8] Formula for Power and Capacity. Available at:
https://learn.adafruit.com/all-about-batteries/power-capacity-and-power-capability (Accessed on 15th Sept. 2023)