How to convert Offline Outlook OST to PST with Stellar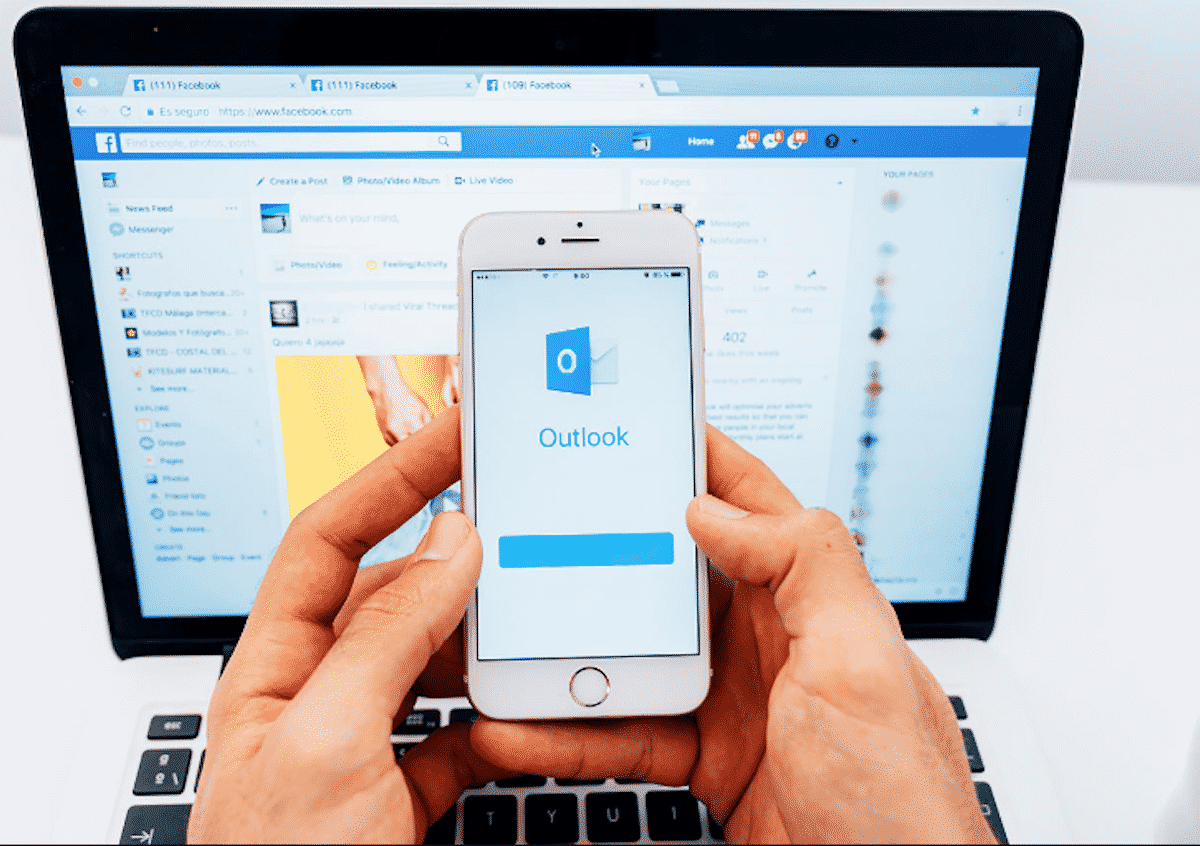 When you setup an Exchange, IMAP, or Outlook.com account in MS Outlook on Windows, it creates an Offline Outlook data file .OST at a default location. This Offline Outlook data file (OST) stores a local copy of the mailbox items stored on the server. Thus, allows you to access emails and lets you complete pending work even when the system is offline or not connected to internet.
But when a user mailbox is deleted from the server or account is removed, the OST file enters into an orphaned state and becomes inaccessible. Unlike PST Outlook data file, you cannot import or open OST in any other Outlook account as it is encrypted with MAPI EntryID GUID.
Further, an OST file may also become inaccessible due to synchronization errors between Exchange server and OST file. This may occur when the Exchange server or database that contains your mailbox fails or dismounts. Similarly, unexpected power failure, system or Outlook crash, virus or malware intrusion, etc. may also cause damage to Outlook OST file.
In all such cases, you can use an OST to PST converter software, such as Stellar Converter for OST, to extract your mail items from inaccessible or orphaned OST file and save them to an Outlook PST file. The software helps you export mailbox items, such as emails, attachments, contacts, notes, tasks, journals, etc., from inaccessible, damaged, or orphaned OST file to PST, Office 365, or live Exchange server directly.
About Stellar Converter for OST
As there's no manual method to extract mailbox items from an inaccessible Outlook OST file, you can use Stellar Converter for OST to restore your mailbox items back to Outlook or Exchange account in a few clicks. To convert OST file to PST or other desired format, you need to install Stellar Converter for OST on a Windows PC that meets following minimum system requirements.
Intel-compatible x86 or x64 Processor
Windows 10, 8.1, 8, or 7 OS
4 GB RAM (8 GB recommended)
250 MB storage space on HDD or SSD
The software is free to download. You can scan any OST file with the software and preview all mailbox items, such as emails, contacts, etc. for free. The free demo version also allows you to convert and save up to 20 items per folder. However, if you need to convert all the mail items to PST or other desired format, or export to an existing Outlook profile, live Exchange, & Office 365, you need to activate the software after purchasing the activation key.
Stellar Converter for OST is available in two editions:
1. Corporate Edition
The Stellar Converter for OST – Corporate edition is ideal for professional users and small businesses that require to migrate or recover mail items from OST file to PST. The corporate edition allows you to export mail items from OST file to PST, MSG, EML, RTF, HTML, and PDF formats.
2. Technician Edition
The Technician edition is suitable for medium to large organizations and IT admins who need to migrate or export mailbox content from multiple OSTs to corresponding PSTs. In addition to all the features and save options available in the 'Corporate' edition, the 'Technician' edition also allows you to save or export the mail items to DBX/MBOX format and live Exchange, Office 365 or existing Outlook profile directly.
How to Convert Inaccessible or Orphaned OST with Stellar Converter for OST?
When you launch Stellar Converter for OST, it displays a 'Select OST File for Conversion' window. You may also open the window from 'File' menu or 'Home' tab.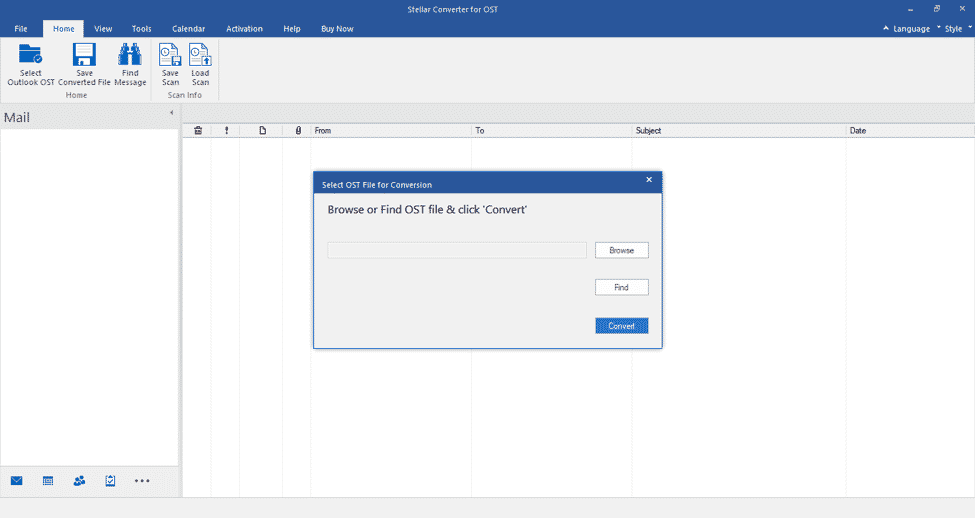 Here, you can either 'Browse' to select the OST file or click on 'Find' option that automatically finds all OST files in the system drive or folder and lists them.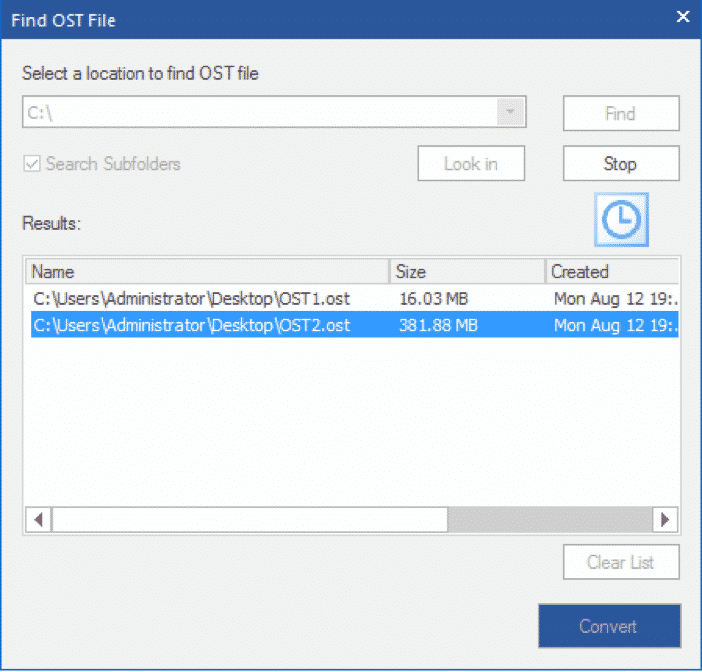 Once you've selected the OST file, click on 'Convert' button. This starts scanning the OST file and extracts all mailbox items from the inaccessible or orphaned OST file.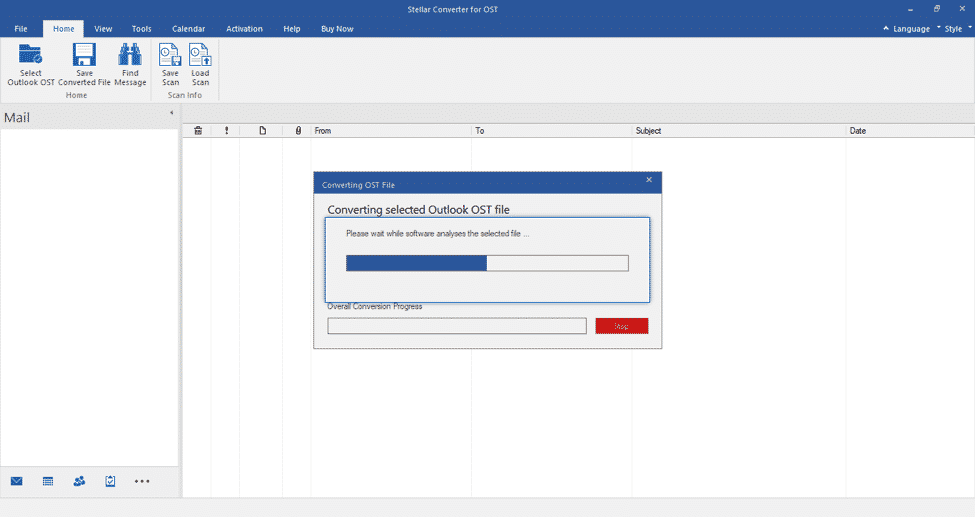 The software provides an option to save scan information. This helps you avoid scanning the OST file again as you can load the scan information and start exporting the mail items or save them to other formats.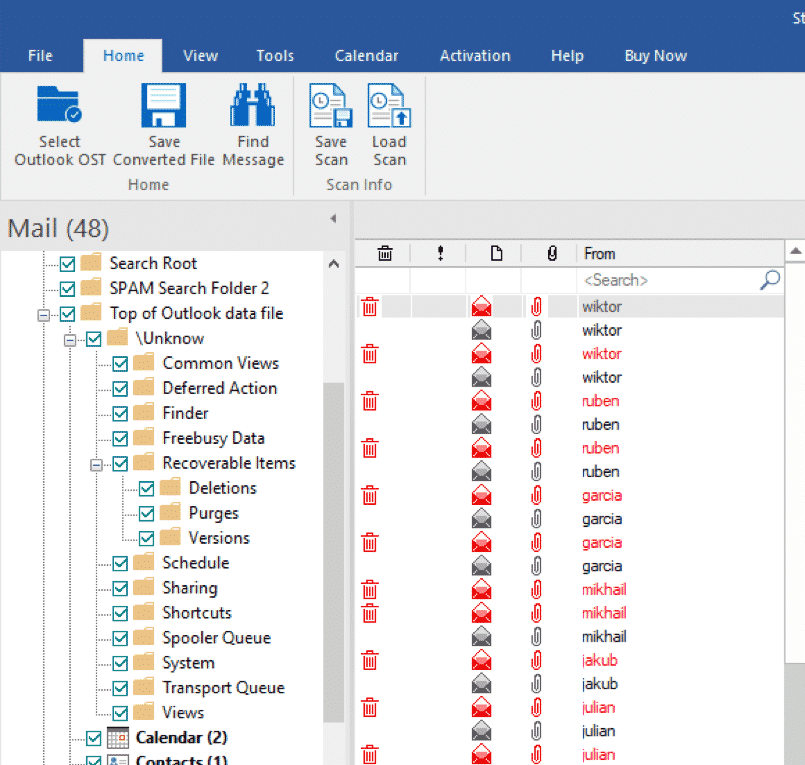 The software also recovers and displays deleted mailbox items and highlights them in 'Red'. This allows you to recover and save lost or accidentally deleted items from OST Outlook data file.
You can preview any mail item by selecting it in the left-pane. The software provides an enhanced preview that displays emails with all attachments and details. It also allows you find specific emails with 'Find Message' option and lets you to directly export Contacts in CSV format in a few clicks.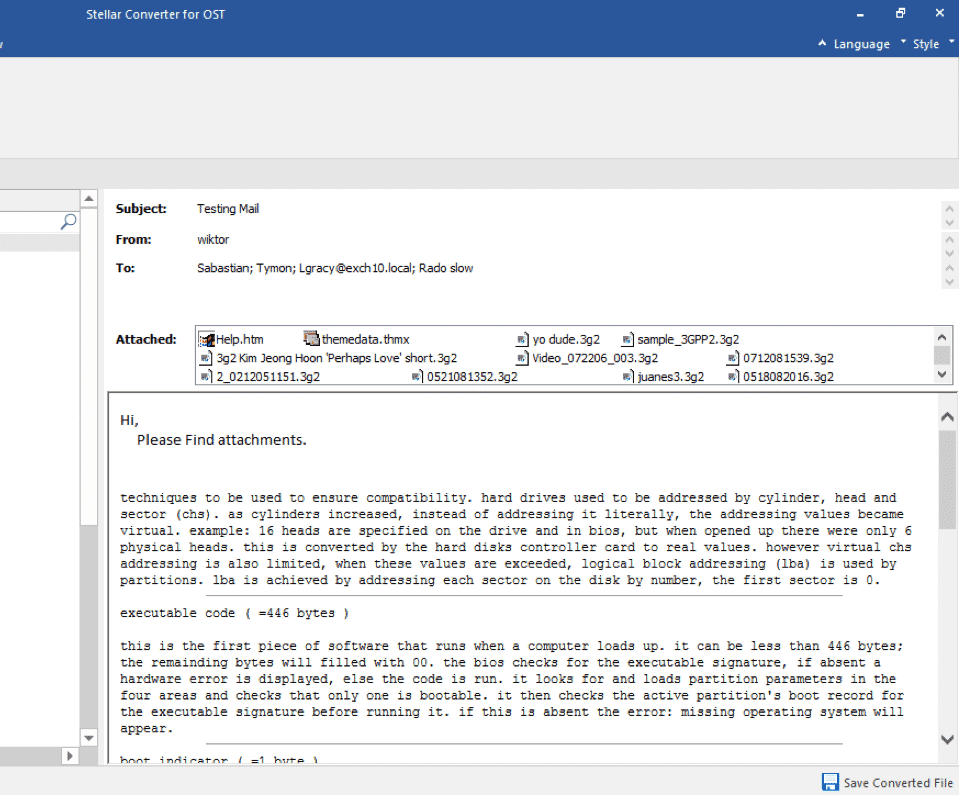 You can navigate through each folder and then select required email folders and mail items that you want to convert and save. After selecting the items, click on 'Save Converted File.' The software displays a 'Save as' window with multiple saving options, such as PST, MSG, EML, RTF, HTML, PDF, DBX, MBOX, Export to Live Exchange, Export to Office 365, and Export to Existing Outlook profile.
You can select any saving option based on your preference. If you choose Export to Live Exchange Server or Office 365, you need to provide admin or user credentials to export the mailbox data. In case you choose 'Export to Existing Outlook Profile', the software displays all available Outlook profiles available on the system. You can then select and export the mailbox items to the desired Outlook profile.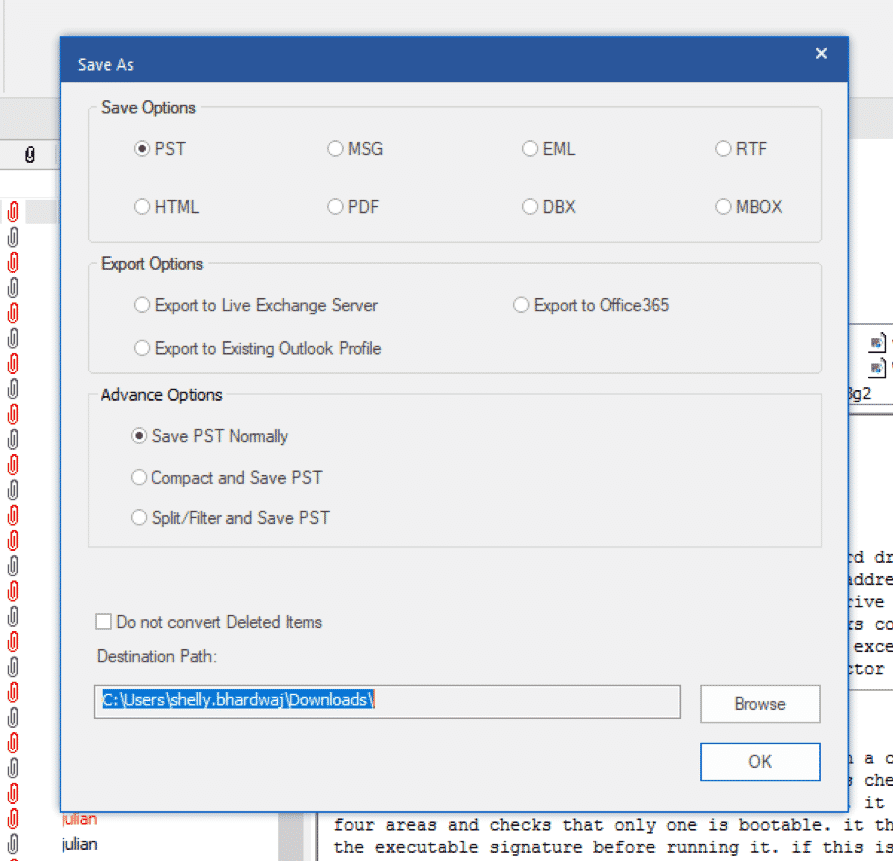 Additionally, the software provides Advance Options when you choose to save the converted OST mailbox to PST format. You may select these Advance Options to Compact or Split the PST file while saving. The Compact option compresses the PST file while the Split and Save option saves the attachments in a different folder and links them to emails which reduces the PST file size significantly.
By reducing the PST size, the software helps you avoid PST corruption due to large-size. Further, you may choose or not to convert deleted items while saving or exporting the mail items.
If you select any other format, such as MSG, EML, RTF, HTML, PDF, DBX, or MBOX, you can simply choose a location and click 'OK' to start saving the emails. This allows you to open, view, or access the inaccessible OST mail items through various programs and applications.
To know more about Stellar Converter for OST and its performance, you can check the test and benchmark test of top OST to PST converter software on various parameters, such as Speed, Precision, Completeness, and Consistency.
Verdict
Although Offline Outlook OST file is reliable and resilient, it may still get damaged due to abrupt system shutdown, Outlook crash, etc. Further, if the mailbox is removed from Exchange or mail server or the profile is deleted, it may render the OST file orphaned and inaccessible. Since OST files are encrypted and require authentication from the linked MAPI profile, it cannot be accessed or imported into any Outlook profile. That's where a reliable OST to PST converter software, such as Stellar Converter for OST, is required to access, view, and convert the mailbox items from inaccessible or orphaned OST file to Outlook importable PST format. The software is recommended as it is faster at OST to PST conversion and extracts complete data with 100% precision.