Your email list is the most valuable asset of your business. The key to running effective email marketing campaigns to grow your business is building a high-quality, clean and organic subscriber list. List building focuses on attracting people who are interested in your brand's offerings and can be your potential customers. Some of the basic tools of online list building include web forms, landing pages, webinars, lead magnets, and social media.
Social media works wonders in attracting followers. With over 2 million monthly active users worldwide, Facebook is one of the most visited sites in the world and a great platform to make a first impression on potential customers. Facebook has users from every geography and demographic, making it a fruitful channel to build email lists.
So if your brand is active on Facebook, here are a few ways to leverage it to get subscribers to join your email list.
Facebook Ads
Facebook ads are great to promote posts that will drive action for your business. You can reach the right audience by targeting the exact demographic with the right message, and you're sure to gather some leads. Make sure you optimize your ad copy, the image and CTA to convert maximum leads. Next, offer a discount or free resource in exchange for the email address.
Take a look at this Facebook ad by Freepik. The brand offers a discount of 20% to get people to subscribe to their annual plan.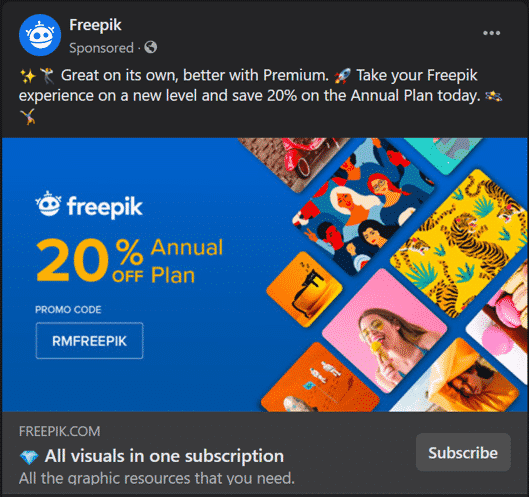 Facebook Live
According to recent statistics, 70% of marketers use Facebook Live for reaching a new audience, and 58% of them have witnessed improvement in brand awareness and exposure by going live. Facebook Live is more effective than native videos due to its real-time interaction feature. Your followers can interact with your brand in real-time and you can watch their reactions and answer their questions, thereby increasing the overall brand engagement.
The key to having a good Facebook Live strategy is to select the right topic for your broadcast- the one that the users would be interested in. Keep the audience engaged throughout your live streaming and appeal to their emotions with quality content and exciting offers. Above all, offer a powerful lead magnet- an incentive that would entice the users to give their email address. A catchy lead magnet and a well-executed live strategy will help in engaging with your users and generating leads.
Facebook Groups
Facebook groups tend to have higher click-through rates and engagement rates than Facebook pages. It is because the audience in the groups are people who have joined for specific needs and interests. It is easier to target them. The key to making the most out of Facebook groups is to join the right groups and engage wisely. Monitor various Facebook groups to see where your competitors are, what people need, what questions are they asking, etc. This will give you a good idea about what people are discussing and if your brand can help them to get that information.
Choose groups that are active with 10+ posts per day and related to your brand or industry. Also, do not start posting as soon as you join the group, as it might end up in you being a spammer. The best practice is to observe and engage with the posts for a certain period and then start pitching your brand, products or services. Post about your offerings and tell them you have exclusive discounts and promotional offers for email subscribers. Direct the users to your email sign-up forms so they can opt-in and receive discounts.
Facebook Call to Action
Using the call-to-action that appears near the like button on your Facebook page is another great way to encourage email subscriptions. Add the "Sign Up" button that redirects your subscribers to the sign-up forms on your landing page. This CTA button encourages your page visitors to join your email lists and improves lead generation.
Here's an example from the Facebook page of Marketing Tech using Sign Up as their CTA. It also has the website link right below the CTA button, which draws attention and improves the chances of conversion.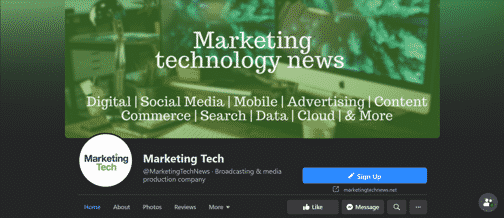 Facebook Cover Photo
The cover photo of your Facebook page is right at the top and the very first thing that a user notices. It can, therefore, be used as a call to action to motivate users to subscribe to your email newsletter. Use the caption of the cover photo to write an attractive copy and CTA and add the link to your landing page.
Run a Contest
Use Facebook as a channel to interact with your customers and potential customers with exciting contests. Run a contest to give your users exciting offers and incentives so that they share their email address to participate. Choose a service or product that you want to giveaway and run a campaign to promote the giveaway event using attractive copies and creatives. Collect the names and email addresses of those who wish to enter the contest and your brand's email list.
For example, the brand Buddy Squirrel asks the users to sign up to their newsletter to win a prize of $250. The post uses an exciting image that grabs user attention, has the rules of the giveaway and link to the landing page where the users can enter. Take a look!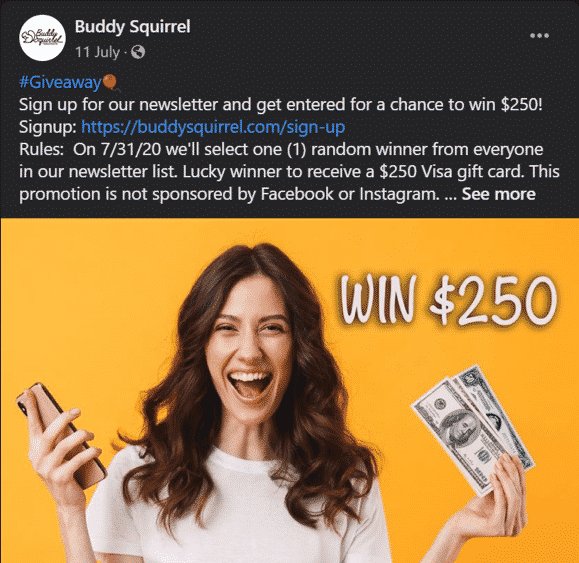 Host a Facebook Event
An event is a great way to connect with your audience. Whether you run a webinar, host an online podcast, or launch a promotional event, make sure you are collecting email addresses during the registration process.
Check out this launch party event from GPS Fridays. It requires the attendees to submit their email address to join the event.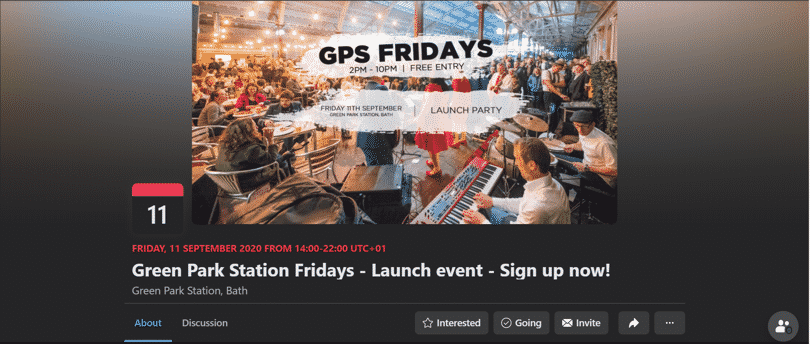 Conclusion
Facebook gives you numerous options to drive traffic to your landing page and get the users to opt-in to your list. No matter which method you use to build your email list, make sure you give your subscribers something valuable in exchange for their email address.
Do you need help with using Facebook as a part of your email marketing strategy? Uplers Email can help!