QR codes are mostly known to give digital information to products and services wherever it may be attached to, but little do people know that QR codes on certificates can also be used for validation and prevent counterfeiting of documents.
Various departments or authorities issue certificates to an individual for different purposes such as for academic reasons, proof of attendance, or for license.
In this case, the authorized person in charge of certificates or documents usually generates a soft copy of the certificate that will be handed to the person.
But with most of the tools and software that we have now and with anyone having the knowledge of basic designing, there are many ways people can make a fake document, and sometimes it can be even challenging to verify if it's authentic or not.
However, with e-certificates powered by QR codes, counterfeit certificates can be prevented.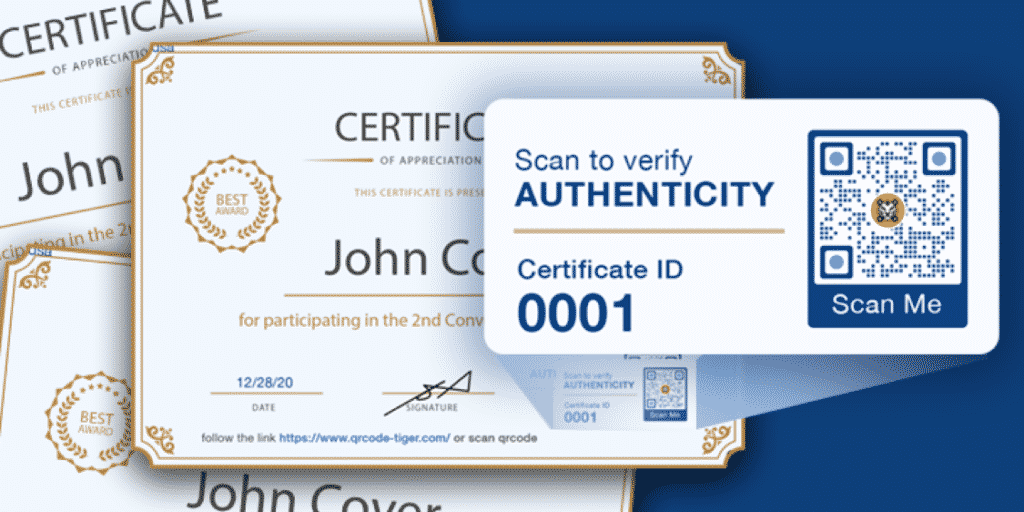 What is a QR code, and how does this technology works
QR codes or the Quick Response code are 2d barcodes that are scan-able using smartphone devices.
But unlike the standard barcodes that only store the numerical information of the product or an item, QR code uses four standardized encoding modes (numeric, alphanumeric, byte/binary, and kanji) to store data efficiently. Thus, there are many QR code solutions you can choose from for your need.
These codes are generated using a QR code generator online and are mostly seen in billboards, magazines, product packaging, grocery items, and many more.
To access the QR code associated with the item, the end-user needs to point his camera or QR code reader up towards the QR code for 2-3 seconds to access the code and see the online information.
The basics of QR code 
There are many QR code types you can generate and each one of them has its specific purpose.
For instance, to convert a URL or a website to a QR code, you need a URL QR code. However, these solutions can only be generated in a static form or dynamic form.
If you want to make a QR code that will lead scanners to online information of your contact details, you can make a Vcard QR code for that and print it along with your business cards.
Static QR code
When you generate your QR code in static form, that QR code solution will permanently lead you to the embedded information.
The data encoded in a static form cannot be changed, and it will lead scanners always to the data you have generated in the first place.
Dynamic QR code
Dynamic QR code is a more advanced type of QR.
If you have generated a URL QR code in a dynamic form, you can update the data regardless of whether it has been distributed or printed, which makes them practical and money-wise to use.
You don't need to reprint your QR codes all over again. For example, if you have discovered an error in your landing page, you can just quickly update your QR code content as it will be stored in the QR code generator online, making them editable, unlike the static QR code.
How does the QR code fight counterfeiting in certificates?
With QR Codes printed on e-certificates, you can validate whether the certificate is a counterfeit or not.
You can generate a QR code and redirect or link it to the information of the owner's certificate online, such as the name of the placeholder, certificate number, license number, etc.
All this data is saved in a database and publicly/privately accessible via a URL.
When the authority wants to check for the authenticity of the certificate, he can scan the QR code that is printed on certificates and he will be redirected to the website's URL and view the information on its official database which cannot be faked (and compare this information on the printed details on the certificate).
How to make a QR code for certificates 
Create an individual QR code
You can generate your QR codes manually if the number of your certificates to print is low.
You can go to q QR code generator with logo and select the URL category to generate your QR codes individually or directly contact the QRTiger website for proper instruction.
Creating QR codes on certificates in bulk
If you have many certificates to print, creating your QR codes in bulk would be a better option if you don't want to generate them individually, which takes a lot of time.
Create through an API
Suppose you want to integrate your registration system with a QR Code generation system. In that case, you can use an Application Programming Interface (API) tool in QRTiger and generate your codes programmatically with your own information system.
Prevent counterfeit documents with QR code!
With an e –certificate powered by QR codes, verifying essential documents won't be as hard as before. Use a QR code generator online and generate your QR codes now!