In today's technology-driven world, we rely on electronic devices such as laptops, kitchen machinery, gaming consoles, etc., for many daily life tasks. However, with so many devices comes the need for more outlets to power them.
When finding the best power solution for your devices, you may need clarification about which one to choose in a smart power strip vs. a surge protector. In this article, we will discuss both these products in detail to help you easily differentiate between them.
Basics About Smart Power Strips & Surge Protectors?
Usually, commercial and residential buildings have sockets with two outlets which, obviously, is rarely sufficient to power all the electronic devices. That's where power strips and surge protectors help you.
1. What is a Power Strip?
Typically, a power strip is an extension cord having multiple outlets that provide electrical energy to various electrical devices. A smart power strip has passed through all the safety-related tests to ensure that it can be automatically shut down when accidents happen. It is attached to a single power cord and a plug that can be inserted into a wall socket.
Moreover, it's also a smart power strip with a USB port to charge your devices there, freeing up an outlet. Power strips are commonly used in offices, homes, and other settings where you need to power multiple electrical gadgets.
2. What is a Surge Protector?
A surge protector is designed to protect connected devices from power surges or voltage spikes. Power surges can occur due to lightning strikes and power outages, causing damage to expensive electronic devices.
However, surge protectors have a built-in mechanism that diverts excess voltage away from connected devices, preventing damage. Additionally, they have indicator lights that show if the surge protector is functioning correctly or not.
3. What is an Electrical Power Surge and Its Damages?
Typically, you receive certain volts of power (different countries and regions have specific requirements) in your home, and sometimes this can vary from 90V to 132 V, which is normal. However, when this power flow increases by more than 169 volts, it causes an electrical power surge.
You can also consider it a sudden, transient increase in the voltage or current in an electrical circuit, lasting for quite some time. Various factors, including lightning strikes, power outages, and electrical equipment malfunction, can cause power surges. Here are a few of the damages caused by a power surge:
Damage to electronics and appliances:
Power surges will wreck the internal components of devices, leading to malfunction or complete failure.
Data loss:
Power surges can cause data loss in electronic devices such as computers and servers. The surge can damage the device's storage media, leading to the loss of essential data.
Fire hazards:
Power surges can cause electrical fires due to the overheating of electrical components.
How to Tell Whether the Power Strip is a Surge Protector?
The biggest reason many people get confused about a smart power strip and a surge protector is their structural similarity. However, listed below are the ways that can help you figure out whether your extension cord is a smart power strip or surge protector:
Check the Joule Rating:
Simply flip your strip over and look for joule ratings. If any such information is accessible, then it's a surge protector, but if not, then it's a power strip.
Check the Indicator Light:
Most surge protectors come with a "protected" light that shows that they are functional and the surge protection feature is on. So, if you see an indicator light on the strip, it's a surge protector, and if not, it's a power strip.
Top Smart Power Strip Options
Here are the top smart power strip options to help you pick the best power solution for your devices:
Huntkey SMD807C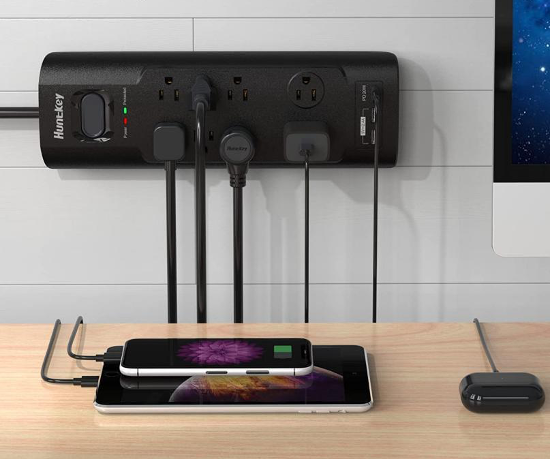 The Huntkey SMD807C is a smart power strip with a USB port with 8 AC outlets, 2 USB-A, and 1 USB-C, meaning that it can power 11 devices simultaneously. With its 6 feet extension cord, you can easily use it to power your devices anywhere.
The best part about this Huntkey power strip is that it has a 1875W power rating that protects your devices from power surges. Besides, thanks to the flat body and wall mounting hoses, allowing you to place it in the expected area, like somewhere behind your bed, fitting most people's habits before falling asleep, well, you got it.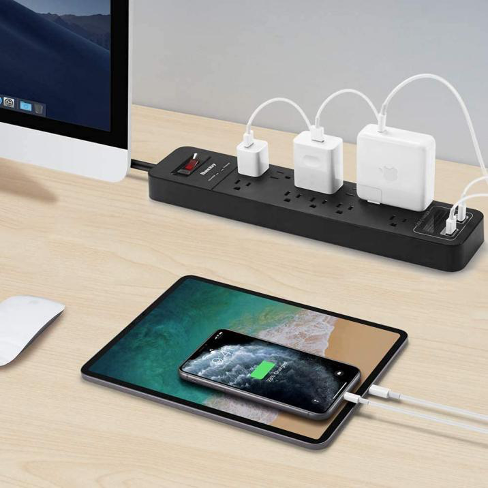 Featuring a smart 2.4A power built-in chipset that can easily detect your devices, Huntkey SMC127 takes the power strip market to a new level. It has a robust 2390 Joule rating, protecting your devices from sudden power spikes.
It is a 14 in 1 smart power strip that houses 2 USB ports, 12 outlets, and a six feet extension cord that can meet most charging demands.
SMC 127 can be bought from the following links:
Amazon US:
Amazon CA:
Conclusion
Almost all commercial and residential buildings require a surge protector or a smart power strip to power their electrical devices. If you also want the best smart power strip, Huntkey is an ideal choice. The professional company has high-quality power strips with excellent overload protection that protect your expensive devices from damage.
So, don't wait, and get in touch now to grab your desired one!
Business contact: huntkey@huntkey.com
Get More Information About Huntkey
Huntkey will participate in two exhibitions in April. Welcome to visit.

Global Sources Consumer Electronics 2023
11-14 April, 9:30 am-6:00 pm
Huntkey Booth: Hall 10, 10K02
AsiaWorld-Expo center, Hong Kong, China

HANNOVER MESSE 2023
17-21 April, 9:00 am-6:00 pm
Huntkey Booth: F01-1
Messegelände, 30521 Hannover, Germany