There's no doubt that small business owners have had a tough time over the last year. But if you made it through the other side of the pandemic, it's time to start thinking about how to grow your business in 2021.
Any digital marketing strategy is built on the goal of reaching target customers and convincing them to buy your products or services. But in order to reach those customers, you'll need to know who they are and what they're looking for.
That all starts with performing some keyword research. Finding and targeting the right search terms can help your website appear more readily to the customers who are ready to buy.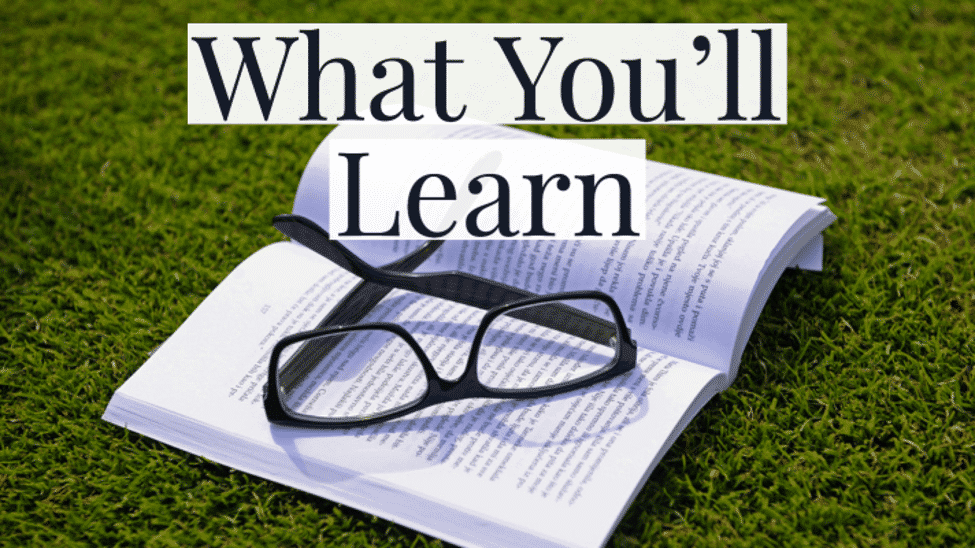 What You'll Learn
First, you'll come to understand what keyword research is. Simply put, keyword research allows us to zero in on what web users type into search engines to help them find the products and services they need.
Keyword research can be a pretty involved process – and it's never truly finished. Over time, you'll probably change the keywords you target in your ads and in your website content.
But the aim of keyword research won't change. The purpose of conducting this research is to find the terms that will help your customers find you online.
Throughout the rest of this post, you'll learn:

Why more specific keywords win out
Why search volume doesn't tell the whole story
How to strengthen your research process with the right tools
Let's dive in with some tips and tricks small business owners can reference while performing keyword research.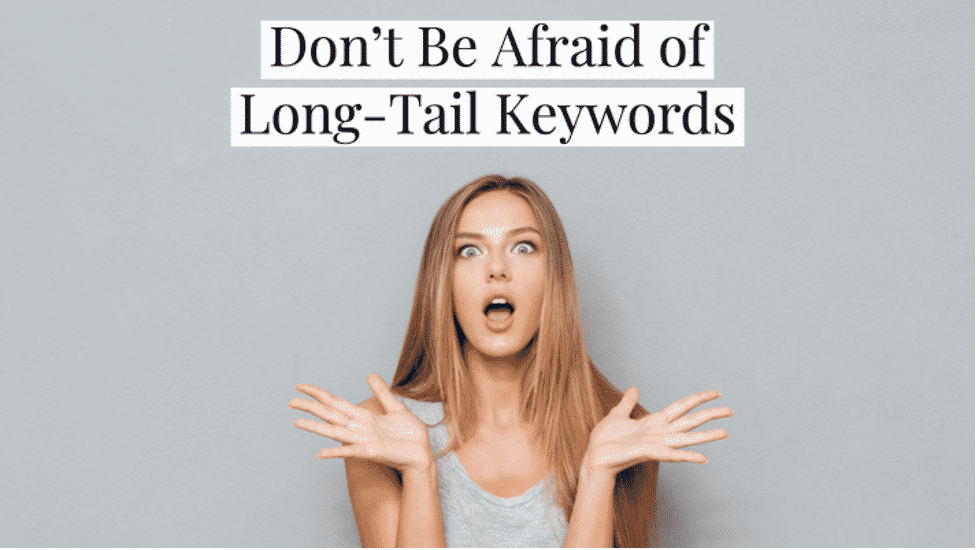 Don't Be Afraid of Long-Tail Keywords
Long-tail keywords are – as their name suggests – longer and more specific than what you'll see in broad search queries. They're more than a few words in length and are generally used by web searchers who are a bit further along in their buyer's journey.
That actually means these keywords are a good choice for small business owners. You might think that broad keywords will help you reach more people, but long-tail keywords can help you reach the right people.
We'll talk about why that is in the next section. But for now, you'll want to remember the importance of specificity.
Rather than optimize your content for "plumbing services," you could try something like "24 hour emergency plumber Denver CO." It's much more specific and actionable, which can help you differentiate your business from the competition and reach customers in your area who need urgent help.
Long-tail keywords can help you level the playing field. When you try to target more general terms, you'll be going up against large companies with even larger marketing budgets. But long-tail keywords can help small business owners stand out while still staying within budget.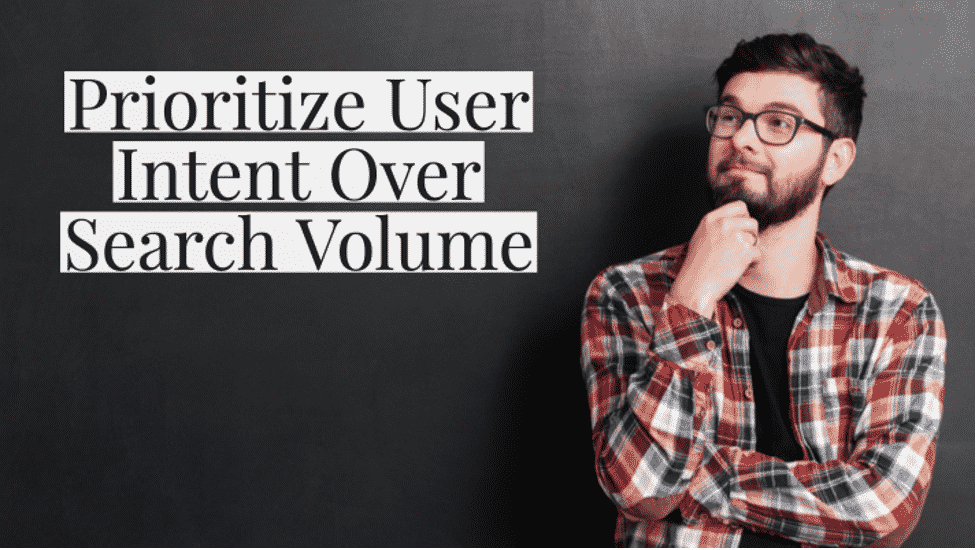 Prioritize User Intent Over Search Volume
We mentioned above that long-tail keywords can help you reach the right people. With overly broad keywords, you could risk wasting a lot of money.
That's because your keyword selection won't actually be aligned with customer intent. Sure, you might eventually appear in searches for "plumbing services" after spending a lot of time and money optimizing your site. But do you really want to?
If you're focused completely on getting to page 1 of search results for the most competitive term, you're actually missing the whole point of SEO.
You don't want to be at the top for the sake of being at the top. Your ranking really should be a means to an end. If you're ranking on page 1 and you're not seeing results with your conversions and sales, something's wrong.
That something could be that you're valuing search volume over customer intent. As you can see in this screenshot from SEMRush, the search volume for "plumbing services" is a whole lot higher than the search volume for "24 hour emergency plumber denver co."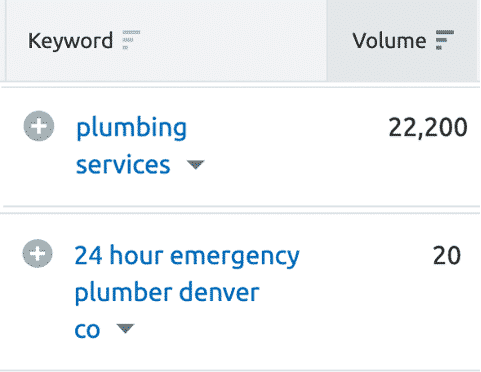 But that doesn't mean you should target the term with the highest search volume! That keyword is highly competitive and isn't location specific, which means you could be spending a lot of money to target customers who aren't even in your area.
What's more, there are a variety of plumbing services available. A customer's specific needs may not align with what you offer. While you can include this keyword for context, your goal shouldn't involve outranking everyone on this term.
In most cases, more specific keywords are better aligned with customer intent. They can help you focus on a particular area or a service you provide. Since customers who are ready to purchase are more likely to be specific in their searches, opting for long-tail or location-based keywords will provide them with more value – and help you be found online!
Long story short, don't get caught up in the numbers. Metrics are important, but by themselves, they don't tell the whole story.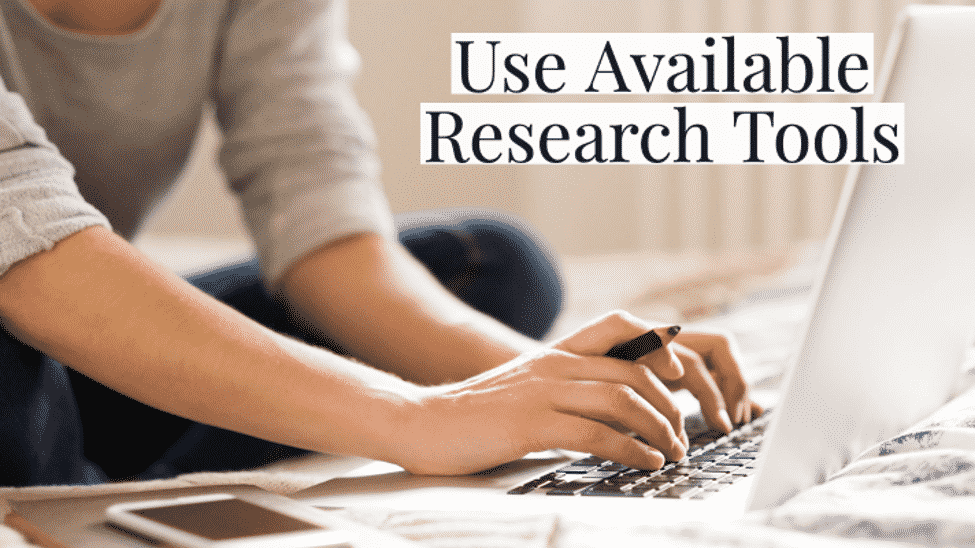 Use Available Research Tools
If the idea of conducting keyword research sounds overwhelming, take a deep breath and remember you aren't alone.
This process may seem daunting, especially if you don't have much experience in this area. Hiring an SEO professional can help, but there are some ways to get started on your own, too.
There are lots of keyword research tools (many of them free of charge!) out there to help you. Using a free SEO keyword tool can allow you to find the terms your competitors are targeting and assess where your own progress can be made.
You can also use other programs to view search volume, find LSI keywords for relevance and context, or discover alternative options for the keywords you have in mind. Many people will even use Google SERPs for ideas. Just type in the keyword you have in mind and scroll down to the bottom of the page to find some related terms.
When you utilize these resources, you'll gain valuable insight you can use for onsite optimization or digital advertising. They'll help you pick the right keywords for your budget and for your business goals.
Wrapping Things Up
It's true that keyword research doesn't sound like a whole lot of fun. But it's a necessary step in your digital marketing strategy.
For small businesses in particular, picking the right keywords will make all the difference. Instead of optimizing for general terms that will result in little movement in SERPs, you'll have a better chance of reaching your target audience when you include longer, more specific keywords that accurately capture customer intent.
There's a lot that goes into keyword research, to be sure. But with these tips, you'll improve your understanding of this process and will be on your way to creating a more effective marketing strategy for your small business.