The Portable Document Format (abbreviated PDF), is a file format based on a page description language developed by Adobe Systems in 1993 to represent documents independently of the hardware and software used and, in 2007, it became a standard international certified (ISO 32000-1). PDF inherits many of the features of PostScript which is instead a page description language (also developed by Adobe).
Postscript allows you to describe a page as the result of a program execution, which contains instructions on how and where to draw lines, points, letters of the alphabet and other graphic elements. In this way, any device that is capable of executing the program (which therefore has a Postscript interpreter), will be able to reproduce this image to the best of its ability. This process, however, requires great resources on the part of the terminal and is not too widespread in the less demanding and non-professional public.
On the contrary, PDF is not a language but a format and for this reason it does not need to be interpreted. Inside, therefore, the flow controls have been removed (such as the if and loop commands), while graphic commands and all the features such as fonts, layouts and measurements remain unchanged.
This means that the process of creating or transforming a PDF into its graphic image is simply a matter of reading the descriptions, rather than running a program through the PostScript interpreter. To be able to view a PDF file, you simply need to have or download the Adobe Reader program (a free software for viewing and printing developed for the main hardware platforms and operating systems). Some features incorporated into the PDF specification allow authors to expand the usefulness of a document.
But how can you work on PDF documents? We mean how can edit and modify them? One thing for sure, you really need a PDF editor!
If, like us, you find Preview a bit too light to work with PDF documents and Acrobat a bit too heavy, here is PDFelement, the most advanced PDF tool available on macOS and iOS.
Wondershare PDFelement  is the popular PDF document editing software. A beautifully designed solution with powerful tools to help you work easier, faster and better with your PDF documents. For Mac users, the newest version is Wondershare PDFelement for Mac.
Basically, PDFelement allows you to create or customize a PDF document according to your needs, protect it with a password and convert it to the format of your choice. Around this, the software offers a myriad of useful features to make your life easier, at work and at home. We take a tour of the owner.
PDFelement, the ideal solution for editing your PDF documents
The concept of PDFelement is simple: it is a software available on Mac, iOS and Windows PC that allows you to manage all your PDF documents through numerous tools. You can easily create, edit, convert, annotate, protect and sign any of your PDF documents, all in one place, and from anywhere.
The software provides you with six distinct features, making it "the" software to edit your PDFs as you see fit on Mac:
PDF editor
PDF Forms
PDF Annotator
PDF Creator
PDF Convert Tool
Edit your PDFs in the blink of an eye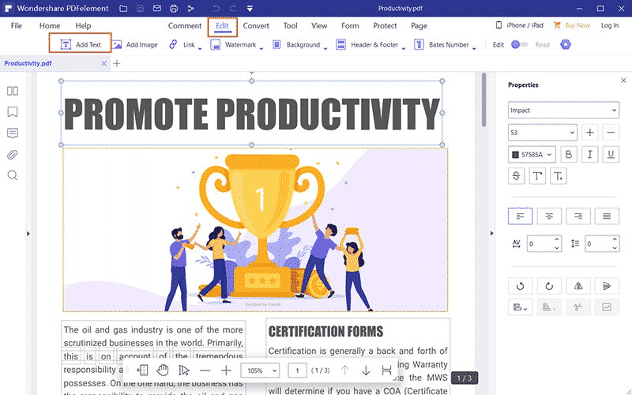 PDFelement offers a light, simple and efficient working environment for creating quality PDF documents. To get started, all you need to do is open your PDF document, change fonts and text styles, add graphics and more, on new or existing documents.
You can add and remove text as easily as in Microsoft Word. Innovative compared to other software of the same type, the new content, text and lines will automatically correspond to the original styles of the document, saving precious minutes of work and keeping a coherent whole. In addition to text, images and pages can also be edited easily.
Annotate your PDFs in just a few clicks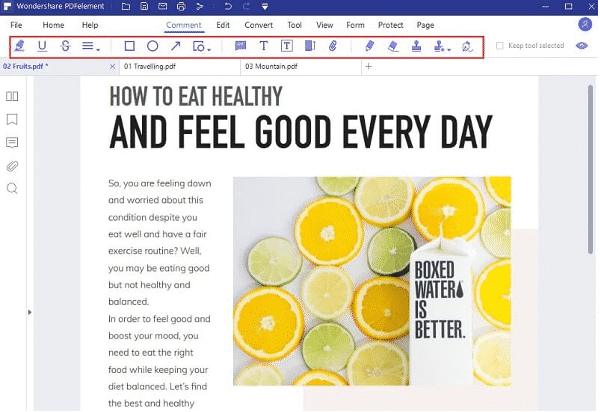 PDFelement lets you annotate PDFs on the fly, with a comprehensive set of tools. You can enter comments, watch changes made by other people, add highlights, take notes, and more.
In the "Annotation" menu, you can see the available annotation tools as well as other useful tools that allow you to edit your PDF file. Click on the tool you want to use and move your mouse over the PDF text to add a post-it, highlight, text box, draw shapes, etc.
The built-in OCR plug-in supports several different languages ​​like English, Italian, German, Chinese, Korean, Dutch, Portuguese, French and more.
Convert your PDFs without loss and noise
Tired of having to piece together documents with complex layouts and graphics?
Bother no more: PDFelement lets you convert your PDF files to Microsoft Word, Excel, PowerPoint, RTF and more without losing fonts or formatting. Convenient at the office or at home.
Forms are not a problem for him
While other software often loses its teeth on this kind of format, PDFelement doesn't care about forms. Whether you are creating a form or receiving one from others, you can use PDFelement to edit it.
If there is already a signature field on the file, you can click it to add your electronic signature. If your form does not have a signature field, you can click the Form> Add electronic signature button to add one.
To try it is to approve it
PDFelement is available in a free trial version, but it is severely limited in its use.
In order to unlock the full potential of the software, Wondershare offers PDFelement Pro, the full version of the software available in several subscriptions (the prices displayed are inclusive of VAT).
PDFelement Pro for Windows only ($79.99/year)
PDFelement Pro for Windows and iOS ($99.99/year)
The full version of PDFelement offers all these features in unlimited use:
Optical character recognition (OCR)
Transform scanned paper documents into editable PDFs
Editing Text and Images in PDF Files
Batch processing of your documents
Convert files to and from PDF
Annotate PDF files
Compress PDF files
Creating and modifying forms
Add a digital signature
Secure and sign PDF files
And more ! A 30-day money-back guarantee is offered to you with the purchase and payment by PayPal is possible. Are you interested in using PDFelement on your Mac? Get PDFelement for Mac 8.5 now!