DevOps combines development and operations and has become a popular concept in today's IT world. Professionals from both development and operations teams work in collaboration to deliver top-notch software to clients. From designing and development to implementation and subsequent support, DevOps covers it all.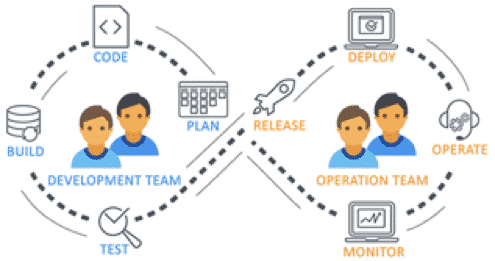 https://www.dotnettricks.com/learn/devops/what-is-devops-and-devops-advantages
DevOps has catapulted to popularity since its inception. And today, DevOps trained and certified professionals are in huge demand in the industry. Many organizations and institutes offer DevOps training and certification courses to improve one's DevOps knowledge and skills. Besides landing better job opportunities and a potential salary bump, a DevOps training course prepares an individual to fulfill the different roles and responsibilities involved. So, let's see what makes DevOps so popular and the various roles it entails.
Why is DevOps popular?
DevOps has become more popular than ever. At least that's what Google Trend says.

As evident, DevOps witnessed a sharp spike in popularity starting in early 2019. However, there is no single event that led to this exploding interest in DevOps. Several factors are collectively responsible for ushering in an era where DevOps is being discussed and implemented more than ever. So, here are the most significant reasons why DevOps is so prevalent in the market:
The combination of the operations and development teams has led to faster innovation and shorter development cycles.
The shortening of development cycles has led to quick identification of code defects, reduced number of failed deployments, easier rollbacks, and rapid recovery.
The DevOps practice of continuous integration and deployment has automated the process of code testing, speeding up development, reducing errors, and increasing the overall efficiency.
The DevOps culture cultivates and nurtures better cooperation and communication among teams, which in turn increases productivity.
Finally, all the pros of DevOps translate into decreased overall costs and a reduction in the IT staff requirement.
An Introduction to DevOps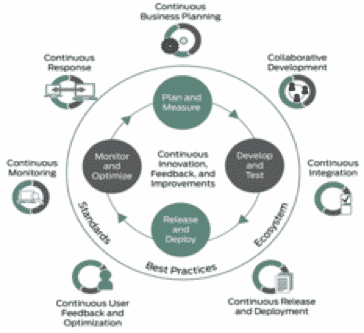 https://www.juniper.net/us/en/products-services/what-is/devops/
DevOps is a set of philosophies, tools, and practices that combines the development and operations teams to increase an organization's capacity to deliver services and applications. It aims to evolve and improve products at a pace that's faster than what would have been achieved using traditional infrastructure management and software development processes. Thus, DevOps enables organizations to better serve their customers and cope more effectively with the prevailing market competition.

https://aws.amazon.com/devops/what-is-devops/
So, how does DevOps work? The development and operations teams are not isolated in a DevOps model. The two groups work in collaboration across the entire software development lifecycle – from development and testing up to deployment and operations. Some DevOps models may also incorporate security and quality assurance teams throughout the lifecycle of the application. In such a case, when security is the prime focus in a DevOps team, the term 'DevSecOps' is often used.
Nevertheless, the DevOps team puts into use practices that automate conventionally slow and manual processes. The team uses tools and technologies which enable the quick and reliable operation and evolution of applications. Further, these DevOps tools help the team single-handedly accomplish tasks, such as provisioning infrastructure and deploying code that would have usually required assistance from other teams. Overall, DevOps ensures speed, rapid delivery, reliability, scalability, security, and enhanced collaboration.
Top Roles in DevOps
Big or small, every DevOps organization has several job opportunities with different roles and responsibilities. So, if you are thinking of the opportunities after DevOps training, then here are some of the roles you will come across:
Product manager – It's an operations position and is responsible for collaborating with the development team to ensure that products meet the highest required standards.
QA analyst or Data analyst – The job role involves analyzing the user data and existing data to find patterns that may impact customer experience and other concerns around design.
Reliability engineer – A role that ensures the quality of integration and management of tools required to support day-to-day operations.
Release manager – This role involves leadership qualities to oversee and supervise multiple releases, plotting out strategies for the development pipelines, understanding the CI/CD practice, and coordinating amongst teams.
DevOps engineer – These professionals support the platform's infrastructure comprising various in-house development and managed services.
Build engineer – This role includes collaborating with the release manager to ensure that build and deployment needs are adequately met in a CI/CD environment.
Role of a Security Engineer in DevOps
Information security is a paramount concern for every organization. But here again, DevOps comes to the rescue as one of the world's best techniques to deliver secure systems. DevSecOps extends the concept of DevOps and directly integrates security into the development, as well as production workflows. The DevSecOps practitioners, also known as Security DevOps Engineers, are primarily responsible for infusing the best security practices deep into the core of the DevOps processes of development and deployment. In a nutshell, the role of a DevOps security engineer entails the following general responsibilities:
Look for the most convenient and practical places to implant security into the existing workflow of development
Test any executable code that could eventually be deployed. Continuous tests capture and reduce security flaws at early stages and prevent time-consuming and costly code revisions at a later stage
Conduct a full review of the codes and changes that operations engineers may make in the system's configuration
Work for the development and deployment of application and security components of new lab projects
Collaborate with internal research teams, and maintain development, production, and QA environments
Improve and develop existing automation processes
Debug and troubleshoot build issues
DevOps does not quite offer a clear career path. Every organization has a different approach to DevOps, and the roles that a particular DevOps-minded enterprise demands ultimately depend on its project goals and its teams' organizational structure. However, some significant DevOps roles (like the ones highlighted in this article) provide a decent idea of what constitutes a DevOps team. Many institutes offer DevOps training and certifications that could well be your key to assuming mainstream DevOps roles within an organization.