The SaaS business model has exploded in the past decade and there are apps for nearly every type of industry niche. There are SaaS companies that do everything from create videos, manage your finances, perform SEO tasks, write blogs, etc. Some are extremely helpful and worth the cost, some not so much. We're here to tell you about one that is very helpful, it resides within a small niche within the huge niche of merging PDFs.
PDF Imposition, What is it and How is it Done?
Everyone knows how to merge a couple PDF pages together. There are a dozen sites that do it, Adobe, ILovePDF, Soda PDF, Smallpdf, the list goes on and on. It's a basic drag and drop action and it merges your pdfs together to give you a nice neat multi paged PDF. It's simple and easy to use. Deeper within that merging PDFs niche there is a thing called PDF imposition. Imposition basically means that you're taking multiple files and merging them together on to one page instead of each file on its own page. This is a very common process in the printing industry.
PDF files are merged onto the same page in a pre determined format to ensure they can be efficiently printed saving time and material. Often times files are scaled up or down in size when they are imposed along with placed in a specific order and quantity. There are a variety of other functions as well when performing imposition and we'll cover some of the main ones below.
The First Easy To Use PDF Imposition Tool
Up until recently this PDF imposition niche was dominated by a handful of desktop softwares that were clunky and overly complicated. FileSplice is the opposite. It's easy to use and resides in the cloud which means there's nothing to download and nothing to maintain. Within a couple of minutes even the most non technical user can create and account and start imposing PDF files with ease. Once a user signs up they have instant access to the template system where they can drag and drop any amount of PDFs into the system to get them imposed in moments. Each file can be a different quantity, can have its own cover sheet with file name over it or even a custom cover sheet imposed in front of the file(s).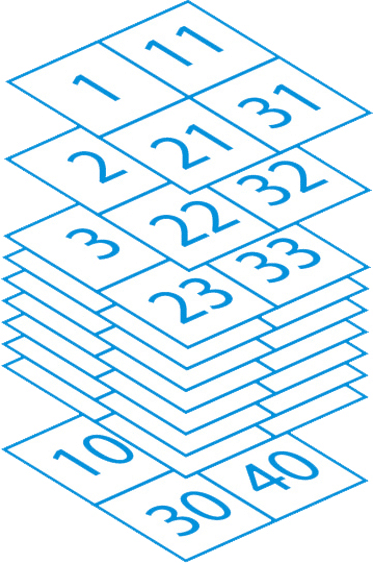 What You Can Do with The File Splice PDF Imposition Tool
Here is a brief list of the features within File Splice available to all users upon creating an account. There are no add on charges or setup fees for these features, all of this comes standard.
1. Popular size system templates. These are things like standard 8.5"x11"pages, business cards, popular Avery size labels and more. All the "system templates" you can use right upon sign up and begin merging and imposing files.
2. Create your own templates. If you have an odd size or shaped PDF or some special requirement you can create your own template (essentially the layout) and save it within your account. This is an easy process and basically amounts to entering the values of the page size you want, file dimensions of what you will upload, spacing, bleed requirements and crop marks. You really have total flexibility in the output of how you impose your PDFs.
3. Merge in Cut and Stack or Step and repeat format. You can select the method in which you want your PDFs imposed.
4. Set Batch Size. If you have requirements for printing or production and need limits size of pages merged you can set that. For example, say you have to impose a large batch of PDFs and the total amount of pages that will be produced are 1,000. However, you need them in batches of 100. You can set the batch size to 100 and the system will calculate produce the 10 batches of 100 sheets each rather than one large one of 1,000 sheets.
5. Crop marks. This one's pretty self explanatory, you can turn off or on the crop mark feature. When it's on the system will auto generate black crop marks according to the file and bleed size values in the template.
6. Overage. You can tell the system to impose an additional amount of each file should you require overage. This can be set to zero if you don't have a need for it.
7. Add a slip sheet and or a break label. This is a very helpful feature if you are imposing a large amount of PDFs. Turning on the break label will impose a low resolution of each file at the start of its run. This file will have a thick red boarder and the file number across it in black and white. This allows you to easily identify, sort and collate designs within a large batch. Similarly the slip sheet option when turned on allows you to upload a custom cover sheet that will appear once before the run of each file. This is helpful for product inserts or instructions.
8. Form a Team. Add users to your account to form a team. Each team member can share your templates and see your files and builds in real time. This feature is very helpful for organizations with multiple users working from different locations.
The Bottom Line
If you are looking for a new solution for imposing or merging PDFs then we encourage you to give File Splice a try. They offer free setup and tech support and have heard that they will give you a free trial if you ask. This is a niche that makes a lot of sense for an SaaS product. There is really no need to utilize old outdated softwares when the File Splice solution is so easy to setup and offered at such a low cost. Give it a try and let us know your feedback.