Doing a WhatsApp transfer from Android to Android or iPhone to iPhone is a relatively straightforward process. But what about when you need to transfer WhatsApp from Android to iPhone or the other way around? Of course, there are several workaround methods that phone switchers have been using for a while now. Unfortunately, these methods are all largely ineffective, and far from being comprehensive as WhatsApp transfer solutions. So what are they and, more importantly, what are the practical ways to do full WhatsApp Android to iPhone transfer?
Current WhatsApp Transfer Methods for Android to iPhone are Inadequate
The root cause of this issue is that Android and iOS versions of WhatsApp take backups in different ways. And, unfortunately, these backups are only compatible with their respective cloud platforms; in other words, Google Drive and iCloud. Since there's no way to import a WhatsApp iCloud backup to Google Drive and vice, versa, it has become necessary to look at alternative ways to do a WhatsApp Android to iPhone transfer. Let's look at some of these options.
Method 1: Using Email to Export WhatsApp Chats and Media
The most workable method is to move your data via email. WhatsApp exports can be sent as attachments, and this includes chat conversations as well as any associated media files and documents. What are some of the advantages and disadvantages of using this method? Let's see…
Pros
You can export the entire conversation thread with all attachments
It's easy to do with any default email client on your Android device
No need to buy extra cables, hardware, or apps
Cons
The exported data is only available as a text file with media attachments
Conversations cannot be merged into WhatsApp on the target iPhone
Only one conversation can be transferred at a time – with or without media
This method is ideal when you only need to have a conversation for reference or other purposes because it doesn't actually transfer the old data to a WhatsApp account on the new device. All it does is make the information available on other devices connected to the same email account, which means it can be shared easily with others.
Method 2: Using a PC as an Intermediary Device
Another option to transfer WhatsApp across operating systems is to take an Android WhatsApp backup to a PC and use that copy to restore it to an iPhone. However, the backup will need to be made compatible with the iOS environment, and for that, we'll be using a robust piece of software called Wondershare MobileTrans – WhatsApp Transfer. Here's how it works, and the pros and cons of using this method.
How to Transfer WhatsApp from Android to iPhone
First of all, download the MobileTrans WhatsApp Transfer software to your Mac or PC. Once you've done that, proceed with the steps below:
Launch the software and select the Transfer WhatsApp module on the home page or welcome screen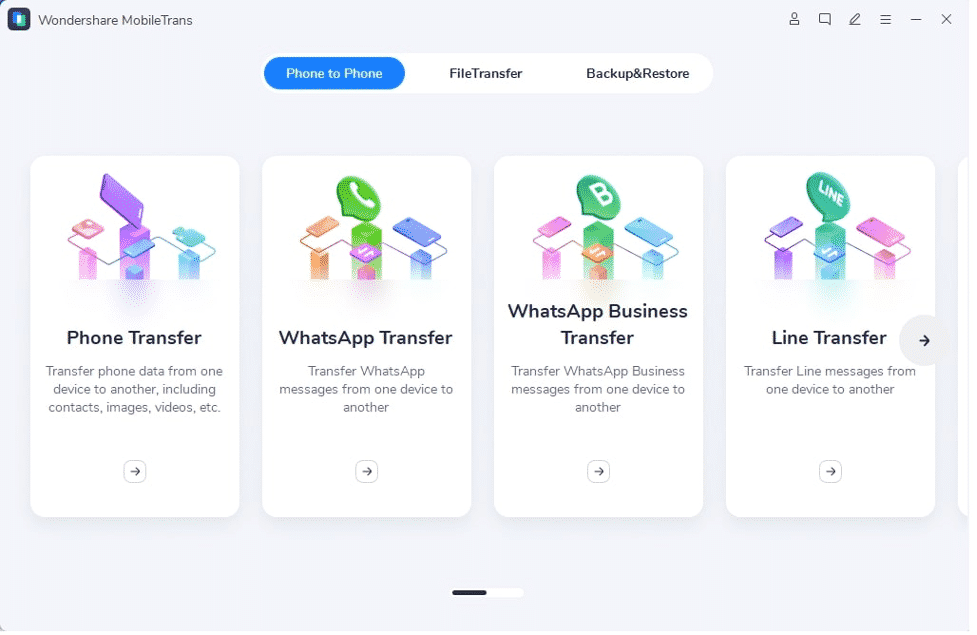 Next, connect both devices to the computer and let the software recognize them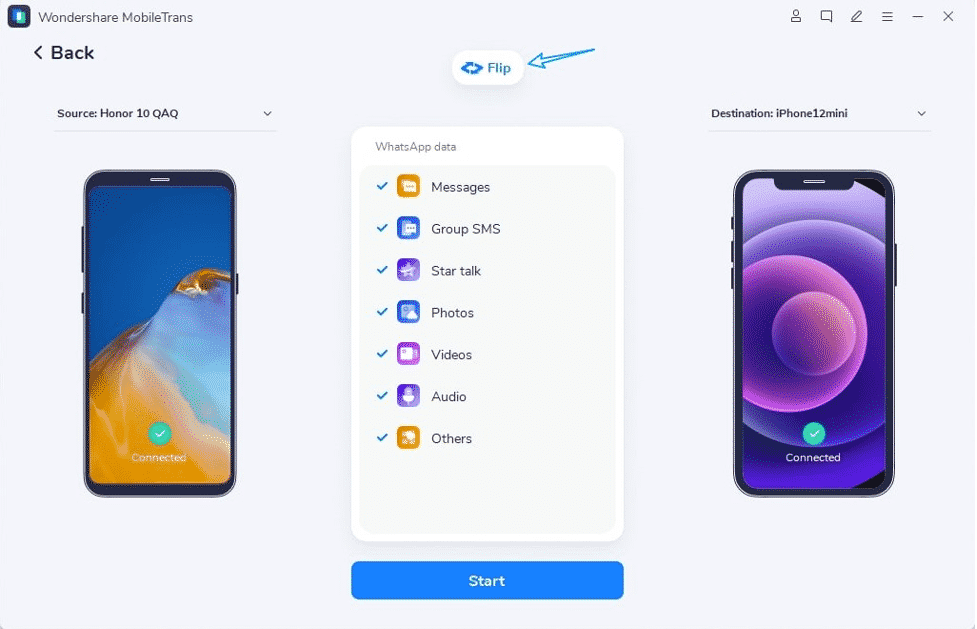 On your computer, select WhatsApp and make sure that your source device (Android) is on the left and your target device (iPhone) is on the right – use the Flip button to swap their positions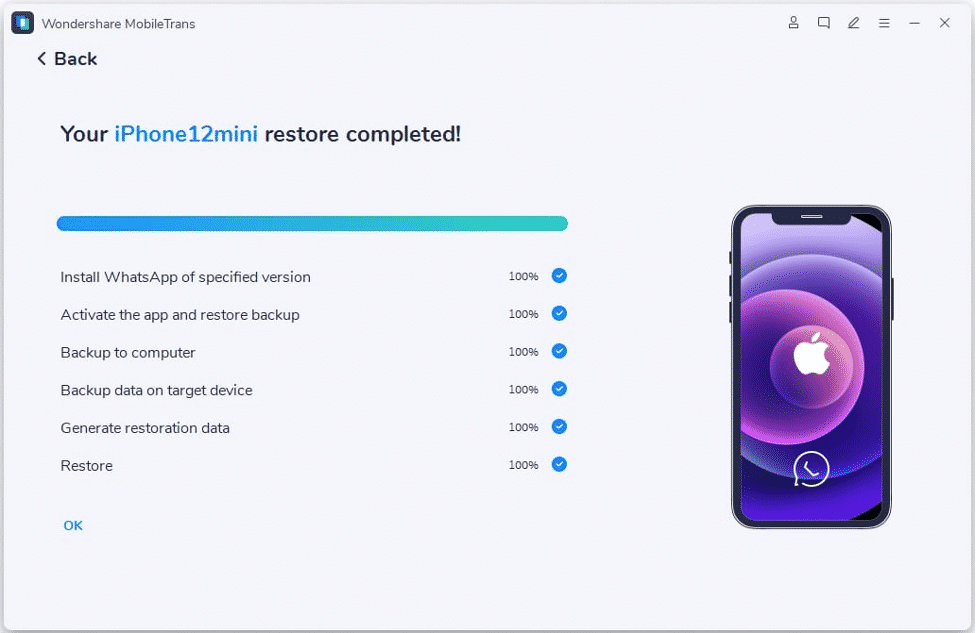 Finally, hit the Start button and wait until the transfer success message appears on your monitor; after that, you can safely eject the phones and disconnect them
Pros
Fully transfer all WhatsApp data from Android to iPhone
All conversations, media, and other files can be moved this way
No data loss during the transfer
Easy-to-use interface and clear navigation with on-screen instructions every step of the way
The backups can be accessed at any time on the computer, and even exported to HTML and PDF
Cons
PC or Mac is required to execute the process
Some replacement cables may not work if they can't transfer data
Other Features of Wondershare MobileTrans WhatsApp Transfer
One of the reasons this tool is preferable over other third-party WhatsApp Transfer applications on the market is that it makes the transfer process very simple. It's literally a one-click way to safely and completely transfer ALL WhatsApp data from Android to iPhone and vice versa. Aside from this "zero data loss" claim, the software can do a variety of other tasks as well.
Also supports WhatsApp Business, Viber, Kik, LINE, and WeChat
Useful for taking WhatsApp backups to a PC or Mac
Restore to any device regardless of OS compatibility
No special hardware to invest in
Export from computer to shareable and web formats such as PDF and HTML respectively
Method 3: Using a Lightning-to-USB Cable without a PC
Wondershare also offers a mobile option for WhatsApp Transfer. The respective apps are available on the official Apple and Google Play app stores, and they make it very easy to transfer WhatsApp and other social messaging app data from one device to any other regardless of whether it's running Android or iPhone. The only additional piece of hardware you need is an OTG adapter or a USB-to-Lightning connector cable.
The process is equally simple:
Install the MobileTrans app on the source Android phone and the target iPhone, and select the 'Android to iPhone' transfer option under WhatsApp Transfer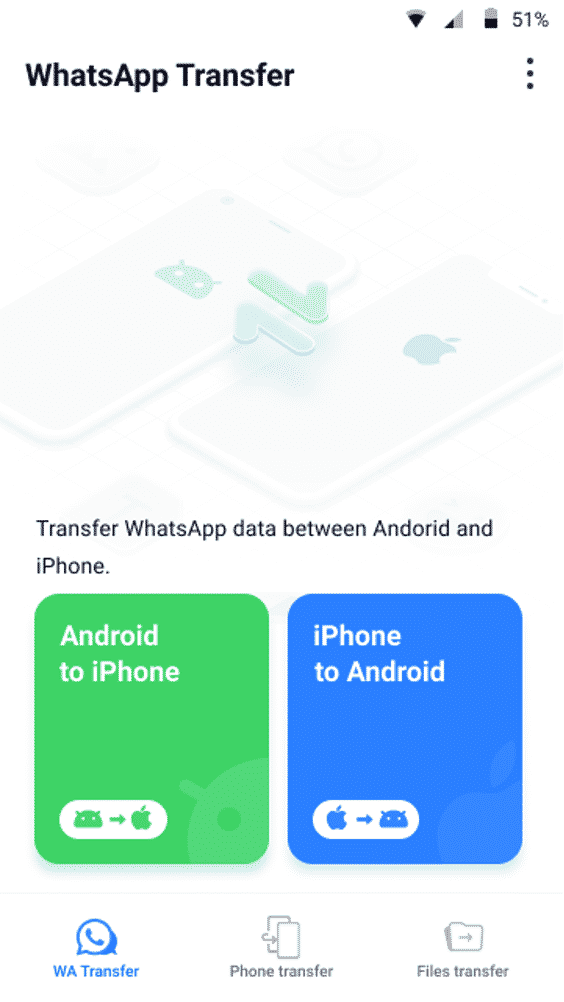 On the iPhone, log in to WhatsApp with the new number – essentially, this will be the target account to which the data for your Android Whatsapp account will be transferred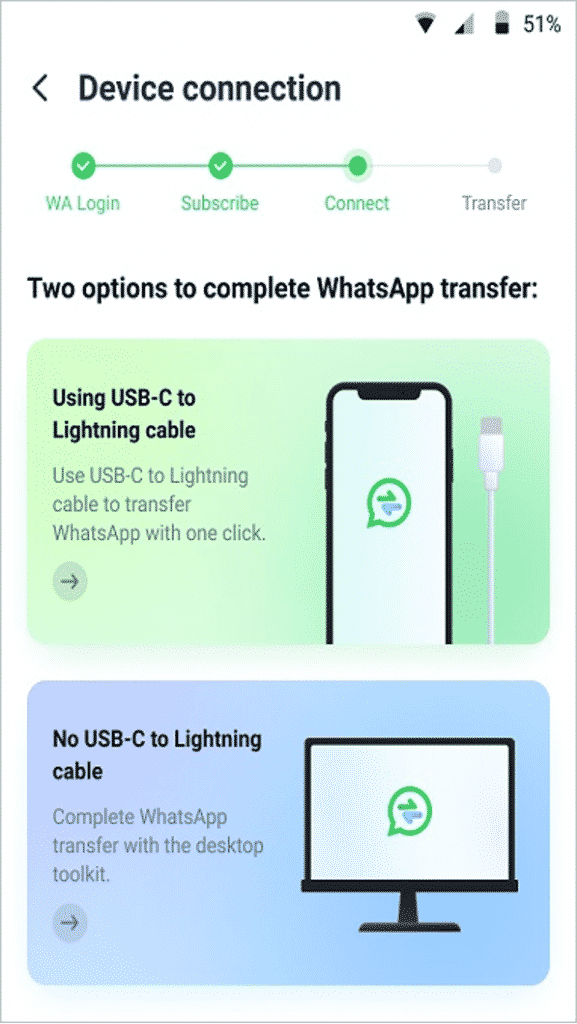 Connect the two devices using the aforementioned cable or adapter
Complete the on-screen process (clear instructions are included) to transfer your WhatsApp data from the Android phone to the iPhone; disconnect when prompted to
The mobile version of MobileTrans is equally versatile in that you've got all the tools to transfer chat histories from WhatsApp, WhatsApp Business, WeChat, etc. from any Android device to any iPhone and vice versa. Tested with over 8000+ iPhone and Android models, these two applications (desktop and mobile) will give you a comprehensive toolset to transfer not just chat data but any phone data from one phone to another
Is There an Official WhatsApp Transfer Tool Recommended by the Company?
A few months ago, WhatsApp announced a way to transfer WhatsApp conversations from iPhone to Android. However, this method has numerous limitations and restrictions. For instance:
Can't transfer WhatsApp from Android to iPhone
Only works for iPhone to Samsung Galaxy phones that support SmartSwitch
The user cannot retain the old phone number – the data can only be migrated to a new one
Transferred data cannot be merged with existing chats on the target phone
The Samsung phone must be factory-reset or factory-new, which means it cannot have WhatsApp information or any other data stored on it
A Lightning to USB cable or OTG adapter is required
WhatsApp has posted in its FAQ section that a solution will be rolled out for WhatsApp Android to iPhone transfers, but judging by the fact that the existing method only works with SamsungSwitch and comes with a ton of fine print, that solution is probably long into the future.
In the meantime, you can rely on the accuracy and efficiency of MobileTrans – WhatsApp Transfer and its app version, MobileTrans for Mobile.