Invented in 1959, the bounce house has become sought-after among kids. No matter at birthday parties or children's activities, kids always enjoy themselves by jumping around and laughing happily with the bounce house. An inflatable bounce house is a must-have if you have a backyard because almost every kid loves it, and your children are no exception. However, if you are one of those who hesitate to purchase a backyard bounce house and you are uncertain which one to choose, this article will give you an answer.
How to Choose a Backyard Bounce House
Don't hurry up to choose the backyard bounce house. Instead, you should pay heed to some factors before buying one. The more preparation you make, the more suitable backyard bounce house you are likely to choose.
The age of kids playing in the backyard bounce house should be first considered as it determines the size and height of the bounce house you buy. Besides age, you should also take the number of kids into account. The more kids are included, the bigger and more bounce houses you need. Then, based on age and number of kids, you should think about which type of backyard bounce house to purchase.
l Bounce houses are perfect for just jumping and bouncing activities.
l Hybrid bounce houses have additional features, such as slides or ball pools, allowing kids to have more fun activities.
l Water slide bounce houses are the ideal option in summer, enabling kids to enjoy the fun of slides and bringing them coolness.
Three Acclaimed Backyard Bounce Houses for Your Reference
It's not easy to choose a backyard bounce house even though people think over the above tips. Here are three sought-after and reliable backyard bounce houses that can satisfy the abovementioned requirement, helping you to make the wisest decision.
1. Action Air Big Bounce House 9 In 1 Play Center With Blower
This bounce house is the ideal option for holding children's parties with the large accommodation of six kids at a time. Even though many kids play in this bounce house, you don't need to worry about their safety as the bouncing area is surrounded by 3 safety nets and a net entrance offering a soft and smooth door to avoid injury. Also, a foldable sunroof protects children from the hot sun, providing the optimal solution for kids to have a good time.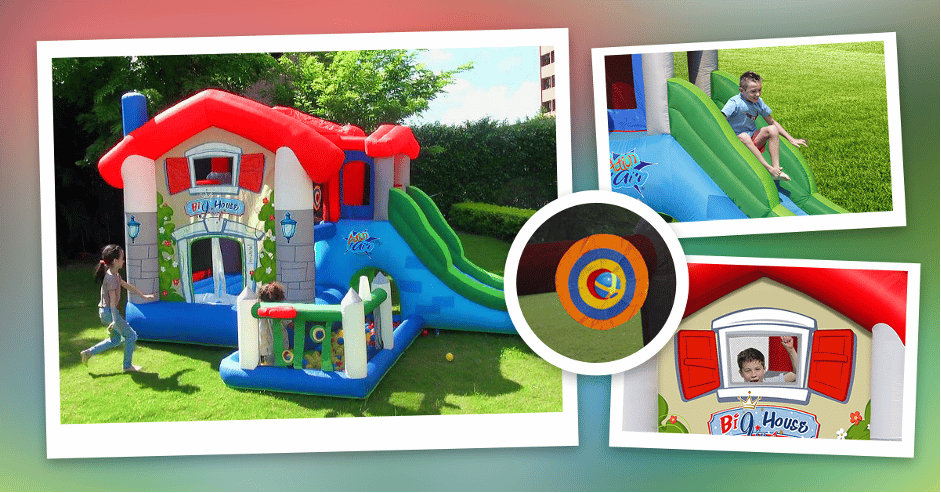 What makes it distinctive from others lies in its multifunctional features, satisfying children's different needs.
l Play basketball. This bounce house provides a basketball hoop, enabling kids to have fun.
l Play dart game. When kids feel bored with bouncing, they can come here to have a dart game competition with their friends.
l Play ball game. A mini ball pit with colorful balls makes kids feel like playing in the bubble bathtub.
l Play with the long slide. Children can feel the excitement of sliding down the long slide.
2. Action Air Hot Air Balloon Slide And Hoop Bouncer For Outdoor
Get out there to enjoy bouncing high on the hot air balloon slide & hoop bouncer. It fits well in most gardens and has transparent netting for easy viewing on the inside. This small-size bounce house is adequate to accommodate two kids to have fun.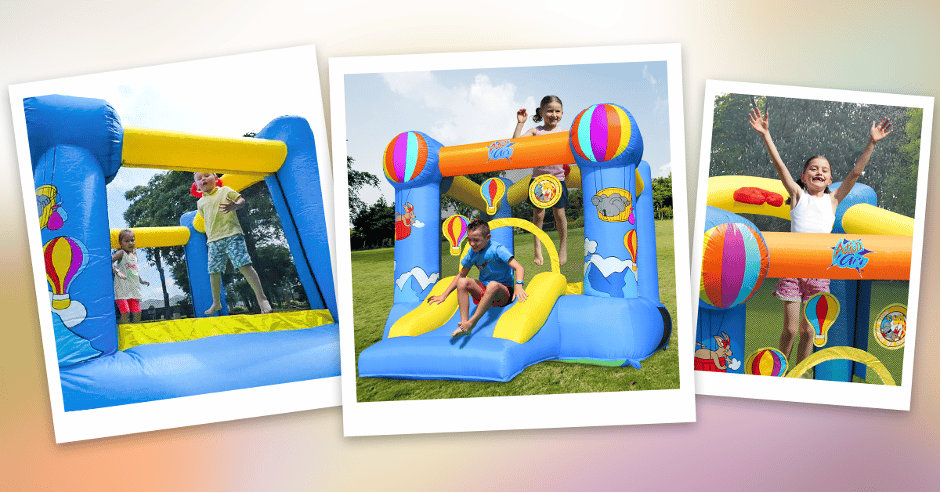 Since it features a simple design, it doesn't offer many leisure activities for kids, but enough for two friends. Here are its functions:
l There is a typical jumping area and slide that everyone enjoys.
l There is also a basketball hoop, serving as extra entertainment for kids.
l The bouncing area can protect children well with the help of three safety nets.
3. Action Air Shark Club Water Slide
Imagine kids jumping and playing in the ocean world. Who can say no to this bounce house slide? What is noticeable is the shark-shaped mouth that sprays water to keep the slides wet. Although it accommodates up to 3 kids, it is hard not to be noticed at any birthday party or backyard!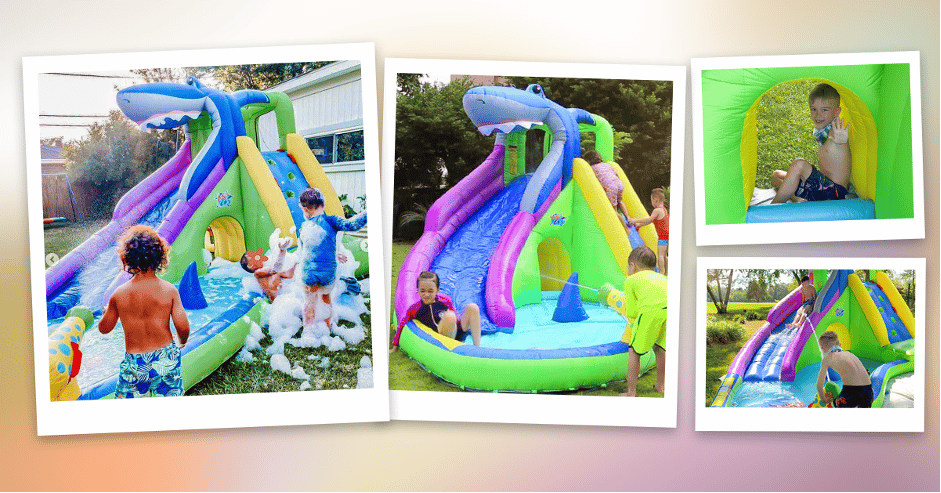 Here are the functions offered by this shark club water slide:
l Climb on the backyard bounce house, helping kids develop an interest in doing sports.
l Play with the water ball pool, adding a lot of fun besides sliding down from the shark's mouth.
l Play the toss game, helping train kids' attention.
l Play the water fight with water cannon for a great refreshing pleasure.
Conclusion
The three abovementioned bounce houses have gained popularity among kids. They are all from Action Air, a leading manufacturer of children's products. Aiming to create the best inflatable castle for children, Action Air has always devoted itself to developing the most refined backyard bounce house that stimulates children's physical, creative, social, and emotional development without compromising on a fun play! Click their website for more information.