A down lead clamp is also known as a down lead cushion. The clamp is usually a fastening device. The clamps are used to hold/secure objects together to prevent them from separation and movement. This pole line hardware is used to fix and guide the optical cables on poles and towers to move up and down. These elements are used to reduce the compressive clamping force. They can be used with a variety of cable sizes and diameters.
The generally acceptable spacing distance for a down lead clamp is six to eight feet. These down lead clamps come in various designs and sizes. The down lead clamps are used for multiple applications, such as down lead clamp for towers, download clamp for poles, down lead clamp for All-dielectric self–supporting (ADSS), and down lead clamp for Optical ground wire (OPGW).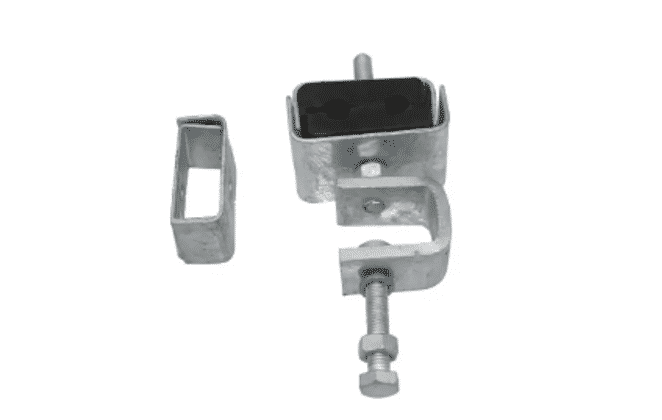 The tool of down lead clamp consists of two elements, namely, rubber element and stainless steel band. The stainless steel element is used to attach it to the pole using bolts and nuts, whereas the rubber part is used to hold the optical fiber. In this way, the damage due to friction can be reduced by clamping it tightly to the pole.
The four main components of the down lead clamp are as follow:
Steel bracket
Bolts
Nut
Rubber section
The two primary types of the down lead clamp are tower used and pole used. Then these clamps are further divided into two types, namely, metal type and electro-insulating type. Metal cable clamps are used for OPGW installation, while the electro-insulating type of down lead clamp is used for ADSS installation.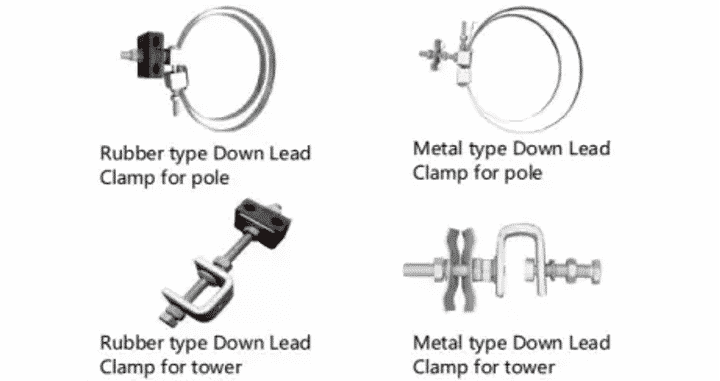 The following is the list of four variations of down lead clamp:
Rubber type down lead clamp for pole
Rubber type down lead clamp for tower
Metal type down lead clamp for tower
Metal type down lead clamp for pole
Advantages of down lead clamps
Are you interested in buying down lead clamps? Then you better have some idea about the benefits these clamps offer. These clamps are handy tools. They provide many services to the user. This article will summarize the four top advantages of down lead clamps.
1. Easy to install
The installation of a down lead clamp is easy, convenient, reliable, and fast. The down lead clamps can be placed without any sophisticated tools and devices, and an amateur person can easily install them. Due to the easy mechanism to install, work time has also been reduced significantly. Moreover, the efficient setup of the down lead clamp allows efficient and accurate installation and operation.
2. Versatility of application 
The down lead clamp can easily be adapted to meet any requirement. It can be used with cables of any diameter and type. The down lead clamp's size can be easily adjusted through the screws and bolts.
3. Improved security 
The device has enhanced strength due to the manufacturing material, thus making them very suitable for various applications. They can easily withstand enormous forces and accidents due to loose grip and slippages. The enhanced holding power provides safety to the delicate optical fiber.
4. Robust design
Cable clamps lowes come in robust and innovative design. They are designed to meet the special needs and requirements of the clients. Down lead clamps come with special adapters that get rid of drilling issues.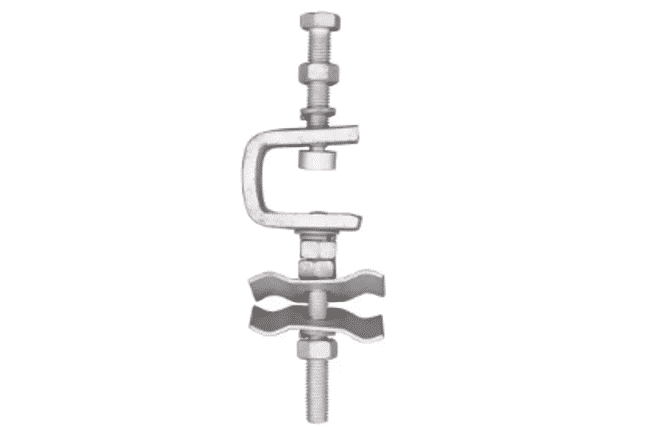 Not only these down lead clamps offer many other benefits to the user. They are available in various sizes, i.e. (9.0-24 mm), making them suitable for many applications.
With all the benefits mentioned above, we can conclude that down lead clamps are essential to the safety of optical fibers. Now you must be wondering where to buy these clamps. Let me tell you, Henvcon is the best dealer of down lead clamps. Their products meet international standards, and their loyal customers attest to the quality. Henvcon is a leading manufacturer of power cables and wire accessories. Henvcon has more than seven years of professional experience. Also, Henvcon's advanced equipment and experienced team can ensure on-time delivery.