Becoming a first-time dog owner can be really exciting because dogs are just so much fun to have around. Most breeds are naturally lively and active while some only get excited when around their favorite humans. But while many existing dog parents will tell you that raising a puppy is a rewarding experience overall, they'll also agree that it can be quite overwhelming at first.
Raising a puppy is a lot of work and requires a strong commitment that some people aren't ready for. You have to feed them right, make out time for walks, train them, and attend to their grooming needs. Now, some breeds, although adorable, can be quite a headache to raise and maintain, even for experienced parents.
Luckily, there are some dog breeds that don't have so many needs and get along fine with little maintenance. But overall, if you're a first-timer, you'd want a breed that matches your energy and attention level. If you're energetic and want a running buddy, pick a dog that is athletic like the Bordie Collie or the Boxer. If you're not the sporty type but want a pet you can snuggle often, then the Bulldog or Cavelier King Charles Spaniel may be just right for you.
Knowing what you want is important as many first-time owners burn out because they chose the wrong breed to take home. To enjoy having a pet around, it must be one that matches your personality and lifestyle. Now, here are some of the most first-timer-friendly breeds you may want to consider:-
Bichon Frise
The Bichon Frise is simply a ball of fluff and happiness. If you've ever been around one, you'll know that they are an all-around companion. Bichons are easy to train and only require moderate daily exercise to stay healthy and happy. Adaptable to all sorts of lifestyles, a Bichon Frise will have no trouble fitting into a big family house with kids or a city apartment.
They are also a great choice for those who suffer from allergies since their coats are hypoallergenic. Before you run over to the pet shed, however, you must be ready to handle their grooming needs. Bichons have a curly coat that needs to be trimmed regularly. If this would be a problem, then it's best that you keep your Bichon's coat short. Bichons can grow to heights between 9 and 12 inches and weigh between 7lbs and 12lbs. Life expectancy is 14 to 15 years. Visit https://www.goodhousekeeping.com/life/pets/g4503/dogs-that-dont-shed/ to find out more dogs with hypoallergenic coats.
Boxer
Boxers are medium to large-sized dogs with high energy. They make a great family dog as they get along well with kids and other animals too. If you have an active lifestyle, you'll find the Boxer a great companion. They require plenty of exercise and training is necessary if you'd want an obedient dog. Oh! We should mention that young boxers can be a little hyperactive so, be prepared to match their energy.
If you have kids, you can rest assured that they are in good hands when you're away. Boxers are guardians by nature and are very protective of their families, especially little kids. Boxers have a short coat that requires very little grooming. Boxers can grow to heights between 1 foot, 9 inches, and 2 feet, I inch at the shoulder. Fully grown adults weigh between 55lbs and 70lbs. Life expectancy is 10 to 12 years.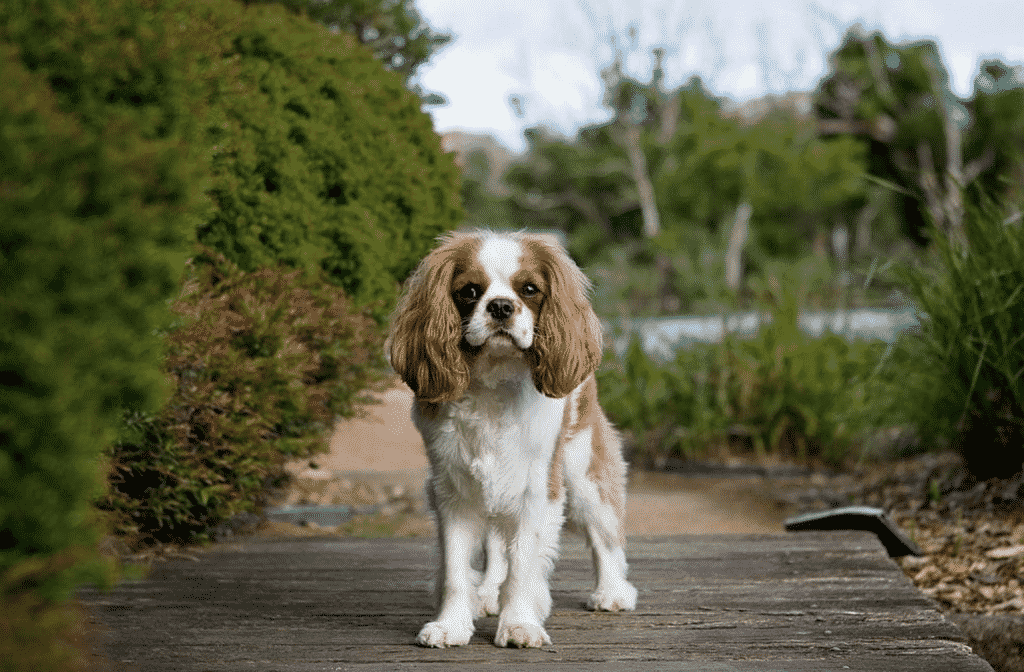 Cavalier King Charles Spaniel
Cavaliers are a great option if you want a snuggle buddy. Their favorite thing to do in the world is spend quality time with their owners. Cavaliers are small dogs and have a puppy-like appearance. They have a sweet, calm, and gentle demeanor and get along fine with kids of any age. Thanks to their calm and attentive demeanor, this breed responds well to training and is always eager to please. Traits like these make them adaptable to any family or lifestyle.
They have a moderate energy level and so require only basic daily exercise to stay healthy. You do have to actively encourage them to go out or they may become lazy. Despite having a medium-length coat, their grooming need is still pretty basic. Just ensure you brush it regularly to prevent tangling. Cavaliers' height varies between 12 and 13 inches while they typically weigh between 13lbs and 18lbs. Life expectancy is 12 to 14 years.
Golden Retriever
Many people see the Golden Retriever as the perfect dog for several reasons. They are always happy and eager to please their owners. Golden Retrievers are loyal and friendly pets, and they shower their families with lots of love. They are intelligent and have no problem learning new tricks which makes them highly trainable and perfect for first-time owners. Click here to find more friendly breeds.
If you lead an active lifestyle, you'll enjoy having a Golden Retriever around as they are full of energy. With that much energy, they require a lot of exercise to stay happy and healthy. Grooming needs are moderate as you have to brush their coat regularly and carefully to keep it free of mats and tangles. Fully grown adults grow to heights between 21.5 and 24 inches and weigh between 55lbs and 74lbs. Life expectancy is 10 to 12 years.
Final Thoughts
As we mentioned earlier, it is essential that you take in a dog that matches your personality and lifestyle. Raising a pup is a lot of responsibility as it is almost like raising kids. You have to be fully committed to making sure your pet is both healthy and happy.