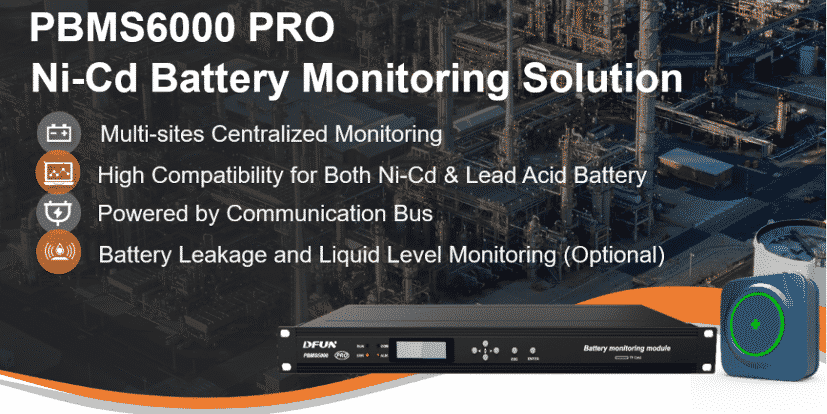 A battery monitoring system is crucial for any industry that relies on batteries for backup power, such as substations. As the power supply for DC equipment of the substation, batteries are directly related to the normal operation of the substation and the safety of the power supply. However, in practice, batteries are prone to various problems that can negatively impact the safety of the electricity supply if not detected and maintained in time. Using the battery management system, people can monitor the battery status to extend their life in the substation and ensure a safe and stable power supply.
Introducing a simplified BMS battery monitoring system to your substations creates an easy to access, real-time data feed for your maintenance team and system admins so they can prevent or avoid potential downtime for your niche industry.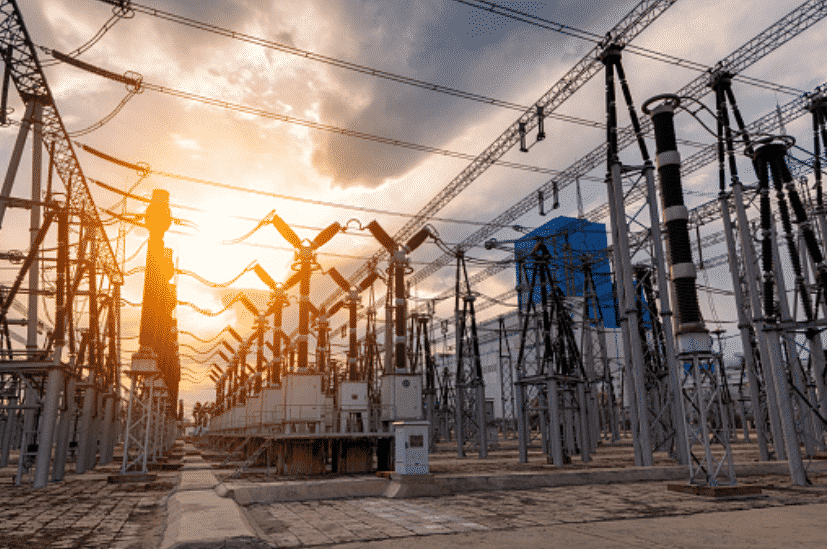 The Accidents Caused By A Battery
Like most other objects in life, batteries have runtime issues due to many factors. For example, there could be anything from poor construction during production or environmental factors that lead to all kinds of dangerous outcomes. Having an advanced battery monitoring system can help prevent:
Corrosion of battery poles due to overcharging. It can result in blue or greenish-white material gathering around the point of positive charge and can lead to the battery no longer performing its proper function.
2. Burning of terminal materials or outright battery explosion due to excessive current can occur if exposed to static electricity. It is also true if sparks from welding or flames touch the battery while charging. Even slight overcharging reduces a cell's discharge capacity and leads to potential heat generation.
3. Battery bulge is the result of energy density and heat. Too much current begins to course through the battery, which causes a buildup of heat and gas and expands the battery enclosure until it bulges.
4. Battery leakage is extremely common when they have been left for too long without checking the connections, terminals, expiration date.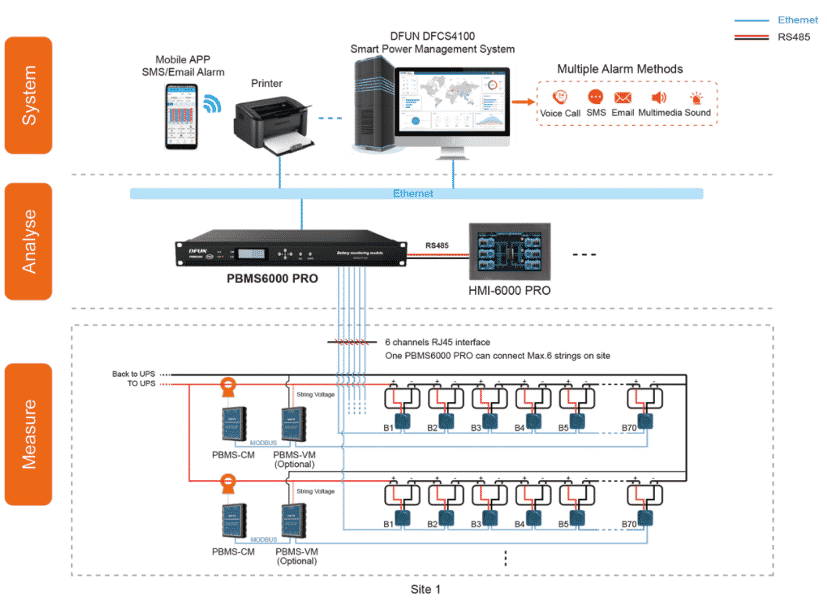 The Main System Structure Of Battery Monitoring System
The battery equipment in a substation can fail for a variety of reasons. At the same time, substation power systems are so widely distributed and have so many batteries that manual monitoring is not optimal. So how is the battery monitoring system monitored, and what are its components? It includes:
Management Platform – Users can view individual battery data for all distributed substations on a computer or mobile APP. What's more, users can do the configuration on through with timely alarm and issues the potential risk.
Communication Layer – The system support Max. 6 strings total of 420pcs batteries for each substation. It helps collect and upload data to the battery monitoring system through Modbus-TCP/Modbus-RTU/SNMP.
Acquisition Layer – It collects individual battery data like the voltage, internal temperature, impedance and string current, string voltage, SOC, and SOH. The sensor will alarm with red light once the system detects the abnormal data.
How Does BMS Battery Management System Help Substations?
The primary function of a BMS battery management system is to monitor battery status online, detect battery health, locate the abnormal battery and prevent unwanted damage or downtime of your battery backups. That is handled through:
Data Acquisition – Battery cell sensor will monitor the battery data, like the voltage, temperature, impedance, and so on, then upload to the system for analysis.
Status Display – The system can display all stations' battery status on the main center screen.
Remote Monitoring – A critical function of a BMS that ensures workers do not have to "tour" all your substations regularly but can reference information via remote access.
History Recording – Allow to check historical data and curve to analyze battery health trends and detect the problem battery at once.
Reporting Statistics – These measurements can then be presented in clear data reports that offer solutions and data-driven decision-making.
The DFUN PGMS6000 Pro for Substation Solutions
While you are in the market for an excellent solution to your battery backup needs via your substations, consider the professional solution from DFUN. With the PGMS6000 Pro, you get:
Designed specifically for 110V / 120V / 130V and 220V / 240V / 250V substation battery systems, Centralize Manage multiple distributed DC plants.
Able to measure both Lead-acid battery and Ni-cd battery. By monitoring battery voltage, internal temperature, impedance, fluid level, leakage status, ripple voltage, ripple current, SOC, SOH, it helps maintenance to understand the battery health comprehensive.
With the Auto-searching function, the system can access battery sensor ID in one second and save a lot of engineering labor costs.
Detect the substation environment, like Ambient Temperature & Humidity, Switch Signal, etc.
There are multiple alarm modes via call, SMS, email, multimedia, sounds, and morel.
The system also supports Mobile APP to monitor each substation status in time everywhere.
Get Your Battery Monitoring System From DFUN
When you start your hunt for a new battery monitoring system from a trusted BMS manufacturer, start with the experts at DFUN. Since 2013 DFUN has provided professional-grade solutions for several critical industries, including municipal utility and energy businesses needing power and environmental Monitoring.
DFUN is a recognized industry-leading BMS manufacturer with integrated designs, R&D, and excellent service professionals ready to meet your needs' unique demands and challenges. Give them a call today or visit DFUN's website to learn how they can solve your battery monitoring system issues.