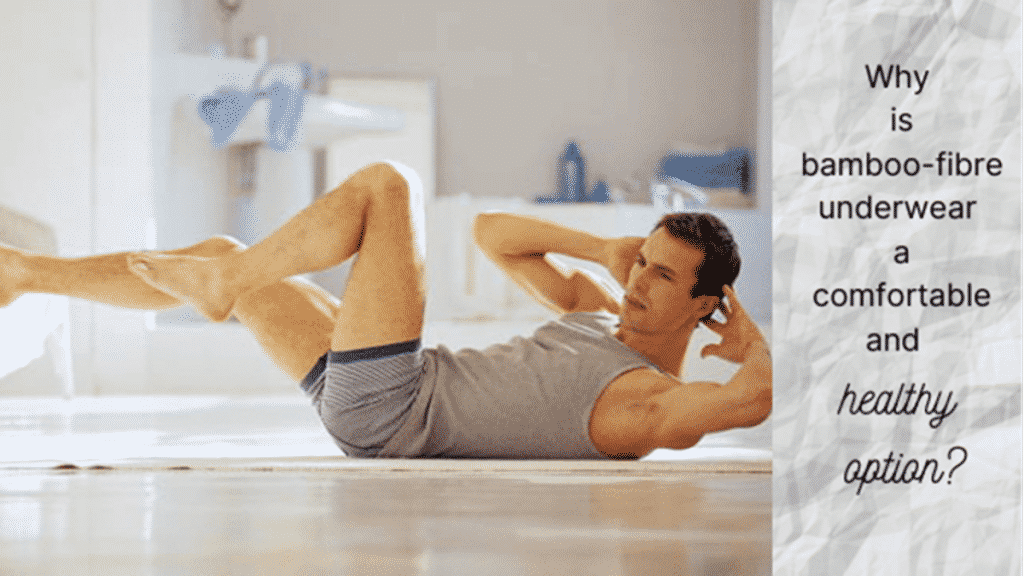 Chafing of the thighs is typically caused by the legs rubbing against one another during strenuous exercise routines. When you rub the irritated area, it will eventually develop into a painful rash. Itching and chafing in the thighs are brutally uncomfortable and distracting. In addition, some types of underwear fabrics are more likely to cause chafing than others. As a consequence of this, picking suitable anti-chafing underwear or shorts is essential if you want to be able to concentrate on a workout or make pain-free journeys to various locations such as the grocery store, the park, the office, or school.
Anti-chafing shorts are underwear to prevent or alleviate rubbing and chafing in the buttocks and inner thighs. The Smuggs Anti-Chafing Underwear is cozy, and the anti-chafe bamboo underwear has been meticulously designed to be supple, breathable, and odor-resistant.
Anti-chafing bamboo underwear benefits
What is beneficial to the environment is equally helpful to human health. Bamboo underwear is eco-friendly, wonderfully soft, and incredibly pleasant for the human body. The following are some of the major benefits of using anti-chaffing bamboo underwear.
Exceptionally cozy and comfortable
Bamboo fabric is the most comfortable choice for undergarments since it is light, silky-soft, and friendly on the skin. In addition, the bamboo cloth is the best choice for underwear compared to cotton due to its thermoregulation capabilities. As a result, it keeps you cool in the summer and toasty in the winter. Another advantage of bamboo underwear is that it prevents stickiness due to its anti-static properties.
Breathable
Most individuals wear cotton underwear, and they may believe that they are quite breathable. However, those individuals have not yet tried bamboo underwear. Bamboo fabric is known for its ability to wick away moisture. Therefore, when the body sweats, the unique underwear absorbs the water quickly, allowing it to evaporate and leave the skin dry. Microscopic holes in the bamboo fabric also contribute to ventilation, allowing the skin to breathe. Furthermore, the anti-chafing underwear is exceptionally soft and elastic and fits snugly and tightly to avoid chafing from sweat.
Anti-allergy properties
People with sensitive and allergic skin find it hard to locate clothing that does not trigger allergic responses, which is especially frustrating for underwear. In addition, synthetic textiles are harsh on sensitive skin, causing rashes and other significant health problems. Bamboo fabric is wonderful for skin care and is especially suitable for eczema sufferers and people with extremely sensitive skin, which is great news for allergy sufferers.
A healthier solution for your skin
Bamboo underwear is becoming increasingly popular due to its reputation as a more healthful choice. Because it contains antibacterial and antifungal agents, clothing made from bamboo does not retain odors. Lingerie cannot be without this! In addition, bamboo fibers include micrographs and can drain away moisture from the body, making the bamboo fabric a good choice.
Sum up
Those who have skin issues due to wearing low-quality underwear should invest in anti-chafing lingerie that is comfortable and breathable. Keep in mind that sweat is one of the most common factors that lead to skin chafing, and as a result, select anti-chafing bottoms that are breathable and drain away moisture to keep your inner thighs feeling comfortable. It is time for people who have been struggling with skin rubbing for a long time to transition to Smuggs anti-chafing underwear, which is fashionable, extremely soft, and comfortable. One of the finest solutions for being happy and healthy and taking pleasure in day-to-day activities is to wear anti-chafing underwear like that offered by Smuggs.