4.66 billion people actively use the internet, and 93% of all web traffic comes through search engines.
It would not be a surprise if businesses would want to access this massive audience. There are already over 1 billion websites, most of which created to make money.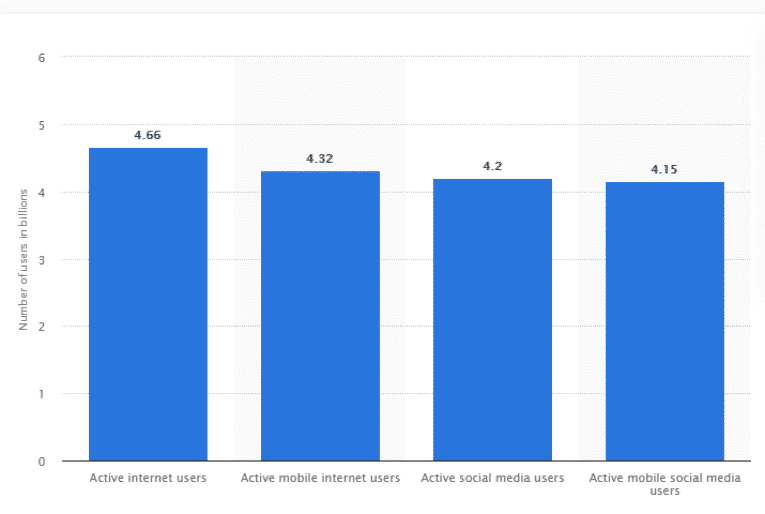 Source: Statista
They use search engine marketing (SEM) to stand out from the crowd and reach out to their prospects. There are two branches of SEM.
Search Engine Advertising
Search Engine Optimization
Showing ads on search engines through Pay Per Click (PPC), Pay Per Impression (PPI), and Pay Per Scale (PPS) campaigns is an effective method of getting people to visit your website to convert them to a lead or sale.
Most new online businesses have to rely on search engine advertising to get sales as they have no authority or following. You keep getting results as long as you have these campaigns running, whether you have an excellent online presence or not.
You can calculate the cost per sale to see how much you have to pay to acquire each customer.
Advertising takes a portion of the profit, but you keep getting sales.
Many businesses only rely on search engine advertising to keep their business running.
However, search engine optimization (SEO) is also an essential part of SEM. Some would say that it's even more important than advertising.
The biggest search engine, Google, processes over 3.8 million queries every day. Some of these queries are relevant to your business. You can show your page on the search engine result pages for relevant queries, but there is a competition to beat first.
Once you manage to rank on the first page, a percentage of the searchers will visit your website.
Unlike advertising, you don't have to pay for the clicks or visits. You will keep getting prospects on your website as long you are ranked on the first page.
New businesses tend to avoid it because it takes time to show results, and they need the sales to keep the operations running.
This article has discussed why your business should invest in SEO, whether it invests in advertising or not.
Organic Source of Sales
You can't keep relying on advertisements to bring people to your website. You have to pay for every impression or click, whether you get the sale or not.
You have to be very specific about who should see your ad to save money, which is a good thing, but it stops you from increasing brand awareness.
You get an organic flow of traffic on your website as long as you are ranked on the first page of search engine result pages. It could be challenging to achieve a position on the first page depending on the competition of the keywords you are targeting, but it's easier to maintain that position.
It's Much Cheaper
SEO is cheaper compared to advertising. However, it will not show results right away and take around six months before seeing a decent number of visitors, so it feels like you are investing a lot.
The on-page SEO is crucial whether you are trying to rank or not. It ensures that the user has a great experience on your website and converts to the next stage.
The off-page SEO requires you to invest in blogging, backlinks, and guest posting. Of course, you can decide the amount you want to invest in it. However, professional SEO Services will tell you how much you need to invest to get ahead of your competitors.
Once you compare your SEO and SEM marketing cost, you will see how little you invested to earn how big from the first tactic.
Increase Website Traffic
You don't get a lot of traffic through advertising. Every visitor is paid, so you would try to attract only the most relevant people. Besides, you can't have your advertisements running all the time for all types of audiences.
This limits you from attracting people and opens the door to many opportunities. You don't just want people to visit for shopping. You would like them to visit, look around, and educate themselves about things related to the service you offer.
Get to Connect with Your Audience
When you get more people on your website through blogs and other landing pages, you build authority, trust, and credibility.
More people see what you have to offer and get impressed by the content on your website. This also allows you to connect with them and provide better customer service.
Blogs and other pieces of content give your business a more humane image, and your prospects feel more comfortable doing business with you.
Better to Build a Brand
You need more people to see on the first page of search engines and visiting your website.
You will not build brand awareness if you don't get all people, even slightly relevant to your industry, to visit your website.
Because you educate them and provide solutions to their problems, they more likely to become your customer. They know that you know your field and won't make any mistakes. Attracting more people and providing a good user experience are excellent practices to increase brand awareness.
Improves Your Return on Investment
You get more customers for free when you start to get organic visitors through search engines. When you combine the cost of customer acquisition with other practices to get sales, you will see a significant improvement in the overall ROI of your business.
A business is all about return, and SEO offers you precisely that although it requires some patience.
Conclusion:
You will see almost no results initially, but you can rely on advertising to keep your business going. But, of course, you will be less dependent on the ads once you start to get organic traffic.
It's your choice to keep going with both, but SEO will require a little bit of investment along with the advertising.
A new business should arrange enough finances to arrange on SEO for long-term growth.