The internet has made it easier than ever for small businesses to compete with the big players. However, most startups are missing out on digital advertising opportunities that could be their key to success. Digital ads provide a variety of benefits for small businesses, from driving sales and creating a brand name to raising awareness about your product or service. The first step is determining where your customers are likely to shop or search for solutions – this will help you choose which platforms offer the best return on investment. If, for example, you're offering a direct-to-consumer beauty product, Instagram and YouTube are likely to be key to driving digital ad sales. Why? Because that's where internet browsers go to see beauty tutorials, product reviews, and gather exciting ideas.
With digital advertising, there's no one-size-fits-all approach. That's why it's important to assess the options available and make an informed decision about what works best for your startup.
How to Use LinkedIn to Drive Digital Ad Sales
LinkedIn works well for business-to-business (B2B) sellers or for those with a high price point product. The sales cycle on LinkedIn is likely to be longer, but the return is typically larger. Building a name for your business on this platform has the potential to create lasting sales volume. To start, consider the full customer journey. If your brand is relatively new, you'll want to start by running digital ads that introduce your company and clearly outline the value and customer solutions you offer. Next, use LinkedIn's exceptional audience tools to create secondary retargeting ads for everyone who encountered your original brand introduction ad. This is the place to drive toward a sale or an asset download. For LinkedIn, introduce yourself and then offer your product. If your price point is high, add a middle step that offers your customer a downloadable resource they can take home. Use LinkedIn's lead gen forms to capture your prospects information and include them in your other marketing campaigns. This funnel experience is key to driving digital ad sales on LinkedIn's professional platform.
How to Use Meta Platforms for Digital Ad Sales
Instagram and Facebook thrive as digital ad platforms for direct-to-consumer (B2C) businesses. To create sales, remember that these social media services serve primarily as entertainment venues. This means your ad should be engaging, funny, and unique. Don't be afraid to let your brand's personality shine through. Your digital ad design will make or break your success on these platforms, so consider your strategy and format carefully. When in doubt, err toward video.
How to Use Google & Other Search Platforms to Create Digital Ad Sales
When using search platforms like Google or Bing to place digital ads, small businesses should remember one cardinal rule: Bid smarter, not higher. Spend time thinking about the unique keywords that work only for your businesses before designing your ads. When you're up against big players in your industry, you're never going to drive great sales volume by bidding on obvious keywords. The spend will be too high to offer you a positive return on investment. Instead, get creative. Think about what makes your businesses unique, and place digital ads for keywords for which your company is an exceptional fit.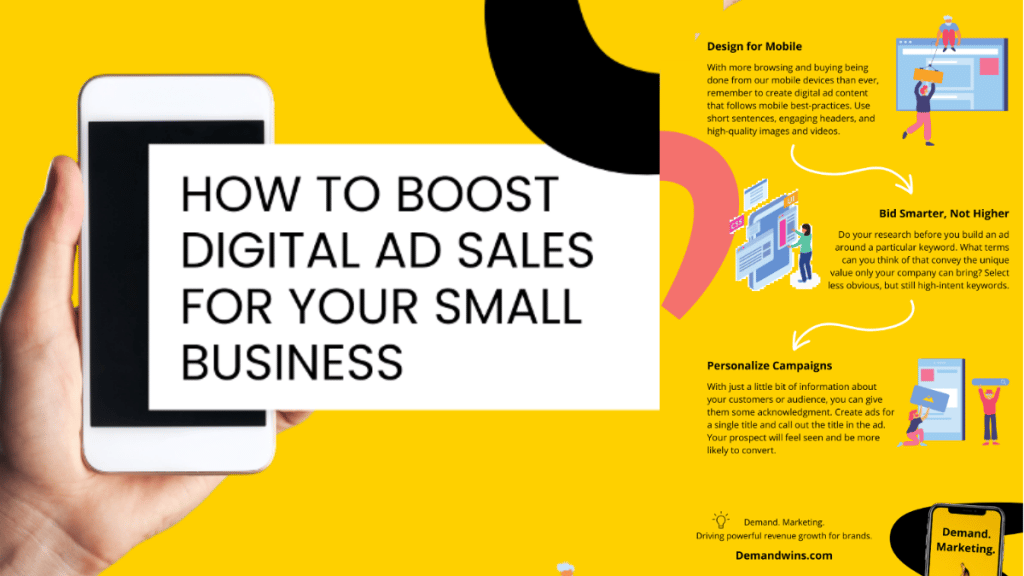 The Power of Digital Advertising for Small Businesses
In the digital age, everyone from the executive buyer to the teenager next door expects the internet to be a vital piece of their customer experience. That means small businesses have an incredible opportunity. Without incurring the cost of a brick-and-mortar store, they can wow new customers and generate fast sales. Digital ads are the perfect way to accomplish these goals. Understanding the platforms available to you and where your customers are likely to be shop will help you determine which digital ad formats work best for your business. Remember to choose something that makes sense for your buyer. Instagram is a great option for direct-to-consumer beauty brands, whereas LinkedIn will work well for professional service providers. Wherever you place your digital ads, make sure they stand out and make an incredible first impression for your brand.