Technology continues to evolve, almost every year. Over the years, the world has adapted to technological innovations that have allowed the development of tools with which to streamline and improve the quality of products and services. Without going any further, the video editing sector itself has experienced unprecedented growth given the constant appearance of new utilities that allow the handling of multimedia content of all kinds. Despite the advantages that this development has brought, the existence of numerous formats for video and audio files has given rise to quite a few problems when using editing programs on them. We need a reliable and simple tool able to help us convert video, edit video, and record video without any trouble.
Videos have become an important part of our lives, especially if we are dealing with promotions. Video marketing is what is now changing the way many companies "convince" their target market. However, to engage further in video marketing, we must have a set of tools that allow us to "play with our creativity" on the videos that we have. Today, we don't need to have separate tools to get creative with videos. We can choose a complete tool, covering many aspects of the editing process. That tool is UniConverter. UniConverter is a software made by Wondershare, a well-known technology company that has been widely known for its reliable editing products.
Wondershare UniConverter is available for various operating systems. If you use Mac, UniConverter for Macis for you. UniConverter makes it easy to edit these types of files through format changes. No matter what format your video has, you can convert it to other popular formats without any trouble. Even if you've never converted a video before!
What you should know about Wondershare UniConverter
Wondershare UniConverter serves as a fundamental free video converter for all those who work with video or sound editing programs, allowing the transformation of sound and video files from one format to another. It is capable of dealing with a myriad of formats, including codecs to deal with 4K files as well as HD formats. Whether you work for a company converting video and sound files or you are a content creator looking for an easy-to-use mp4 to avi converter, this program is made for you.
Among the main functions of the Wondershare UniConverter program we find the possibility of converting videos to almost any format, video editing, burning videos on DVD and transferring multimedia files to other devices. It also includes a whole set of tools to fix video metadata, record desktop activity, broadcast videos to television, among others. What a complete software!
Convert videos and audio with Wondershare UniConvert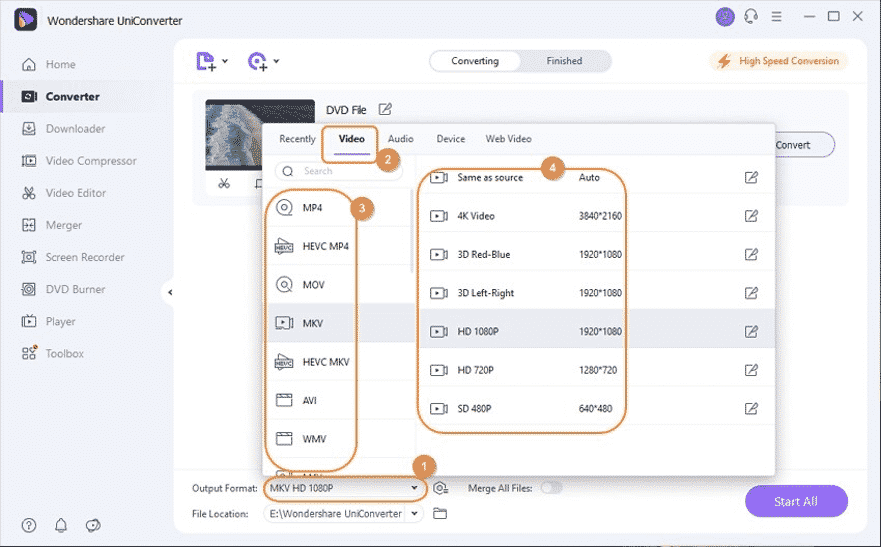 The video conversion process is very easy thanks to the user interface implemented by Wondershare UniConverter. All you have to do is add the file to be converted to the board, select the format you want to convert it to, and voila. The program also allows you to manage several files at the same time using the established settings, which will considerably speed up the workflow. This software is not only about a mp4 to avi converter, but it offers a whole host of formats to carry out the conversion, something that the most experts in the field of video editing will be able to take advantage of to obtain the best possible results.
How if you want to edit video? In case some editing tasks need to be carried out, just click the relevant button to access the Wondershare UniConverter video editor tools. We can make cuts in the video, reduce the duration, rotate the image, add filters and subtitles.
Download and convert videos from the Internet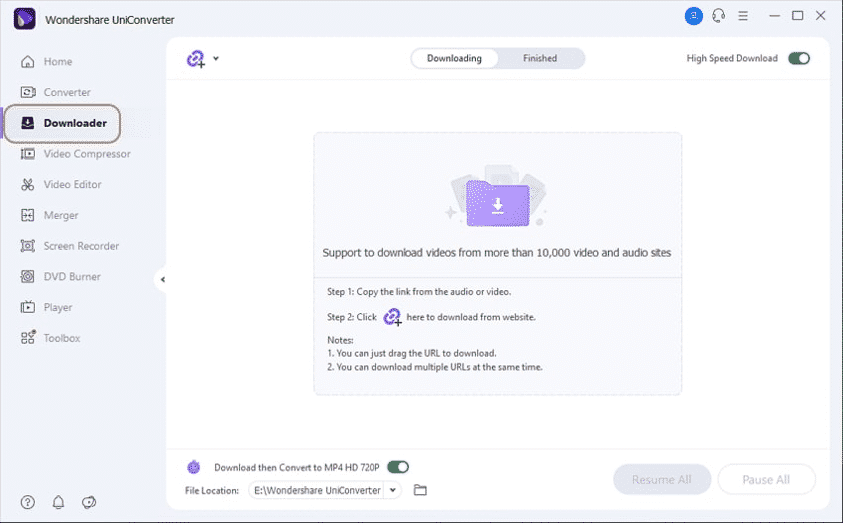 Wondershare UniConverter also offers the ability to download online videos through numerous content platforms and then convert them, including YouTube, Vimeo, and Dailymotion. The download is very easy to do, requiring only to press the "Paste URL" button in the upper left corner, and then paste the relevant link in the window that has come out. Once you choose the ideal configuration for the result, the program will proceed to download the linked video.
It should be noted that, in case we are looking for a youtube to mp3 converter, we can activate the option "Download and Conversion Mode" so that, once the video is downloaded from the platform in question, it is automatically converted to the .mp3 format.
Purchase options available
When purchasing the Wondershare UniConverter software, in addition to having a free version with limited functions, we can find a total of three purchase packs:
Perpetual plan: through a single payment of $ 61.98, the user will have access to all the basic functions without having to apply a watermark to all its content, and can also enjoy free technical support to manage problems that may arise when using the program.
Annual plan: for $ 45.98 per year, you will have for one year the updates that are developed for the program, giving you access to the basic functions and three additional accessories. No watermark will be applied to content that you have operated on with Wondershare UniConverter, and you can enjoy free technical support.
Quarterly plan: for $ 35.98 every three months, you will have the updates developed for Wondershare UniConverter for a quarter. You will also be allowed to use the basic functions and access three additional add-ons, as well as free technical support, with which you can manage any problems that may arise when using the program.
Note: These prices are for individual use on Windows.
Many of the video editing professionals need useful and easy-to-use conversion tools. This program not only fulfills that description, but also offers numerous additional options with which you can refine the results obtained. If you need an mp4 converter with access to all kinds of formats and functions, without a doubt Wondershare UniConverter is the perfect program for you. Consider which is the purchase plan that best suits your needs, and enjoy all the tools and functions it can offer you. We hope this information was useful. Thank you for reading!